2016/17 Polar Award Winners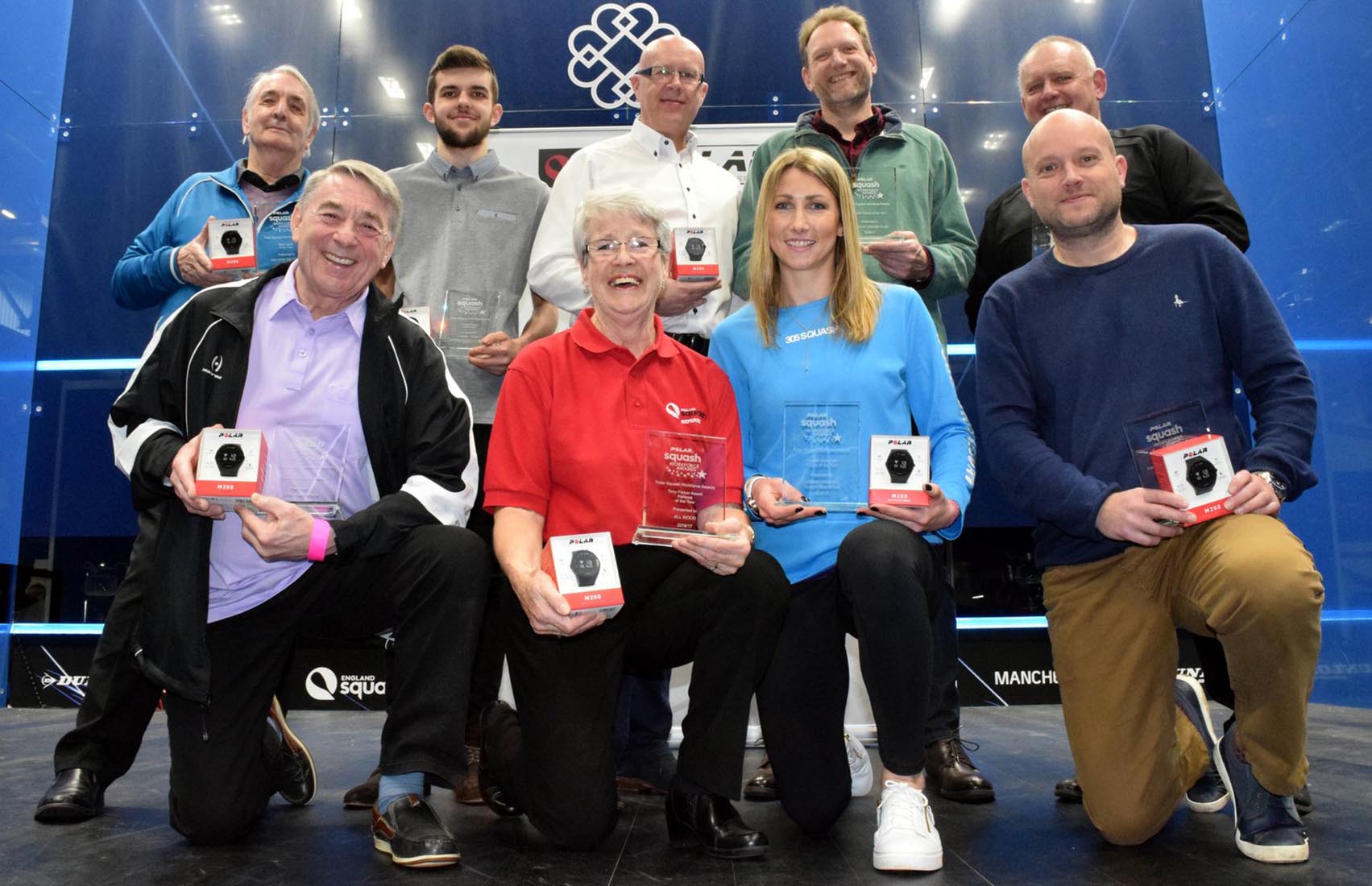 The annual Polar Squash Workforce Awards is our opportunity to celebrate and thank our coaching and volunteer workforce, raise the profile, and reward the great work they do.

The awards recognise and celebrate the outstanding commitment and contribution of the squash workforce in making squash happen.
2017 Polar Award Winners
The 2017 winners were celebrated at the Blowers Jewellers National Squash Championships. The winners were selected by a national panel from hunderds of nominations.

Club Coach of the Year - Roshan Mawar
Roshan is a coach at New Malden Sports Club and has developed a thriving junior section. Approximately 60 juniors now regularly train at the club and strong links are being built with local schools and youth groups. Roshan tirelessly seeks out new opportunities to introduce young people to squash. He has established the Victory Squash Academy for the highest level juniors in the county with many competing at county, inter-county and national level. Roshan has also encouraged and supported many juniors to complete their level 1 and 2 coaching qualifications to help them become the next generation of coaches.
Other shortlisted nominees: Josh Taylor, Jesse Engelbrect & Ben Hutton.
Young Coach of the Year - Robert Thirst
Robert is a level 3 coach having qualified as such when he was just 17 years old. During his time at college Robert purchased his own nets and rackets going into his local schools to introduce the children to squash. He coaches juniors at Broadland Sports Club and runs individual coaching sessions as well as meeting with local sports clubs to discuss the advantages of them promoting squash. He has subsequently decided to pursue squash as a career and has recently been appointed as Trainee Squash Pro and the Assistant Squash Programme Director at Broadland Sports Club.
Other shortlisted nominees: Ryan Whiteley & Carlton Oldham.
Elite Coach of the Year - Malcolm Willstrop
Malcolm has provided one of the best coaching environments in the world for young aspiring squash players for the last 30 years at Pontefract Squash Club. During his coaching career, he has coached two world number ones, Lee Beachill and James Willstrop. He coached four juniors to English number one in their age categories last year as well as coaching many juniors that represent England. He also coaches Sam Todd who last year won the BU13 British Junior Open, and last month finished third in the BU15 category. As well as nurturing English talent, he also coaches other world class players, including India's number one players Saurav Ghosal and Joshanna Chinappa.
Other Shortlisted nominees: Tim Vail & Jonny Harford.
Participation Project of the Year - Dax Mellor, Wiltshire Squash
Squash in Wiltshire is faced with a number of challenges, namely only 25 courts across the county, the majority of which being public-owned. Dax has managed to navigate this difficult situation and in turn has resurrected junior squash within the county. He works extensively in schools having expanded the Squash4Schools programme into the region and was successful in getting squash included in the Salisbury School Games. This success within schools has resulted in the creation of junior clubs at leisure centres. On top of this, Dax also runs multiple Squash Girls Can programmes to get more women and girls playing within the county.
Other shortlisted nominees: Mike Philips, Chichester & Hampshire Junior Squash Programme.
Squash Girls Can Project of the Year - Sarah Campion, Queens Sports Club
Sarah has been involved with Squash Girls Can since it was first launched in 2016. Her drive and passion for squash has resulted in over 14 new female members from age 6 to 50+! Many of these ladies were entirely new to squash, but Sarah's encouragement has meant they've continued to play and join the club. She also puts a lot of work into encouraging junior girls which has seen the numbers attending coaching sessions increase from 3-4 to over 25!
Other shortlisted nominees: Victoria te Velde, Walthamstow & Sue Martin-Downhill, Thame.
Tony Parker Award: Referee of the Year - Jill Wood
Jill has supported refereeing at the highest level in squash and is one of the most respected National Grade referees as she supports up and coming referees. Despite illness in 2016 she continued to referee England Squash events as well as her local PSL matches.
Other shortlisted nominees: John Massarella & Malcolm Parker.
Squash Venue of the Year - Brackley Squash Club
Brackley Squash Club spent much of 2016 working to increase their profile resulting in them winning the Community Club of the Year in the Northamptonshire Sports Awards. The club acquired a funding grant for local community clubs to develop the facility and has helped to fund a coach's qualifications in order to increase the coaching offer of the club. The club's membership has increased by over 40% within the last 12 months with over 50% of the junior membership being female. The club achieved the Clubmark Accreditation and are now looking to create a 5 year business plan in the local area.
Other shortlisted nominees: University of Leicester & Leamington Spa Squash Club.
National Volunteer of the Year - David Geldart
David was a founder member of Norton Squash Club and has played a major part in developing the club from its original two courts to four, and nearly 200 members. He runs the group coaching at the club and particularly focuses on developing junior players. He also provides free coaching for local schools introducing many more juniors to squash, and in turn growing the club's membership.
Other shortlisted nominees: Nick Clifford & Marc Thomas.
Special Recognition Award - John Robertson
In 2016 John reached the milestone of coaching squash for 50 years and at only age 72, he doesn't intend to stop now. Players he has coached in his time include Fiona Geaves, Lisa Opie, Ashley Davies and many more! In his coaching, John uses his vast knowledge of squash as well as keeping up to date with modern methods and developments in the game. He coaches all ages and standards and instils players with confidence and a desire to improve whilst keeping his lessons simple and fun. The person who nominated John for this award was introduced to squash by him at age 17 and now, 41 years later, he is coaching her 13 year old daughter.
Other shortlisted nominees: Martin Pearse & Dave Petty
Outstanding Services to Squash - Martin Pearse and Eric Cruttenden
Martin has been a main driving force in the creation of England Squash Masters. He helped to establish a committee and has been chair since 2004 helping to widen masters participation in a number of ways. The regional event has grown from 250 competitors to over 800 under his leadership and is recognised as the largest and most successful masters circuit in the world. He established the Masters Home International Tournament and has helped to inspire English masters players to international successes.
Eric was a previous employee of England Squash who has made an outstanding contribution to the world of squash. We are indebted to the services he has provided over the last 26 years within the competition and technical services departments. He was instrumental in the promotion and organisation of masters squash at the local and national level helping to secure its future in England. He managed the England Masters team for 19 years and was instrumental in expanding the British Masters to include many additional age categories.
2016 Polar Award Winners
See the 2016 Polar Workforce Award winners here.