England into mixed doubles final, men's and women's doubles semi-finals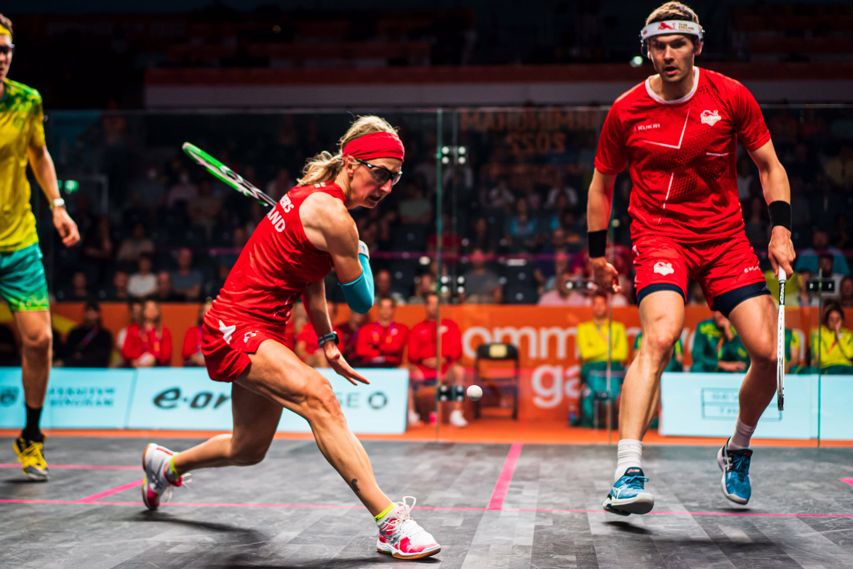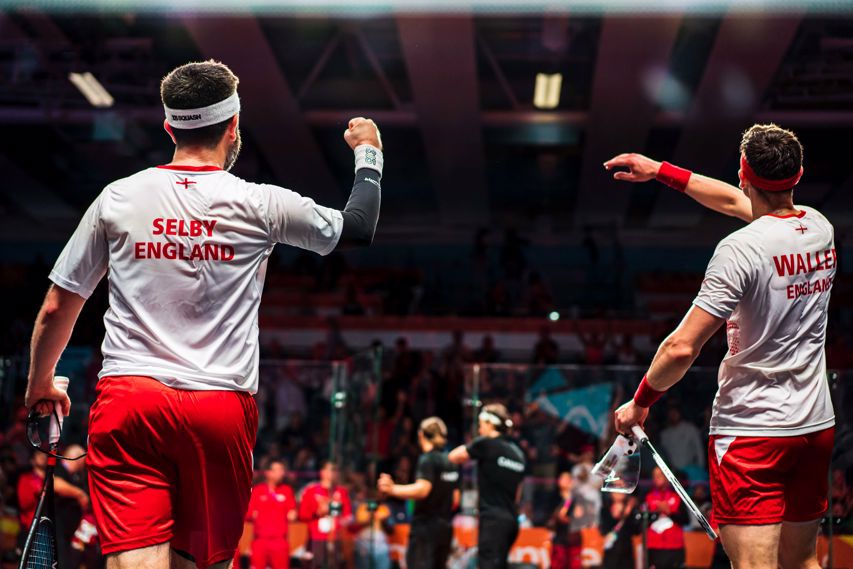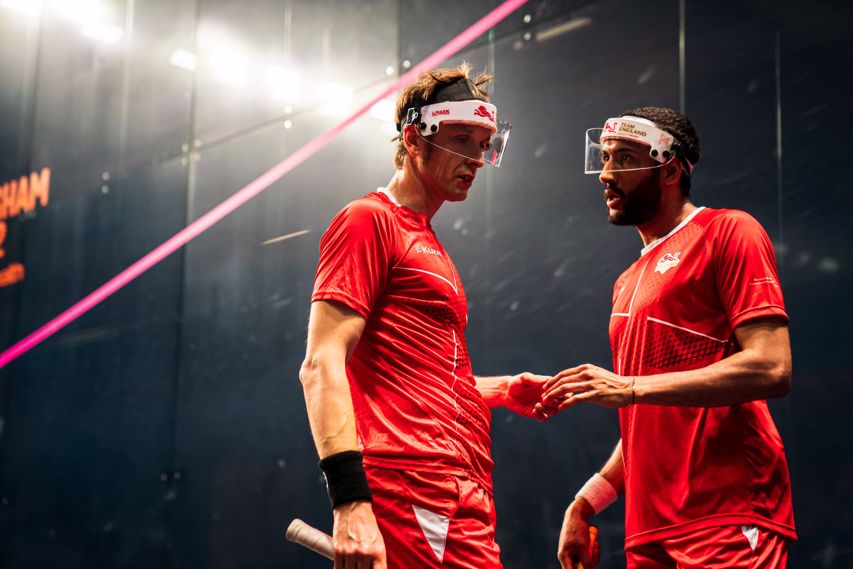 England enjoyed another brilliant day at the Birmingham 2022 Commonwealth Games as Alison Waters and Adrian Waller stormed into the mixed doubles finals, while there is the tantalising prospect of a potential all English final in the men's draw after quarter-final victories for Declan James and James Willstrop, and Daryl Selby and Adrian Waller.
No.2 seeds Waters and Waller went into their match against defending champions Donna Lobban and Cameron Pilley having impressed in coming from behind to beat Wales' Tesni Evans and Joel Makin in yesterday's quarter-final.
Today, England were immaculate against the 5/8 seeds. 38-year-old Waters, a silver medallist in 2014, was in particularly fine form, holding her own against the powerful Cameron Pilley and firing in a number of brilliant winners as England took the first game 11-8.
In a see-saw second game, both sides traded the lead, with England falling behind at 2-0 and 7-6. Once again though, former World No.3 Waters, ably supported by Waller, proved the difference, as she frustrated the Australians with more brutal kills as England set up a final with New Zealand's Joelle King and Paul Coll with another 11-8 victory.
Afterwards, Waters said: "We're looking forward to the final. That's a really tough pairing we've just played, and we won 2-0.
"We're feeling confident. A final is a different day. They are up for it but we are up for it too."
In the men's doubles, top seeds James and Willstrop inflicted another defeat on Pilley and his partner Rhys Dowling to reach the semi-finals for the second successive games.
The English duo seemingly opted to nullify Pilley, who beat a partnership of Willstrop and Daryl Selby on his way to the gold medal in 2014, by targeting his partner Rhys Dowling as much as possible.
This proved effective as England made a rapid start, with the reigning World Doubles Champions flying into a 5-0 lead on their way to an 11-7 win in the first game.
Although Australia appeared to be finding their way into the match in the latter half of the first game, England were even more dominant in the second and sealed their semi-final place with an 11-4 win.
Afterwards, James said: "There's a lot of pressure [being top seeds in a home Games] but that pressure's a privilege. How often are we going to be here, in front of a wonderful home crowd and with me playing alongside one of my squash idols?"
James and Willstrop will face Malaysian 5/8 seeds Eain Yow Ng and Ivan Yuen in tomorrow's semi-finals.
In the final match of the day, Waller returned to the court alongside Selby as the 3/4 seeds once again fought back from a game down to record a victory, with their 2-1 win over Canada's 9/16 seeds David Baillargeon and Nick Sachvie setting up an England v Scotland derby against No.2 seeds Greg Lobban and Rory Stewart.
Selby and Waller looked to be in control in game one as they moved to a 9-7 lead, before Canada struck back to go game ball up at 10-9. England saved the game ball to go to next-point-wins at 10-10, but were unable to take the decisive last point as Canada took a 1-0 lead with an 11-10 victory.
England played a more attacking strategy in the second game and were quickly rewarded with a dominant 11-5 win to draw level.
In a tense third game, England looked in danger when they fell 5-2 behind. Led by an assured Selby, they fought back to level at 5-5. The teams then traded points and at 8-8 in the third, the match was anyone's for the taking.
Roared on by the shouts and foot stomping of a passionate crowd, it was England who managed to finally break clear, with Selby and Waller smashing three unanswered points to bring an entertaining match to an end.
"It's what we live and breathe for, crowds like this, as everyone has said all week. There's not many times left for me on there and I'll cherish every moment," the 39-year-old Selby said.
The mixed doubles final will be played tomorrow (7 August) at 19:00 (GMT+1). England's Sarah-Jane Perry and Alison Waters, who won their quarter-final yesterday, will appear in the second women's semi-final at 12:45, while the men's semi-finals will begin at 13:45.
Birmingham 2022 Mixed Doubles Semi-Final Results:
[2] Alison Waters & Adrian Waller (ENG) bt [5/8] Donna Lobban & Cameron Pilley (AUS) 2-0: 11-8, 11-8 (22m)
Birmingham 2022 Men's Doubles Quarter-Final Results:
[1] Declan James & James Willstrop (ENG) bt [5/8] Rhys Dowling & Cameron Pilley (AUS) 2-0: 11-7, 11-4 (39m)
[3/4] Daryl Selby & Adrian Waller (ENG) bt [9/16] David Baillargeon & Nick Sachvie (CAN) 2-1: 10-11, 11-5, 11-8 (51m)
Birmingham 2022 Mixed Doubles Final Draw:
[2] Alison Waters & Adrian Waller (ENG) v [3/4] Joelle King & Paul Coll (NZL)
Birmingham 2022 Women's Doubles Semi-Final Draw:
[2] Sarah-Jane Perry & Alison Waters (ENG) v [5/8] Rachel Arnold & Aifa Azman (MAS)
Birmingham 2022 Men's Doubles Semi-Final Draw:
[1] Declan James & James Willstrop (ENG) v [5/8] Eain Yow Ng & Ivan Yuen (MAS)
[3/4] Daryl Selby & Adrian Waller (ENG) v [2] Greg Lobban & Rory Stewart (SCO)