Ten juniors crowned at English Nationals in Hull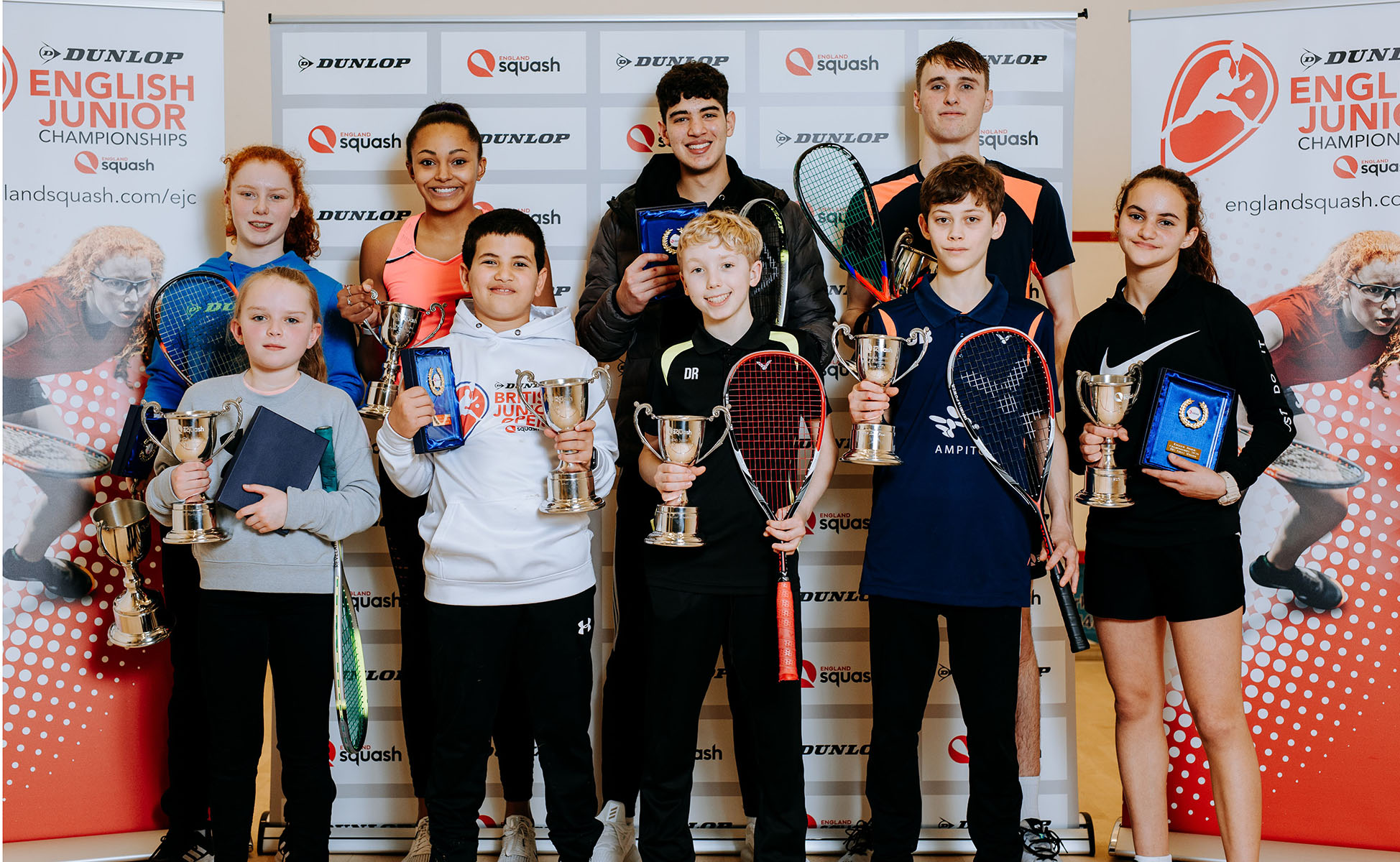 By Donna Helmer
Ten English juniors from eight counties tasted success at the Dunlop English Junior Championships (EJC) in Hull on a remarkable finals day which saw two defending champions dethroned.
BU19 second seed Ben Smith (Lincs) secured an impressive 11-7, 11-7, 11-5 (37m) victory over Kent's [3/4] Jack Mitterer to lift the Steve Hubbard trophy and his third consecutive championship title.
"It was quite physical as we were both battling to get to the front," said 17-year-old Smith.
"It can be tough to play Jack as he battles really hard and pushes up high but I knew I had a chance if I could just stick with him. I was just happy to see it out in three."
Meanwhile, GU19 top seed Katie Malliff (Bucks) raced to her second championship title in 23 minutes, powering past second seed Margot Prow (Middx) in straight games: 11-5, 11-5, 11-6.
"Margot's a difficult player, I've played her a few times so I know her game. I tried to play long rallies and not hit too many errors. I was pleased to win it in three."
Former BU15 champion [3/4] Oliver Green was denied the BU17 title by [2] Hassan Khalil (Warks) who secured a comprehensive 11-4, 11-8, 11-8 victory.
Yorkshire's Asia Harris backed up her impressive semi-finals display by toppling GU17 defending champion [1] Sarah Ngheim in a 36-minute battle that went the distance.
15-year-old Harris produced a fine comeback at 2-1 down to claim her third championship title triumphing 11-7, 3-11, 4-11, 11-6, 11-6.
Harris said:
"It feels amazing to beat the top two seeds and win the under 17 title at 15."
The BU15 final also went the distance with top seed Jonah Bryant (Sussex) overcoming a stern test from 2020 British Junior Open runner-up Yusuf Sheikh (Essex) that lasted 50 minutes and could have gone either way: 3-11, 3-11, 11-9, 11-9, 7-11, 11-6.
"It was a tough match, Yusuf's very steady and doesn't make many mistakes. He's hard to break down. I'm really happy to win my fifth title." said an elated Bryant.
GU15 top seed Amelie Haworth (Hants) claimed her third championship title after overcoming a spirited challenge from second seed Francesca Hall, winning in straight games: 11-9, 12-10, 12-10 (24m).
"I was very nervous, there's so much pressure as top seed but it feels great to win, I'm so happy!" said 14-year-old Haworth.
It was an all-Kent affair in the BU13 final with three-time finalist Dylan Roberts (Kent) justifying his top seeding and fending off [2] Jude Gibbins in three: 11-9, 11-5, 13-11 (28m) to capture his maiden title.
Roberts, he 2020 South East Gold champion, said:
"It was a good competitive match, Jude's very attacking and doesn't give up easily so I tried to make the rallies long and tough. I was so nervous, I've been in three finals so it just feels amazing to finally win!"
In the GU13, top seed Tala Abaza (Middx) dethroned reigning champion [2] Charlie McCrone (Lancs) in a high quality encounter to win 11-9, 11-8, 11-6.
Abaza's brother, Mohamed also tasted success in the BU11 following a clinical display against top seed George Griffiths (Hants), storming to his maiden EJC title in just 16 minutes: 11-5, 11-5, 11-2.
Meanwhile, Yorkshire's [1] Fearne Copley lifted the GU11 title after edging out [2] Harriet Broadbridge in straight games: 11-6, 12-10, 15-13.
"It feels amazing to win! In the third, I just kept saying 'stay focused, stay focused'!" said the ten-year-old.


Dunlop English Junior Championships 2020: Final results
BU19: [2] Ben Smith (Lincs) 3-0 [3/4] Jack Mitterer (Kent) 11-7, 11-7, 11-5 (37m)
GU19: [1] Katie Malliff (Bucks) 3-0 [2] Margot Prow (Middx) 11-5, 11-5, 11-6 (23m)
BU17: [2] Hassan Khalil (Warks) 3-0 [3/4] Oliver Green (Herts) 11-4, 11-8, 11-8 (38m)
GU17: [3/4] Asia Harris (Yorks) 3-2 [1] Saran Nghiem (Lancs) 11-7, 3-11, 4-11, 11-6, 11-6 (36m)
BU15: [1] Jonah Bryant (Sussex) 3-2 [2] Yusuf Sheikh (Essex) 3-11, 11-9, 11-9, 7-11, 11-6 (50m)
GU15 [1] Amelie Haworth (Hants) 3-0 [2] Francesca Hall (Yorks) 11-9, 12-10, 12-10 (24m)
BU13: [1] Dylan Roberts (Kent) 3-0 [2] Jude Gibbins (Kent) 11-9, 11-5, 13-11 (28m)
GU13: [1] Tala Abaza (Middx) 3-0 [2] Charlie McCrone (Lancs) 11-9, 11-8, 11-6 (28m)
BU11: [2] Mohamed Abaza (Middx) 3-0 [1] George Griffiths (Hants) 11-5, 11-5, 11-2 (16m)
GU11: [1] Fearne Copley (Yorks) 3-0 [2] Harriet Broadbridge (Hants) 11-6, 12-10, 15-13 (28m)
View results at englandsquash.com/ejc