Mitterer topples Forster to set up Dunlop English Junior final with Smith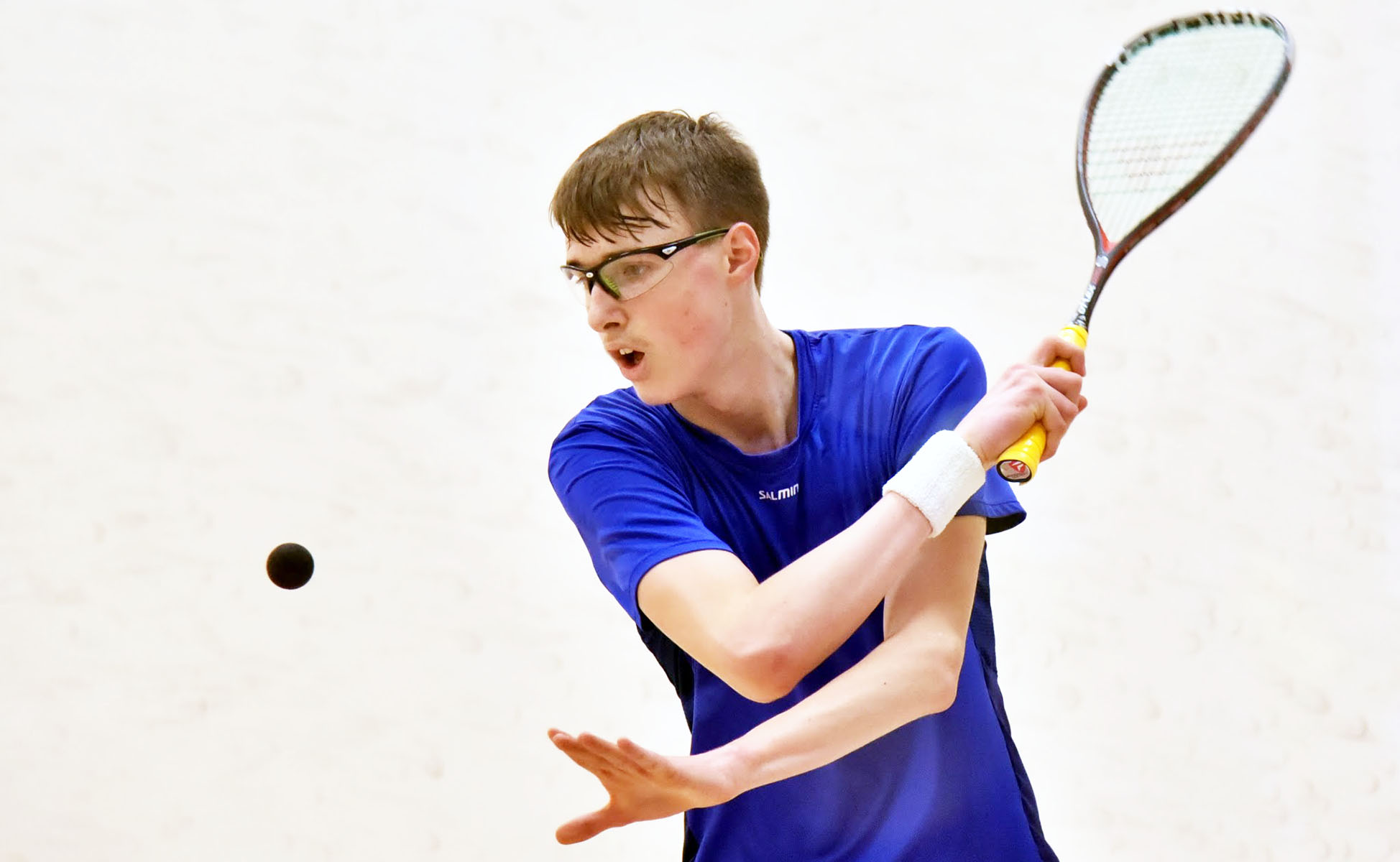 By Elizabeth Botcherby
Kent's Jack Mitterer sensationally defeated top seed and defending champion Max Forster of Northumbria to advance to the BU19 final in a dramatic end to day three of the Dunlop English Junior Championships 2020 (EJC) in Hull.
Mitterer, seeded 3/4, finished third last year and overcame Forster in straight games, triumphing 11-9, 11-6, 11-6 in his bid for a maiden EJC title.
His opponent in the final is 2018 BU17 champion [2] Ben Smith (Lincs) who convincingly beat [5/8] Jared Carter (Hants) 11-9, 11-2, 11-6.
In the GU19, top seed Katie Malliff (Bucks) remains on course for her second EJC title after beating [3/4] Kiera Marshall (Worcs) 11-8, 11-7, 11-9 in the semis. Standing between her and the trophy is second seed Margot Prow (Middx) who edged out Yorkshire's [3/4] Lydia Robinson in four: 11-4, 11-7, 6-11, 11-4.
The GU17s also witnessed an upset as [3/4] Asia Harris (Yorks) overcame [2] Torrie Malik (Sussex) in five closely fought games: 12-10, 6-11, 6-11, 11-7, 11-6 to book a final showdown with defending champion [1] Saran Nghiem (Lancs) after the top seed sent home [3/4] Amy Royle (Yorks).
In the BU17, [3/4] Oliver Green (Herts) ended [17/32] Ben Beachill's (Yorks) dream run in four games, triumphing 11-6, 11-5, 9-11, 11-5. Meanwhile, second seed Hassan Khalil (Warks) will be targeting his first National title against Green after beating [3/4] Muhammad Azham Khan (Staffs) in four games.
In his bid to defend his BU15 title, four-time EJC champion [1] Jonah Bryant (Sussex) powered past [3/4] Alexander Broadbridge (Hants) 11-1, 11-4, 11-2. His opponent in the final is second seed Yusuf Sheikh (Essex) who overcame [3/4] Abd-Allah Eissa (Warks) 11-8, 11-0, 11-4.
Meanwhile, in the GU15, [2] Francesca Hall (Yorks) set up a final clash with top seed Amelie Haworth (Hants) after defeating [9/16] Lara Newton (Essex) in straight games. Top seed, Haworth had a tougher semi-final, overcoming 13-year-old [3/4] Meha Shah (Warks) 10-12, 11-4, 11-9, 11-4.
Top seeds Dylan Roberts and Jude Gibbons set up an all-Kent final in the BU13. 2018 EJC champion Gibbons eased past [3/4] Ronnie Hickling (Surrey) in straight games but top seed Roberts had a tougher task, coming from behind to beat Warwickshire's [3/4] Jamie Lee: 9-11, 11-8, 11-7, 11-6.
In what will be a repeat of last year's Dunlop British Junior Championships (BJC) final, the GU13 final will feature [1] Tala Abaza (Middx) and [2] Charlie McCrone (Lancs). Abaza comfortably beat [3/4] Emily Coulcher-Porter (Bucks) 11-1, 11-5, 11-7 whilst defending champion McCrone came from 2-1 down against Warwickshire's [3/4] Mariam Eissa to advance to the final.
Abaza's brother, Mohammad - the BU11 second seed - defeated [3/4] Zack Greengrass (Sussex) 11-0, 11-2, 12-10 to set up a final encounter with top seed George Griffiths (Hants) after the 2019 BJC runner-up overcame Yorkshire's [5/8] George Barker in straight games.
Finally, in the GU11, top seed Fearne Copley (Yorks) progressed to the final after dispatching [3/4] Reneta Colabella (Kent). Her opponent is last year's BJC runner-up [2] Harriet Broadbridge (Hants) who staved off a comeback from [3/4] Ameerah Ismail (Warks) 11-3, 12-10, 11-3.
The Dunlop English Junior Championships finals commence at 9am tomorrow (Sunday) - tune in live and for free on englandsquash.tv (requires free England Squash website account). View draws and results.
Dunlop English Junior Championships 2020 finals: line-up
- 9am: GU11 - Fearne Copley (Yorks) v Harriet Broadbridge (Hants)
- 9:30am: BU11 - George Griffiths (Hants) v Mohamed Abaza (Middx)
- 10am: GU13 - Tala Abaza (Middx) v Charlie McCrone (Lancs) - 10:30am: BU13 - Dylan Roberts (Kent) v Jude Gibbins (Kent)
- 11am: GU15 - Amelie Haworth (Hants) v Francesca Hall (Yorks)
- 12pm: BU15 - Jonah Bryant (Sussex) v Yusuf Sheikh (Essex)
- 12:40pm: GU17 - Saran Nghiem (Lancs) v Asia Harris (Yorks)
- 1:20pm: BU17 - Oliver Green (Herts) v Hassan Khalil (Warks)
- 2pm: GU19 - Katie Malliff (Bucks) v Margot Prow (Middx)
- 2:40pm: BU19 - Ben Smith (Lincs) v Jack Mitterer (Kent)