Team Laura vs Team Nick toolkit
Resources and downloads to rally up your players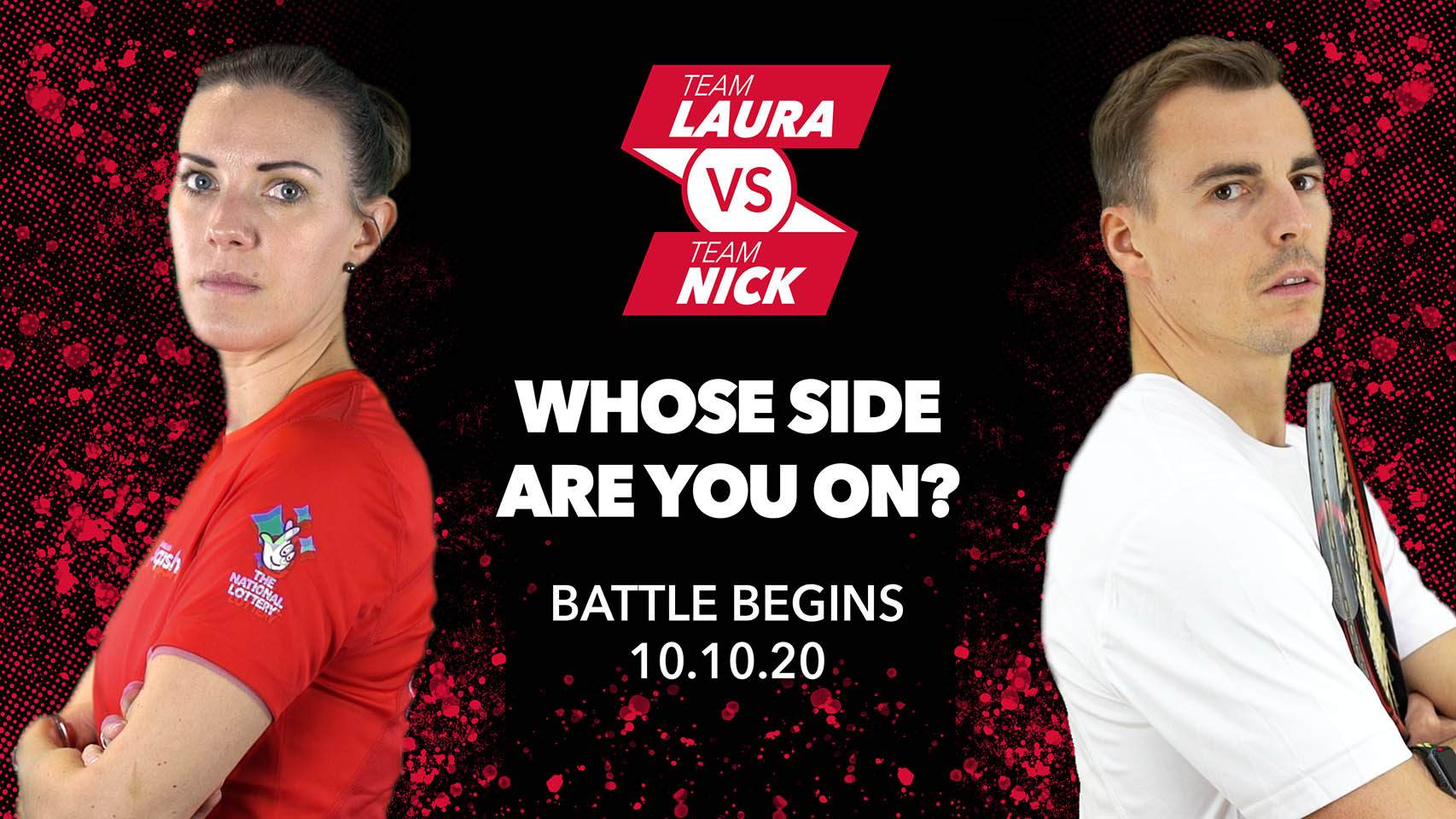 This World Squash Day (10th October) will see Team Laura and Team Nick go head-to-head in the world's biggest team squash showdown. With competitive action currently off limits, let's reignite those club rivalries with a team event that every player can get involved in.
This toolkit provides everything clubs and venues need to inspire their players to hit the court again safely. Over the coming days and weeks we'll be adding more content.
How it works
All players of any age or ability can get on court as

many times as they like between 10 October and 9 November.

Players pick an opponent. If from the same household or squash bubble, they can play full court matches. If players are from two different households and not in a squash bubble, they can play sides.

Players can play squash or Squash 57.

Each player chooses which team they will represent, either Team Laura or Team Nick.
Players play a match of three games, first to 11 with no tie breaks inline with the latest guidance.

Players record

their score on

SquashLevels.com. Those who aren't registered with SquashLevels can sign up for a free 30-day SquashLevels trial to take part.

The match winner gains a point for their team.
The team with the highest score on 9 November wins!
---
Incentives and prizes
Player incentives
25% off at the England Squash Kukri store for every player who takes part (must have an activated England Squash account)
Signed Team Laura vs Team Nick T-shirt for the five players who record the most matches
Club incentives
120 balls each (10 boxes of a dozen) for the first 100 clubs to record 50 players taking part (affiliated clubs only)
Signed Team Laura vs Team Nick T-Shirt for the five clubs who record the most wins for each team (affiliated clubs only)
Read the terms and conditions.
---
Ways to get involved
Below are some ideas on how your club can get involved and engage players in this worldwide contest!
Promote the contest to your players and encourage them to get on court whether via Whatsapp, email or social media. Scroll down for graphics, videos and suggested wording.
Create some competition between your players and between rival clubs! Who can top that club leaderboard?!
Display the posters below in your club giving everyone who gets on court the chance to take part
Keep an eye on your players' activity including matches played and number of players with the Most Active Club leaderboard on SquashLevels. Be sure to share updates with your players.
Share the weekly stat graphics posted on England Squash's social media (Insta | Facebook | Twitter) throughout the contest which include head-to-heads | Most Active Club, Most Active County | Clubs with most wins for Nick and Laura.
Use the contest to complement your other World Squash Day activities, box leagues and other club sessions.
---
Images
Download the official logo and banner. More images coming soon!
---
Posters
Download and display these posters in your club/venue:
---
Suggested social media posts
We've put together some suggestions for your social media posts but feel free to create your own. Use these alongside one of the graphics or videos above. Don't forgot to use #lauravnick and tag in England Squash: Insta | Facebook | Twitter.

Dust off your racket and join [INSERT CLUB NAME] for the world's biggest team contest as Laura Massaro and Nick Matthew's teams go head-to-head for some competitive action on SquashLevels. And they need you! Which side will you choose? Starts 10.10.20. More info: englandsquash.com/lauravnick. #LauravNick #TeamNick #TeamLaura


It's time to get back on court. Pick an opponent. Pick a side. Get on court! #TeamLaura or #TeamNick? Whose side are you on? Every player who enters gets 25% off at the England Squash Kukri online store. More info: englandsquash.com/lauravnick. #LauravNick


Looking for some competitive action? Join Laura Massaro and Nick Matthew in the world's biggest team squash contest on SquashLevels. Battle begins 10.10.20. More info: englandsquash.com/lauravnick. #LauravNick


Relishing the chance to get back on court? Now's the time. Join the world's greatest team squash battle! #TeamLaura v #TeamNick starts World Squash Day on SquashLevels. More info: englandsquash.com/lauravnick. #LauravNick