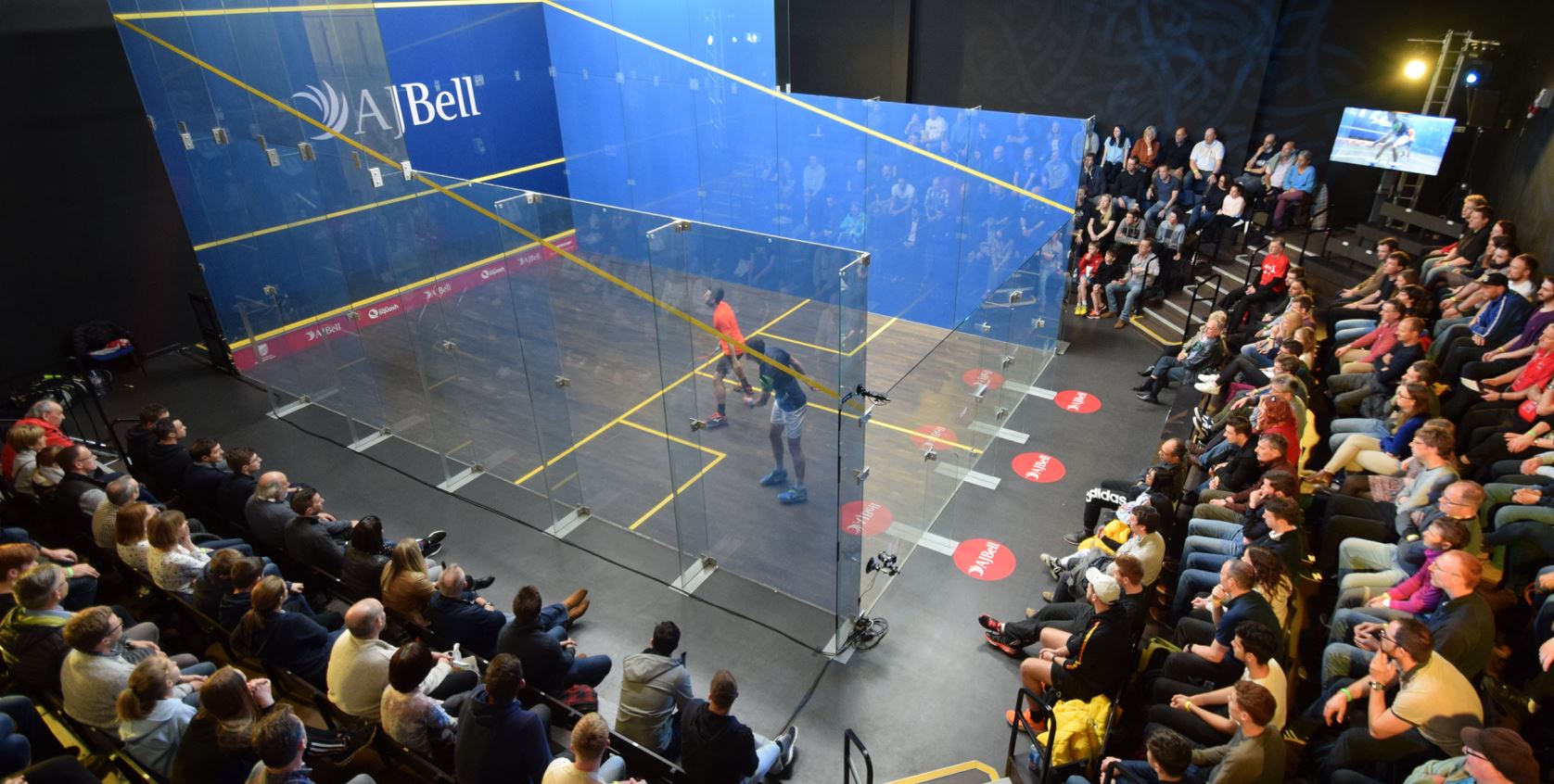 Day FIVE at the AJ Bell Nationals semi-finals
It's semi-finals day in Nottingham with another mixture of youth and experience as the eight remaining players aim to reach the AJ Bell Nationals Finals.
First up is women's top seed Sarah-Jane Perry, appearing in her fourth semi-final, against Millie Tomlinson. It's Millie's first semi, but the two are no strangers having met ten times including the 2009 European Junior final and the 2018 Nationals quarters.
Next defending champion James Willstrop, in his 14th Nationals semi, meets giant-killer George Parker, who is also making his first appearance at this stage, although they met in the 2016 quarter-finals.
The Evening session starts with last year's runner-up Emily Whitlock making her third semi-final outing against first-timer Jasmine Hutton and concludes with men's top seed Joel Makin, another first-time semi-finalist, against Adrian Waller who will be making his fourth semi-final appearance.
Watch live on englandsquash.tv or follow the updates on Twitter.
AJ Bell British Nationals Championships 2020 : SEMI-FINALS
13.00 [1] Sarah-Jane Perry (Eng) v [3/4] Millie Tomlinson (Eng)
14.00 [2] James Willstrop (Eng) v George Parker (Eng)
16.00 [3/4] Emily Whitlock (Eng) v [5/8] Jasmine Hutton (Eng)
17.00 [1] Joel Makin (Wal) v [3/4] Adrian Waller (Eng)
---
Perry battles past Tomlinson to reach her third British National final
Elizabeth Botcherby reports
Top seed Sarah-Jane Perry overcame Millie Tomlinson in a tight and physical five-game encounter to advance to her third British National final at the University of Nottingham Sport.
Perry, who battled past Julianne Courtice in five in the quarter-finals, showed no signs of fatigue to outlast Derbyshire's Tomlinson in a match dominated by lengthy rallies and fiery battles.
Both players struggled to establish any advantage in the early stages, Perry narrowly sneaking the first game 11-9 before Tomlinson took the second 9-11.
Perry swiftly banished the disappointment of the second game, racing into a 9-3 lead before producing a deft backhand slice on game ball to retake the lead 11-6.
However, the momentum changed once again in the fourth game. Tomlinson, the World no.26, changed her tactics and used the short ball to her advantage to force a decider, triumphing 11-6.
With the fifth level at 4-4, Perry smashed the ball past a flailing Tomlinson and unleashed a huge roar. Having regained control, there was no looking back for the British no.1 who wrapped up the game – and the victory - 11-7.
Describing her triumph, the World no.7 said: "It was very up and down. I thought Millie played really well.
"In patches I thought I played some really good stuff but then sometimes I lost my focus and she took full advantage of that. Millie is really fit and strong so you know physically she's going to stay in there, get a lot of balls back and use that to her advantage.
"I had to use my physicality in the right way and try and nullify her, which I did a little bit but not as much as I'd have liked. Overall I'm really happy to be through and relieved."
Perry will be looking for her second National title in tomorrow's final after winning the event in 2015 and is excited to have the opportunity to add to her collection.
She said: "It's a really prestigious event and something I look forward to every year. I've had extra build up because I didn't get to play last year [through injury] so I haven't played here for a couple of years.
"It's something you want to look back on and be able to say I won a few titles. I've been stuck on one for quite a few years now!"
[1] Sarah-Jane Perry bt [3/4] Millie Tomlinson 11-9, 9-11, 11-6, 6-11, 11-7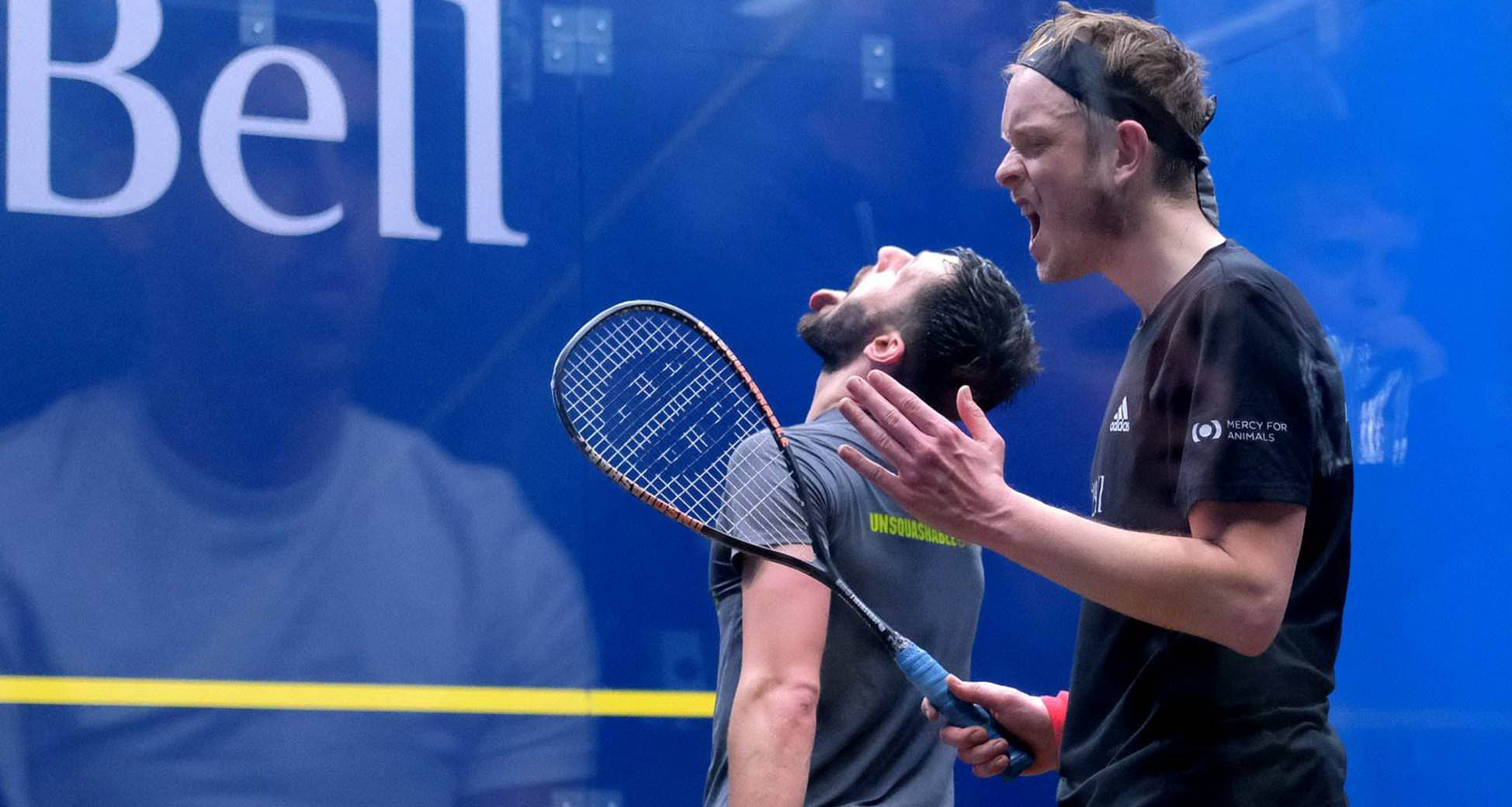 Willstrop through to his 11th National final with victory over Parker
Jack Flintham reports
Defending champion James Willstrop advanced to his 11th National final with a 3-1 victory over unseeded George Parker.
Parker had upset the odds to get past Daryl Selby in the quarter-finals but second seed Willstrop proved too much for the spirited Englishman.
Neither man could exert their dominance on the match in the early stages as qualifier Parker held his own in the opening game but with a flurry of sublime shots, Willstrop managed to take the first 11-6.
The second game continued in a similar fashion to the first with both players trading blows. Parker pulled off a remarkable drop shot to bring the game to 7-8, however this only appeared to encourage the three-time champion and he didn't drop a further point in the second to take it 11-7.
Parker was not giving up though and through yet another tight game, managed to claw his way back into the match scraping the third 11-9.
All the momentum was now with the qualifier as he raced into a 4-1 lead in the fourth game but Willstrop regrouped and sealed his place in tomorrow's final winning the last game 11-7.
"It feels very good. It's just nice to be playing big matches and it's a big tournament so it's great." said 36-year-old Willstrop.
"George is a class player and he kept his head today. He played great squash and we had a great match.
"He's a class act, I've known that for a long time, and I knew how good he was so that's why I gave him respect. It was anything but easy.
"Joel (Makin) will be tough to beat at this tournament no question. He's the form player that's here but Adrian (Waller) played really well at the World Team Championships.
Top seed Joel Makin or Adrian Waller will face Willstrop in Sunday's final.

[2] James Willstrop (ENG) bt George Parker (ENG) 3-1: 11-6, 11-7, 9-11, 11-7

Makin reaches first ever Nationals final with victory over Waller

Jack Flintham reports
Top seed Joel Makin managed to overcome Englishman Adrian Waller to reach his maiden final at the AJ Bell British National Championships in Nottingham.
He had previously lost three of his last four matches against his opponent but the Welshman managed to get through in four games.
Makin raced into a 5-1 then 9-4 lead in the first game but Waller fought back with three straight points. However, in a crucial point at 9-7 the British no.1 executed a superb disguised shot to get past the Englishman and eventually seal the game 11-7.
The two players couldn't be separated in the second and after four let points, Waller was eventually able to equalise with a majestic backhand volley.
The top seed regrouped though and was in control for most of the third game before winning it 11-7 with a seemingly impossible shot on the slide which managed to deceive Waller.
He continued his dominance in the fourth and final game, closing it out 11-2 and setting up a final with second seed James Willstrop who defeated George Parker earlier in the day.
"He came in with a lot of confidence. He had a clear idea of what he was going to do – slow me down and use the height, try and get down the middle of the court and attack me.
"It was effective for a time, he was slowing me down, so I knew that I had to play a little bit faster and take my chances a bit more.
"I'm really looking forward to tomorrow. James has got through the draw unbelievably well early on.
"You only have to give him a little chance and he puts the ball away. I played him a couple of weeks ago and it was a tough game.
"He knows how to win these tournaments all through his career so I'm excited to see how I get on against him."
[1] Joel Makin (WAL) bt [3/4] Adrian Waller (ENG) 3-1: 11-7, 10-12, 11-7, 11-2