Giant-killer Parker stuns Selby to advance to AJ Bell British Nationals semi-finals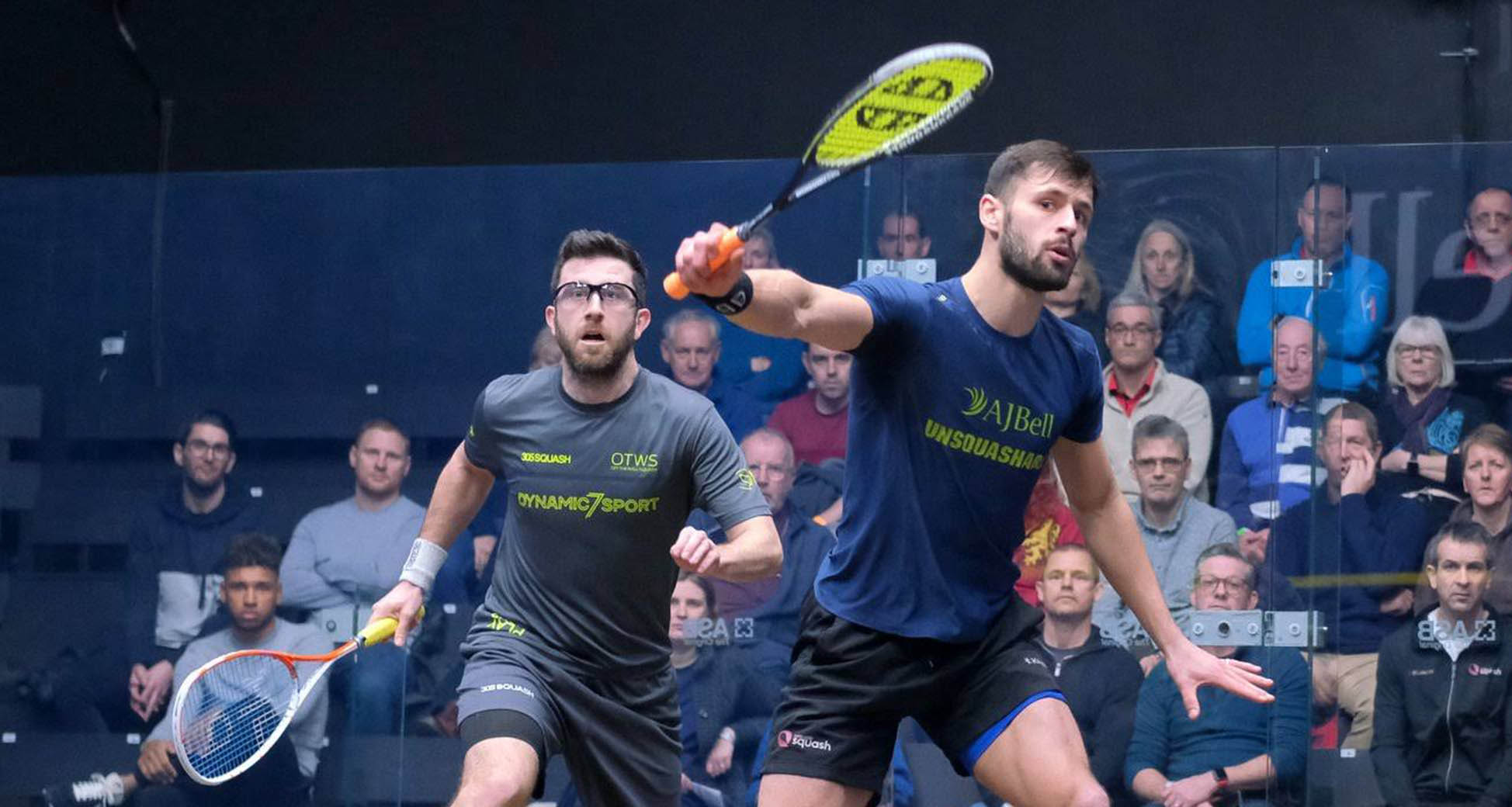 Tom Pilcher reports
Unseeded Englishman George Parker continued his giant-killing run as he followed up a first round upset with a quarter-final victory over former champion [3/4] Daryl Selby in straight games to advance to his first semi-final at the AJ Bell British National Championships in Nottingham.

Essex's Selby, 37, returned to the court following an eye injury he sustained during round one but proved no match for Parker, the World Number 53 from Leicester, who claimed his first win over Selby after five defeats winning 11-6, 11-9, 11-5.
Parker, 23 said:
"I'm just enjoying the tournament, no pressure, no ranking points so I can relax my head and let my arm go which is what I did today."
Commenting on Parker's performance, Selby said; "I wasn't good enough today irrelevant of what happened yesterday. George played too well. I'm not disappointed with that. I gave everything and chased everything down but I just wasn't good enough."
Meanwhile, in the women's draw, 2019 runner-up Emily Whitlock, seeded 5/8, got the better of 3/4 seed Victoria Lust 3-1 in a gripping clash.
Whitlock raced to a 2-0 start before Lust fought back to claim a tight third 15-13, saving two match balls before Whitlock bounced back to take the fourth, requiring only one match ball to reach her third semi-final, winning 11-5, 11-1, 13-15, 11-7.
"Vicky's a good player, she gets physical and makes it difficult the whole time. I'm delighted to get through," said Whitlock.
Defending champion James Willstrop, who is appearing in his 22nd consecutive British Nationals, outclassed Nottingham's [5/8] Declan James in straight games, winning 11-7, 11-8, 11-5 in 43 minutes.
"If you've seen Declan's performances at the World Teams, you'll know they were inspiring, so I knew what I was likely to be up against today," said Willstrop, the former World No.1 from Yorkshire.

"I didn't know what was in store, but I'm happy to have played well and really pleased to be playing in the semi-finals tomorrow."
Meanwhile, World No. 20 and 3/4 seed Adrian Waller remained composed against giant-killer Richie Fallows to seal a 3-1 victory and tee up a meeting with top seed Joel Makin who saw off nine-time Scottish champion and 5/8 seed Alan Clyne 3-1: 11-4, 8-11, 11-7, 11-5.
Fallows saved two match balls in the third game, and despite an energetic start to the fourth as he threatened to run away with the game, Waller used all of his experience to take the last nine points of the match to reach his fourth semi-final winning: 11-8, 12-10, 10-12, 11-6.
Women's top seed Sarah-Jane Perry required 47 minutes and five games to dispatch 5/8 seed Julianne Courtice. Perry's clean winning record against Courtice looked to be under threat after she trailed 2-1 but in a high-quality affair with neither player making many errors, the World No.7 came through 6-11, 11-9, 6-11, 11-6, 11-4.
Women's 3/4 seed Millie Tomlinson advanced to her first semi-final by edging [5/8] Lucy Turmel in a gripping 70-minute encounter that went the distance.
The Derbyshire player prevailed 11-6, 4-11, 11-9, 6-11, 12-10 to go one better than her last-eight finishes from the previous two years, the 27-year-old battling back from 5-2 down in the decider to seal it on her fifth match ball.
"Relieved is the right word! Playing at home in Nottingham should be an advantage, even though I'm not keen on glass courts, but it's great having friends and family here," said Tomlinson.
"I'm playing SJ next who also had a tough five-setter - I hope she's as tired and stressed out from it as I am!"
5/8 seed Jasmine Hutton moved into her first semi-final after second seed Alison Waters withdrew due to an ankle injury she sustained on Thursday.
AJ Bell British National Championships 2020: Quarter-final results
[1] Sarah-Jane Perry (Eng) 3-2 [5/8] Julianne Courtice (Eng) 6-11, 11-9, 6-11, 11-6, 11-4 (47m)
[3/4] Millie Tomlinson (Eng) 3-2 [5/8] Lucy Turmel (Eng) 11-6, 4-11, 11-9, 6-11, 12-10 (70m)
[5/8] Emily Whitlock (Eng) 3-1 [3/4] Victoria Lust (Eng) 11-5, 11-1, 13-15, 11-7 (46m)
[5/8] Jasmine Hutton (Eng) w/o [2] Alison Waters (Eng) Alison w/d injured

[1] Joel Makin (Wal) 3-1 [5/8] Alan Clyne (Sco) 11-4, 8-11, 11-7, 11-5 (53m)
[3/4] Adrian Waller (Eng) v Richie Fallows (Eng) 11-8, 12-10, 10-12, 11-6 (66m)
George Parker (Eng) 3-0 [3/4] Daryl Selby (Eng) 11-6, 11-9, 11-5 (41m)
[2] James Willstrop (Eng) 3-0 [5/8] Declan James (Eng) 11-7, 11-8, 11-5 (43m)
Watch live action from the semi-finals from 1pm on englandsquash.tv (requires free England Squash website account).