Masters semi-finalists decided as top seeds advance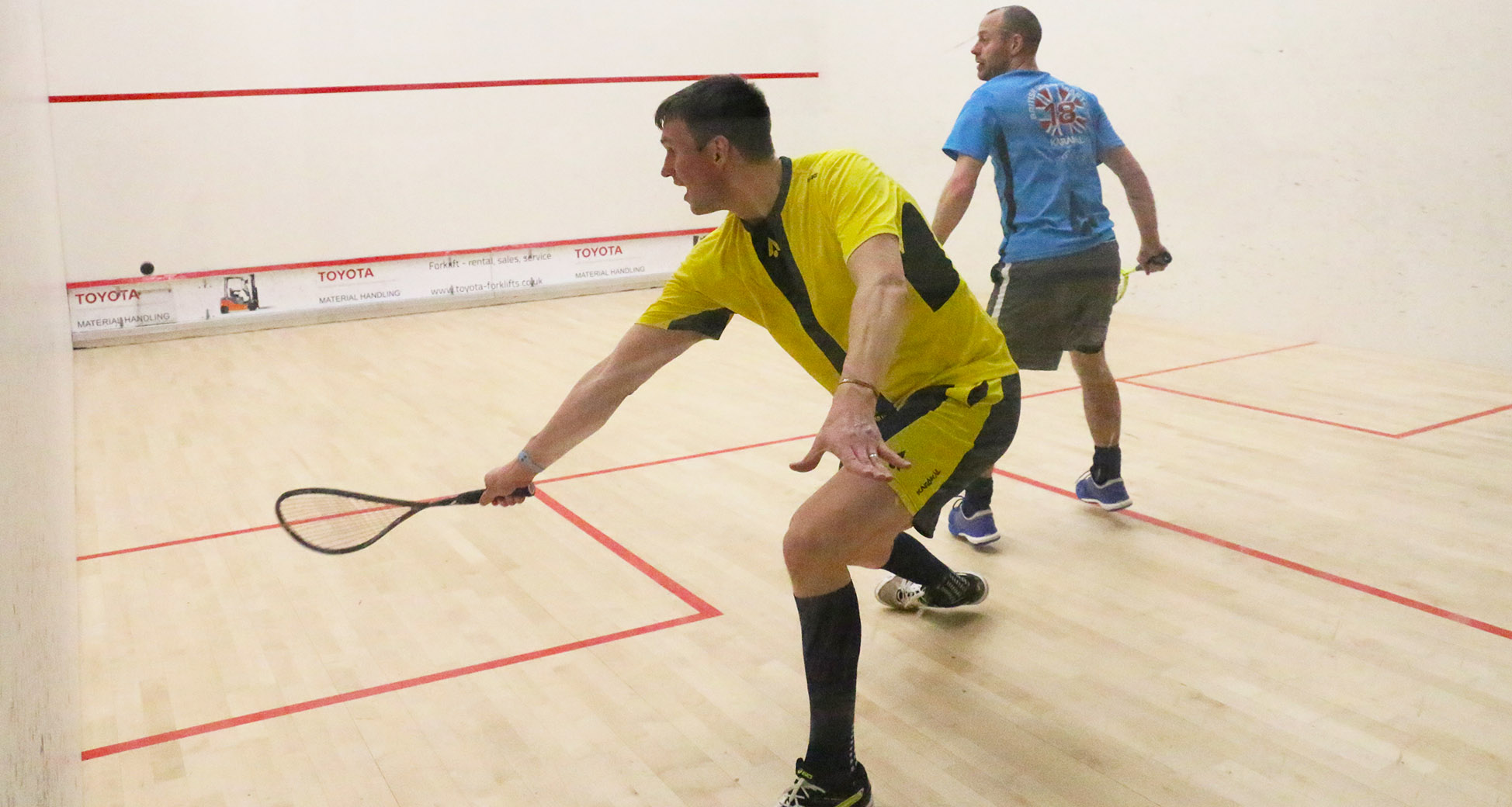 Stuart Hardy reports
The AJ Bell British National Masters Championships continued on Friday with 18-time champion Pat Kirton of Surrey defeating defending champion, Hampshire's Lance Kinder in straight games in the Men's Over 80s.
There was another victory for a serial winner in the Men's 75s as Yorkshire's four-time world champion Adrian Wright overcame Derbyshire's John Robertson in four games. He will meet Northumberland's Ken Johnson who defeated Thomas Elves in an all North East clash.
In the other half of the draw, British Open champion Mike Clemson of Yorkshire will meet Scotland's number one Ken Reid.
Top seed in the Over 70s, Barry Featherstone of Hampshire beat Cheshire's Jonathan Firth in a tough encounter. He will now meet Sussex's Ian Graham. In the other semi-final, fellow Hampshire player and England captain Larry Grover faces Scotland's number one Ian Ross.
All four top seeds managed to progress in the Men's 65s. Masters Chair Stuart Hardy of Middlesex got through in five against Cumbria's Terry Belshaw. Hardy will now take on top seed, Middlesex's Mark Cowley next.
Lancashire's defending champion Steve Johnson beat Geoff Redfern of Warwickshire to set up a fixture with Northamptonshire's Simon Evenden.
Former champion Jeremy Goulding of Avon progressed in the Men's 60s after a five game thriller with Middlesex's James Ockwell. He now meets Durham and Cleveland's Neil Harrison.
Elsewhere top seed and defending champion, Jon Evan of Wales got through to face European champion Allen Barwise of Lancashire.
Lancashire's Ray Burke set up a semi with Hampshire's Jon Foster after a five game encounter against Darren Withey of Buckinghamshire in the Men's 55s. An intriguing match awaits in the other half as Middlesex's Alex Betts meets former champion Eamonn Price of Herefordshire.
There was an upset in the Men's 50s as the number two seed Dave Youngs of Norfolk was eliminated by Durham and Cleveland's Tim Clark. Clark will now face county colleague Andy Cross.
In a battle of the Nicks, the O45 top seed Nick Wall (Yorkshire) survived by a slim 12/10 in the fifth against the talented Nick Staunton (Ireland), the 2018 champion. He now meets Matt Stephenson (Yorkshire) who stunned Devon's Jon Gallacher in a power-hitting match. The other half of the draw saw Ashley Bowling (Oxfordshire) book his semi-final with a 3-0 win over Wales No.1 Jonathan Davies and he plays defending champion Paul Boyle (Buckinghamshire).
Former circuit pro Darren Lewis (Leicestershire) stormed into the semi-finals of the Men's 40s against Tim Burrell (Berkshire) and now plays local pro Nick Hargreaves who, much to the delight of the home crowd, came through against Nick Freer (Middlesex). The other half had former champion Matt Marshall (Buckinghamshire) take on the powerful Mick Biggs (Middlesex) and Biggs went two games up before Marshall struck back and survived match points in the fourth before taking it 20/18 and then clinched the fifth 11-9 in a thriller of high class squash.
In the Blue Riband event, the Men's 35s top seeds showed their class. Top seed and Army Champion Sam Miller (Warwickshire) beat Paul Stroud (Leicestershire) and meets British Open Champion Phil Nightingale (Surrey) who had too much for Keith Timms (Herfordshire). Another Surrey pro Phil Rushworth, the No 2 seed, dispatched Norfolk champion Matt Bolt and will meet another Norfolk star in Jamie Goodrich who had too much game for Surrey's Tony Webb.
The Women's events moved into full action. The 60s boasts three world champions and two of them will meet in one semi as Julie Field (Yorkshire) beat Scotland's Eunice Bond while Jill Champion (Middlesex) won through against Lynne Davies of Wales. Meanwhile Karen Hume (Kent) removed Susan Pynegar (Nottinghamshire) and will meet the very skilful Sian Johnson (Wales) the No 2 seed.
The defending Champion in the 55s, Mandy Akin (Kent) progressed smoothly and will meet Jackie Gregory (Essex) who upset the seedings beating Isobel Smith (Hertfordshire) in five. Meanwhile the woman with the most regional titles, Fran Wallis (Lincolnshire), booked a semi-final against Hilary Kenyon (Cheshire) defeating Polly Woodward (Cheshire) while Kenyon beat Surrey's Tammy Bennett.
European Champion Andrea Santamaria (Yorkshire) is the one to beat in the Women's 50s. Dorset's Bev Vatcher gave her all and took the first but was then pegged back and overpowered. She plays Rackethon Champion Izzy Bramhall (Nottinghamshire) who beat another Dorset player Sharmine Coleman.
The defending Champion in the Women's over 45s Rachel Woodward (Nottinghamshire) proved too much for Zoe Shardlow (Sussex) and now has a semi-final against Louisa Dalwood (Herefordshire). The seeds in the other half survived and Sarah Parr (Berkshire) edged home in four against Linda Pritchard (Shropshire) and meets England teammate Rachel Calver (Leicestershire) for a place in the final.
The Women's 35s seeds all meet in the semi-finals. Sarah Campion (Cheshire) will meet county colleague Natalie Husdon. She beat Reka Gay (Cambridgeshire) in straight games. Second seed Sarah-Jane Neller (Essex) proved too good for Elaine Radcliffe (Shropshire) and plays Sophie Beake (Berkshire) who defeated Gemma Barber (Dorset) also in straight games.
The semi-finals will all be at Nottingham Squash Club on Saturday from 11am. Spectators welcome.