Masters top seeds prevail on enthralling finals day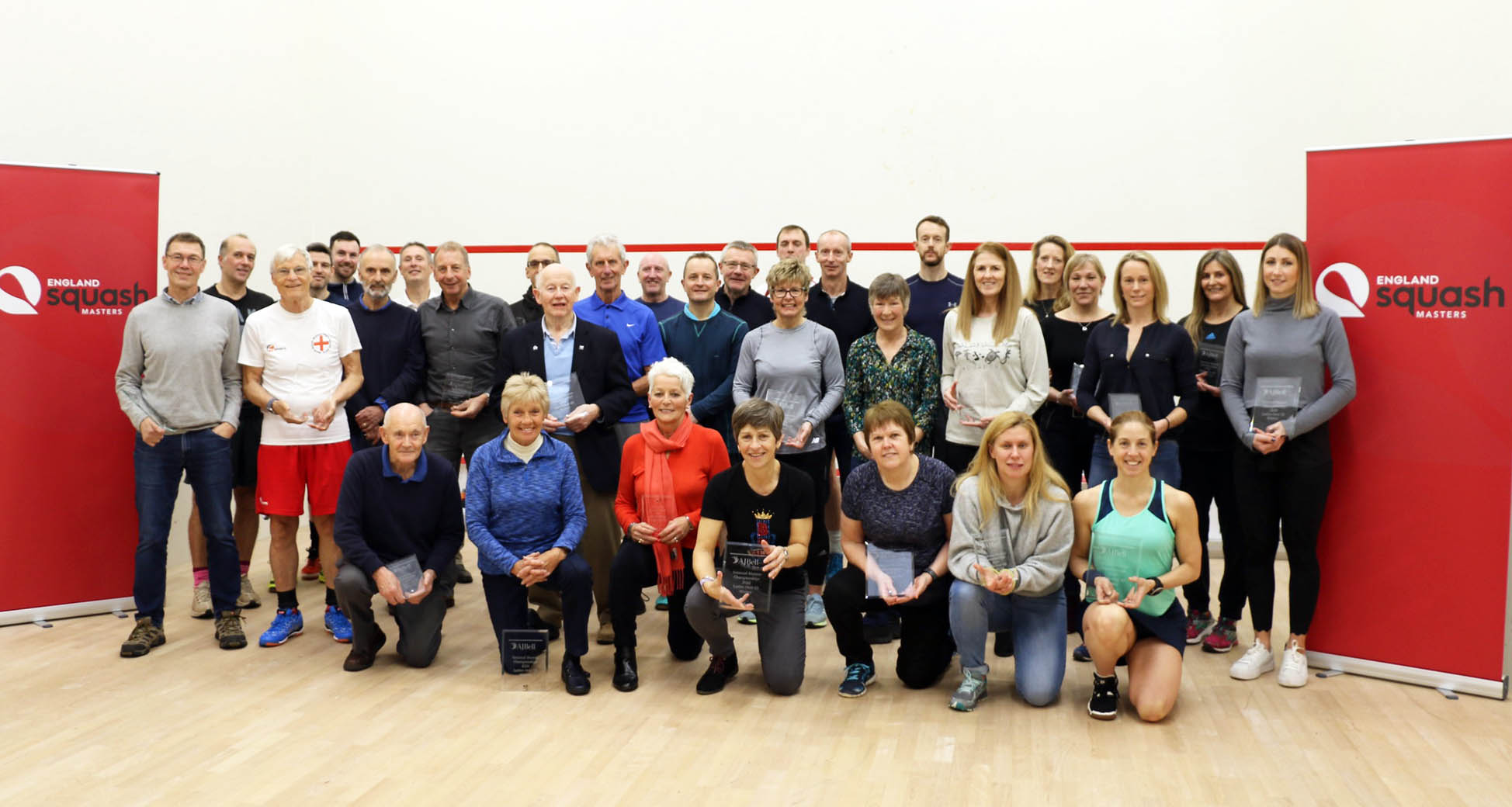 Stuart Hardy reports
A pulsating AJ Bell British National Masters Championships came to an end today with a host of thrilling finals.
In the women's draw, Avon's Ann Manley came from two games down to defeat Rebecca Czuczman of Kent and secure the 70s crown.
Welsh second seed Sian Johnson defeated top seed Julie Field of Yorkshire in straight games in the women's 60s.
Seven-time champion, Kent's Mandy Akin, beat Hilary Kenyon of Cheshire in five to claim another Nationals title in the 55s.
It took three tiebreaks in the women's 50s for Andrea Santamaria of Yorkshire to get past Cheshire's Nikki Fowler.
The 45s produced a thrilling five game final with Leicestershire's Rachel Calver edging past Rachel Woodward of Nottinghamshire 11/7 in the last.
Essex's Lauren Briggs put in a dominant display to defeat Cambridgeshire's Kate Bradshaw in three straight games in the women's 40s.
Sarah Campion of Cheshire was just as dominant in her 35s final as she defeated Essex's Sarah-Jane Neller.
In the Men's 80s competition, Scotland's Vincent Taylor finished top of the round robin with Pat Kirton of Surrey finishing as runner-up.
Northumberland's Ken Johnson performed superbly in the semi-finals in the 75s to claim his first National title in five against Yorkshire's British Open champion Mike Clemson.
Ian Graham of Sussex pulled off a great comeback to also win in five against Hampshire's Larry Grover in the Men's 70s.
The top two seeds met in the Men's 65s as Lancashire's Steve Johnson defeated Mark Cowley of Middlesex in four games.
In the battle of the 3/4 seeds saw Durham and Cleveland's Neil Harrison beat Lancashire's Allen Barwise in the Men's 60s.
Jon Foster of Hampshire won the Men's 55s in straight games against Middlesex's Alex Betts.
Two Durham and Cleveland players battled it out in the 50s, but it was Yawar Abbas who triumphed over Andy Cross.
In the Men's 45s, Nick Walls of Yorkshire beat 2019 champion Paul Boyle of Buckinghamshire in straight games.
Leicestershire's Darren Lewis did excellently to defeat Scotland ace Stuart Ayton in four games to lift the Men's 40s title.
Sam Miller of Warwickshire won a scintillating match with Surrey's Phil Rushworth in the Men's 35s.
AJ Bell British National Masters 2020 finals: results

W35 [1] Sarah Campion (Chs) 3-0 [2] Sarah-Jane Neller (Esx) 11/6, 11/2, 11/4
W40 [1] Lauren Briggs (Esx) 3-0 [3/4] Kate Bradshaw (Cbe) 11-1, 11-6,11-1
W45 [2] Rachel Calver (Lec) 3-2 [1] Rachel Woodward (Not) 13/11, 11/4, 9/11, 9/11, 11/7
W50 [1] Andrea Santamaria (Yks) 3-0 [2] Nikki Fowler (Chs) 12/10, 13/11, 15/13
W55 [1] Mandy Akin (Knt) 3-2 [2] Hilary Kenyon (Chs) 7/11, 11/9, 10/12, 11/4, 11/8
W60 [2] Sian Johnson (Wal) 3-0 [1] Julie Field (Yks) 11/7, 11/9, 11/6
W70 [1] Ann Manley (Avn) 3-2 [2] Rebecca Czuczman (Knt) 5/11, 4/11, 11/7, 11/1, 11/8
M35 [1] Sam Miller (Wks) 3-1 [2] Phil Rushworth (Sry) 11/9, 4/11, 12/10, 11/9
M40 [1] Darren Lewis (Lec) 3-1 [3/4] Stuart Ayton (Sco) 16/14, 11/8, 8/11, 11/6
M45 [1] Nick Wall (Yks) 3-0 [2] Paul Boyle (Bux) 11/4, 11/9, 11/9
M50 [1] Yawar Abbas (Dcl) 3-0 [5/8] Andrew Cross (Dcl) 11/7, 11/5, 11/9
M55 [1] Jon Foster (Hph) 3-0 [3/4] Alex Betts (Mdx) 11/7, 11/6, 11/8
M60 [3/4] Neil Harrison (Dcl) 3-1 [3/4] Allen Barwise (Lnh) 12/14, 11/5, 11/8, 11/7
M65 [2] Stephen Johnson (Lnh) 3-1 [1] Mark Cowley (Mdx) 6/11, 12/10, 11/8, 12/10
M70 [3/4] Ian Graham (Ssx) 3-2 [3/4] Larry Grover (Hph) 11/6, 6/11, 8/11, 11/6, 11/6)
M75 [3/4] Ken Johnson (Nld) 3-2 [2] Mike Clemson (Yks) 11/4, 8/11, 11/8, 3/11, 11/8
M80 RR 1st Vincent Taylor (Sco), 2nd Pat Kirton (n/a)
View draws and results | View photos