British National Masters 2020 finalists decided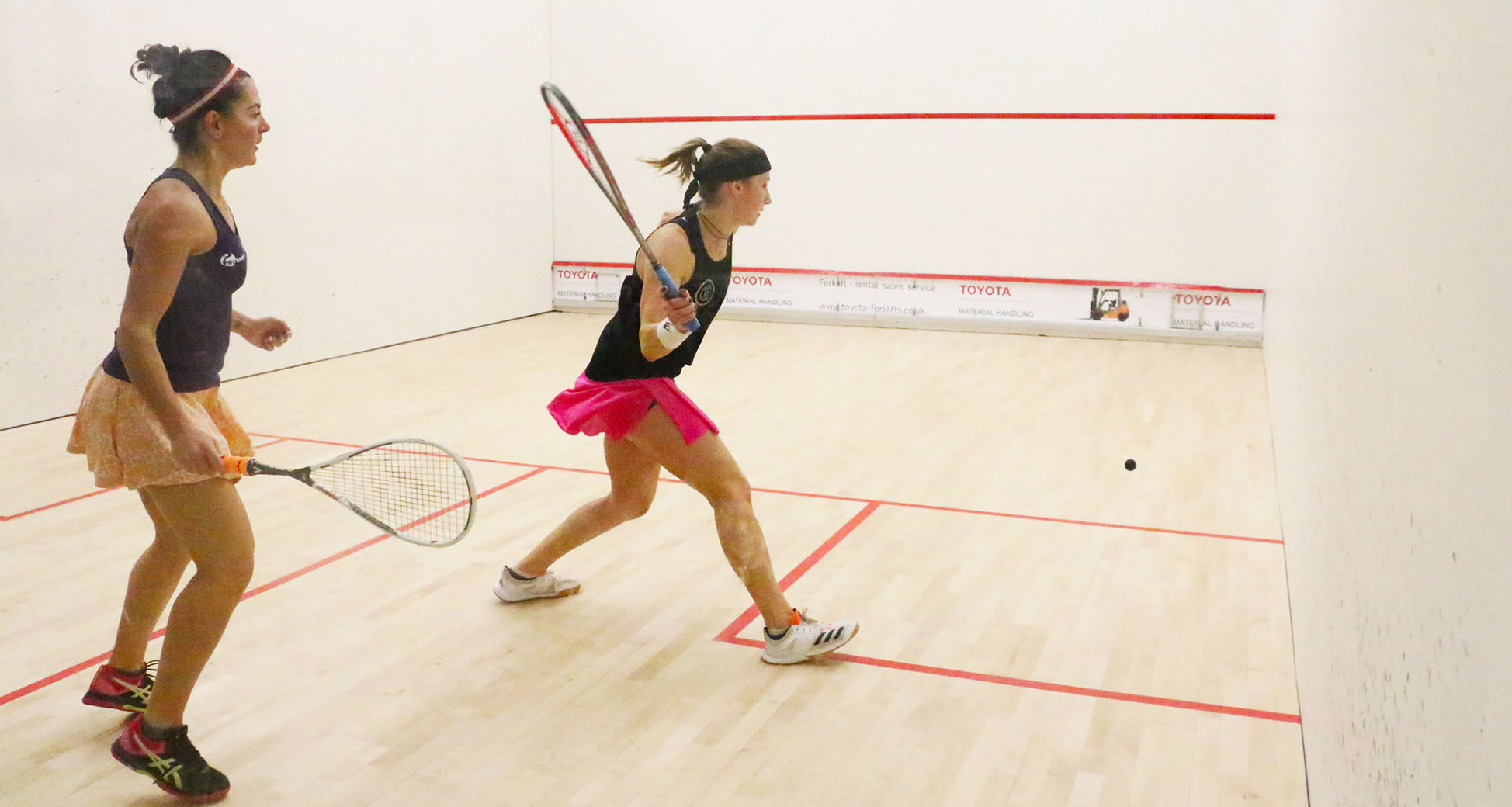 Stuart Hardy reports
Day four at the AJ Bell British National Masters Championships 2020 saw two top seeds ousted at Nottingham Squash Rackets Club.
In the Men's Over 80s, eighteen-time champion and former GB star Pat Kirton took on Canadian Scot Vincent Taylor. In a terrific game of great skill, Taylor won 3-1.

There was a shock in the 75s as four-time world champion Adrian Wright (YKS) lost to Durham's Ken Johnson in straight games, the first two being very tight. He will meet Mike Clemson (YKS) in the final after he proved too lively for Scotland No.1 Ken Reid. This was the only group England lost to Scotland in the Internationals so they will be looking to avenge their loss.
The top two seeds perished in the Men's 70s to the 3/4 seeds. Barry Featherstone (HPH) had two game points to level at two games each but went down 12-10 to former champion Ian Graham (SSX). In the other half, Larry Grover (HPH) continued his fine form after claiming the South of England Open. He went two games up against former European Champion and Scotland No.1 Ian Ross only to be pulled back to 2-2. He controlled the fifth with some great length to clinch victory and book his first National final.
Top seed Mark Cowley (MDX), a World, European, British Open and National champion, was too strong for Masters Chairman Stuart Hardy (MDX) ine 60s, dispatching him in straight games. Second seed Steve Johnson (LNH) - the current National, Open and European Champion - had to battle hard to subdue a lively Simon Evenden (NHM), edging home in four.
The 3/4 seeds also prevailed in the Men's 60s. 2018 Champion Allen Barwise (LNH) was 2-1 up against defending champion and Wales No.1 Jon Evans when the Welshman had to retire with a knee injury. Former champion Jeremy Goulding (AVN) fell to Durham's Neil Harrison (known as Wonky Backhand) who won through a flurry of winners.
Former Army star Ray Burke MBE ended his great run in the semi-finals finding the very talented Jon Foster (HPH) a step too far. Winchester's Foster will meet Queens Club's Alex Betts (MDX) in the final of the 55s after he ended a string of defeats (three Regional Finals and the Jesters Championship) this season by Eamonn Price (HFD). In a great game of all court squash, Betts hung on to win in five gruelling games.
Three of the four Men's 50 semi-finalists were from Durham & Cleveland and they ended up with both finalists. Top seed Yawar Abbas had the edge over the athletic Steve McLoughlin (HPH) and clinched the third 13-11. Meanwhile, Andy Cross confirmed his return to top form after a fallow period coming back from one down to beat Tim Clark 3-1. With Abbas and Cross locking horns many times, an entertaining final is guaranteed.
Nick Wall (YKS) was rampant taking out fellow Yorkshireman Matthew Stephenson in straight games. Meanwhile, Paul Boyle (BUX) - the 2019 O45 Champion - booked his final berth to defend his title by downing Ashley Bowling (OFE) in straight games.
In the Men's 40s, Nottingham club pro Nick Hargreaves took on top seed and former 35 Champion Darren Lewis (LEC). Lewis displayed his full range of talents giving Hargreaves no chance to use his athleticism and was taken out in straight games. Defending champion Matt Marshall (BUX) faced Scotland No . Stuart Ayton with the champion not having been very active on the circuit due to new baby commitments. Ayton went two up but was hauled back by Marshall to two games apeice. But it was Ayton who had the edge in the fifth 13-11 to book his place in the final.
The Men's 35s saw the top two seeds power through to the final. Top seed and Army Champion Sam Miller (WKS) controlled the court beautifully against Open Champion and Surrey pro Phil Nightingale. The Surrey man's long reach was tested to the limit as he was forced into every corner of the court. Second seed Phil Rushworth also of Surrey produced a masterclass against Norfolk star Jamie Goodrich, and with a breathtaking display of shot making, won through in straight games.
The Women's 60s gave us two excellent semi-finals as a group with three World Champions would suggest. Top seed Julie Field (YKS) squeezed home in five games against Jill Campion (MDX). Then 2016 champion Sian Johnson (Wales) had the same result against Karen Hume (KNT), recovering from 1-2 down to win in five.
In the 55s, the top two came through but not without some excitement. Seven-time National champion Mandy Akin (KNT) lost the first and took the second 12-10 before taking control and winning in four against Jackie Gregory (ESX). In the other semi, Fran Wallis (LCN) took the first 15-13 against Cheshire's Hilary Kenyon but lost the next three close ones. In Mandy's match she put an easy drop in the tin and called out "Finish it!" The referee misheard and frantic explanations had the gallery very amused.
Women's O55s top seed, Andrea Santamaria (YKS) - the European champion, three-time British Open and three-time National chamion - had too much for Izzy Bramhall (NOT) and now meets Nikki Fowler (CHS) who proved too strong for England Captain Rachel Woolford (WKS).
The women's 45s will see defending champion Rachel Woodward (NOT) face second seed Rachel Calver (LEC) in the final. Woodward came through a tough encounter with Louisa Dalwood (HFD), taking the third 11-9 to go two-one up and then clinching the fourth. Calver, meanwhile dropped the first to the elegant play of Sarah Parr (BRK) but then firmly took control to take the next three.
The Women's 40s was only a small draw but the excellent Lauren Briggs (ESX) outclassed Joanne Hilton (DCL) winning in straight games. The final will be against Kate Bradshaw (CBE) who had a terrific match with Nicky Green (NOR), winning through in five competitive games.
Commonwealth games medalist Sarah Campion nee Kippax (CHS), the women's over 35s top seed, dispatched Natalie Husdan (CHS) in straight games and will now face Sarah-Jane Neller (ESX) who had a sterner test but a 3-0 win over Sophie Beake (BRK).
The finals will all be played at Nottingham Squash Club from 10:20 hours on Sunday with some stellar squash stretching across all age groups. Spectators welcome.