Back
28 October 17 - by Mike Jones
Adderley becomes first Scot to reach a GU17 BJC final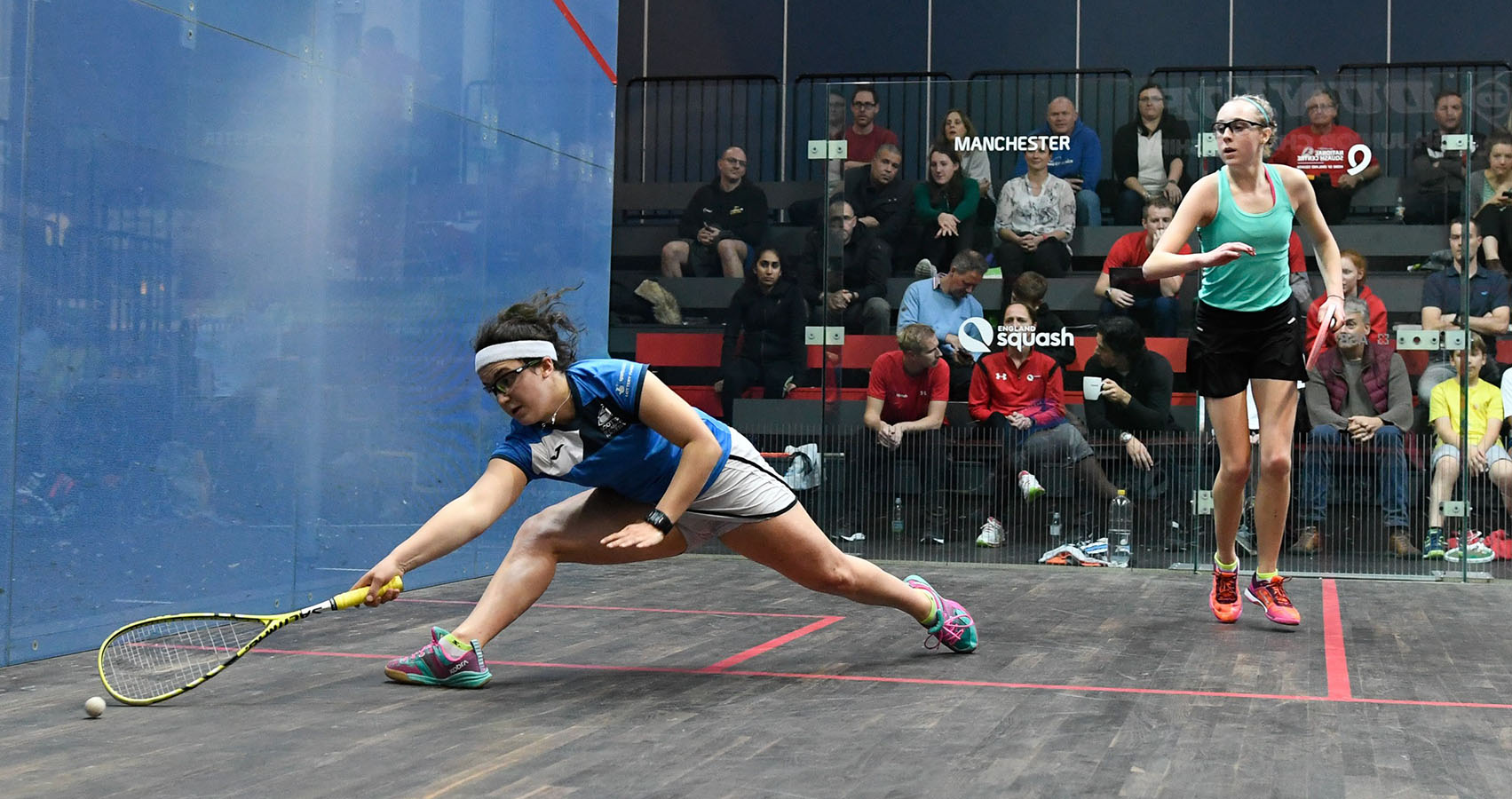 Georgia Adderley wrote her name in the history books by becoming the first Scottish female in British Junior Championship history to reach a GU17 final.
The Edinburgh teenager overcame fifth seed Margot Prow in straight sets to secure her place in Sunday's final, cruising to a 11/6, 11/2, 11/5 win over her spirited Middlesex opponent.
It sees 16-year-old Adderley become the first Scot to reach a BJC final in over two decades – with Laura Hamilton's 1996 second place in the GU19 final being the last time Scotland enjoyed representation in any final two.
And the ecstatic top seed says she is relishing the prospect of bringing the GU17 BJC title back to her home country.
"I feel really, really good, I'm really happy to win, I'm over the moon to be in the final," said Adderley.
"It's my first final so I'm really excited. It feels amazing, I love representing Scotland, it's my favourite country and it's nice to be away with such a big squad and having all the support."
Standing between Adderley and BJC glory is Essex's Alice Green, who overcame a valiant display from third seed Eve Coxon to progress to her second consecutive final.
The 16-year-old right hander overturned a five-point deficit in the first game and held on to a nervous lead in the second, before Oxford's Coxon pulled a game back in the third.
Yet Green's power and stamina saw her through to the finish, winning 11/9, 13/11, 9/11, 11/3.
Adderley would become only the fifth Scottish female to claim the top prize in any category should she beat Green in the final and she is relishing the contest.
"I've played Alice a couple of times before, she's a very, strong player and I'm just really looking forward to the challenge. We'll see what happens and see if I can take the title back home to Scotland."
Elsewhere the GU19 is set for a repeat of the 2016 final as reigning champion Lucy Turmel and Sussex's Jasmine Hutton both sailed into the final two.
Suffolk's Turmel, playing in her third final in three years, hopes to duplicate her previous successes but is wary Hutton isn't the easiest of opponents. Turmel said,
"I'm looking to retain my title from last year and I've got to play Jas, who's one of my best mates, last year it went my way so hopefully it can happen again,"
"We've had a rivalry through juniors, we often face each other in the semis or the finals of tournaments, it's always a good match and I'm looking forward to it," said Hutton.
"Last year I just got way too edgy but I've been with my new coach through quite a lot recently and he's taught me a lot with regards to not getting nervous as much, just keeping relaxed and learning how to do the same thing after each match, just to keep it going."
The GU15 saw the top two seeds reach the final as Sussex's Torrie Malik saw off Lancashire's Saran Nghiem 11/7, 12/10, 11/4 and Katie Malliff from Buckinghamshire beat Hampshire's Maia Pannell 11/4, 11/4, 11/6.
Meanwhile, second seed Amelie Haworth defeated Dorset's Amy Campbell-Wynter in a five-set thriller that ended 11/9, 9/11, 11/7, 8/11, 11/7 to reach the GU13 final.
She was joined by top seed Yorkshire's Asia Harris, who was victorious over fourth seed Alyx Kelleher.