Back
25 November 22 - by England Squash
Bringing squash to the people | The Commonwealth Games legacy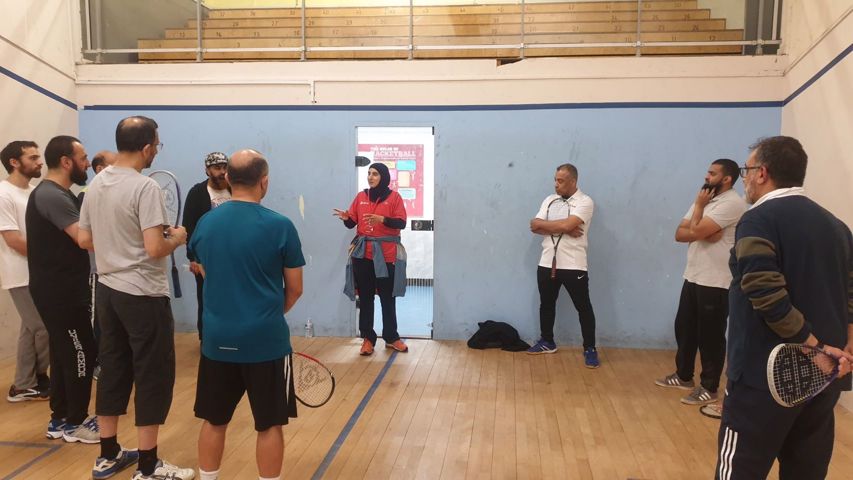 From introducing playground squash to blowing commuters away at Birmingham New Street, Squash United's Mike Harris and our Community Engagement Manager Asma Ajaz-Ali have been working around the clock to create a lasting Commonwealth Games legacy.
Reflecting on an incredible year for squash, we caught up with Mike and Asma to find out more about the initiatives they've been delivering to bring squash to new communities around Birmingham and the West Midlands.
"What really helped promote the game of squash to new audiences during the build-up to the Games was the creation of a brand new mini squash court," said Mike. "Being able to transport a small, florescent green version of a standard court has been a game changer.
"Over the last 12 months, the mini squash courts went to over 135 roadshows, including sporting events, music festivals, parks, youth centres, schools, squash clubs, faith centres, business fairs, shopping centres, street corners, PSA tournaments, Birmingham New Street train station (which has a daily footfall of 170,000) and of course to the Birmingham 2022 Commonwealth Games squash venue. This has provided hundreds of thousands of young people and adults the chance to have a go at squash. .
"The mini squash court's first official outing was in July 2021 at the 'One Year To Go' event in Centenary Square, Birmingham. 7,500 people visited and were given the opportunity to try many of the Commonwealth Games sports including squash. The reaction to the courts was overwhelmingly positive, in fact many people were taken aback by them, no one had seen anything like it, including many professional players such as England's Declan James and Millie Tomlinson who came along to support.
"In March 2022, we opened our first outdoor playground squash court at The King Solomon Business School, located in a deprived, built-up area of Birmingham with limited outdoor sports facilities. 600 pupils now have the chance to take part in squash, either through PE lessons, after-school clubs or playing with their friends during lunch. We gave a number of teachers and some of the older pupils the chance to become a squash activator, meaning they could go on to support other students to play if they were feeling unsure about it.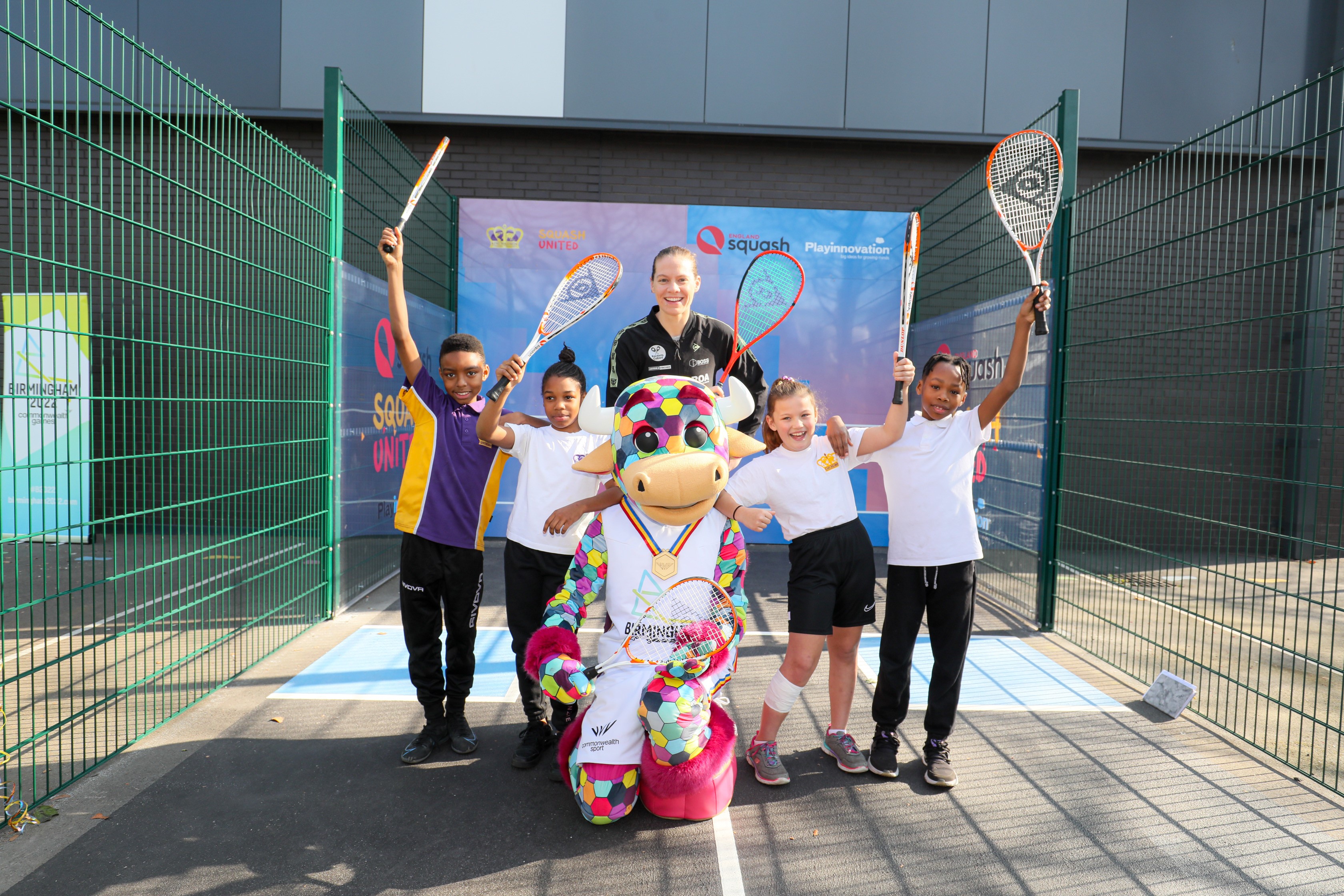 In May, Sport England awarded England Squash £200,000 to create innovative and accessible opportunities to engage with disadvantaged communities, enabling people from all backgrounds to take part in sport and physical activity. Asma Ajaz-Ali was then appointed as our Community Engagement Manager to drive this initiative in Birmingham and the West Midlands, where inequalities mean that activity levels are often below the national average.
Over the last six months, Asma has further expanded and complemented Mike's work using community squash activators, to help and inspire a range of ethnically diverse communities and lower socio-economic groups to get involved in the sport.
"Every community is completely different. Some are more susceptible to change, and some aren't," said Asma. "As a Muslim woman, I know that other women like me can be put off from playing squash if we see players in short clothes. We can't wear them due to our faith. That's why we have to build a dialogue before communities can fully trust us, using things such as marketing posters featuring ethnically diverse players, but most importantly, squash activators. Activators are empowered to go out and raise awareness of squash in their community in a way that feels more natural. This helps Muslim women feel more comfortable as they'll be able relate to and trust a squash activator who follows the same faith, and looks and dresses like them, making them much more likely to give the sport a go."
"And it's our job to make squash as accessible as possible for these communities. For example, we've subsided the cost of the Disclosure and Barring Service (DBS) that these individuals are required to have to become a community activator. When looking for more advocates for our sport within different communities, we can't just assume they have the means to fund their journey, or the resources to access our online content. We have to recognise these barriers and make a change in order to open our doors to more people.
"At the roadshows, we found that people didn't really know much about squash, but once they realised how easy it was to hit the ball against the wall and how much fun it is, they absolutely loved it. And because we're leaving the mini court with people for a week and not just a day, they're beginning to become more familiar with squash. Building this familiarity and a dialogue is what the Birmingham 2022 legacy is all about."
If you'd like to read more stories about the incredible work Asma, Squash United, and Mike Harris are doing, keep an eye on our socials: Facebook | Insta | Twitter