Back
15 April 18 - by England Squash
England claim Commonwealth silver and bronze in men's doubles
Following six days of intense doubles action, England's Daryl Selby & Adrian Waller, and James Willstrop & Declan James claimed Commonwealth silver and bronze respectively in the men's doubles finals at Oxenford Studios in Gold Coast today.
In a thrilling near-hour-long men's doubles climax which went the full distance between Selby & Waller and Zac Alexander & David Palmer of Australia, it was the home favourites who took the opening game.
But the tables were turned in the second when Selby and Waller levelled the match for the loss of just three points. The Australians regrouped early in the decider before delighting the crowd with their 11-9, 3-11, 11-6 victory after 57 minutes.
In the men's bronze medal match, England's James & Willstrop needed 58 minutes to get the better of Scottish rivals Alan Clyne & Greg Lobban, the second seeds, 11-9, 11-9.
Commenting after the match, Willstrop, the men's singles gold medalist said:
"They count for so much these Commonwealth medals. It's a huge thing for anyone winning medals. In the village, people applaud it and you're up on a board.
"And yesterday we were a million miles away from thinking about that - it's incredible how you have to turn yourself around. You wake up the next morning and have another go!"
His partner James, aged 24, added:
"After an hour and a half of drama and stress yesterday, I wouldn't have dreamed of thinking of coming back on court again today! We never go through the emotion of losing at squash, then having to play again.
"It was reconciliation today - we still realised there's a huge amount to play for and we said fourth is going to feel a lot worse than third is. We can hold our heads high now knowing that we've done everything we could. We're really happy that we came through today."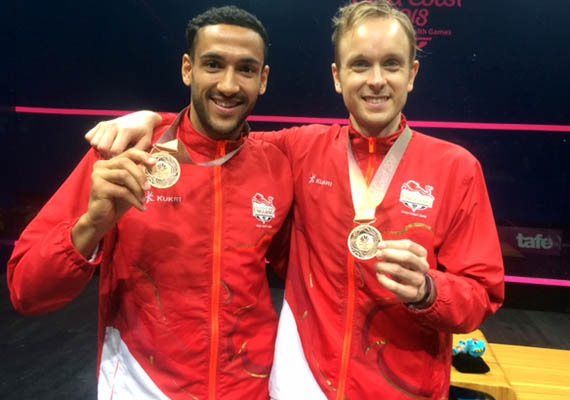 When the subject of the next Games came up, 34-year-old Willstrop said: "Declan should be there, but it's different for me - I can't take anything for granted. All I know now is that I'd like to play squash for a bit if I can. I have to take it month by month.
Meanwhile, England's Laura Massaro & Sarah-Jane Perry put up a great fight in the women's bronze final against Australia's Rachael Grinham & Donna Urquhart but it was the home nation who prevailed with a 11-6, 11-8 victory.
Today's victories cap off a stellar run for England which saw James Willstrop claim gold and Sarah-Jane Perry clinch silver in the men's and women's singles respectively.
Commenting on England's performance overall, National Coach, David Campion said;
"We were contenders in every event. It worked out for some of our pairs and for others it wasn't to be. The standard of the doubles was very high and there are a few specialists teams which makes it tough to medal. SJ, Adrian and Declan all managed to medal here which will serve them well no doubt for Birmingham 2022."
Results
Men's Doubles Final:
[5] Zac Alexander & David Palmer (AUS) bt [7] Daryl Selby & Adrian Waller (ENG) 11-9, 3-11, 11-6 (57m)
Bronze medal play-off:
[4] Declan James & James Willstrop (ENG) bt [2] Alan Clyne & Greg Lobban (SCO) 11-9, 11-9 (58m)
Women's Doubles Final:
[1] Joelle King & Amanda Landers-Murphy (NZL) bt [3] Joshna Chinappa & Dipika Pallikal Karthik (IND) 11-9, 11-8 (22m)
Bronze medal play-off:
[4] Rachael Grinham & Donna Urquhart (AUS) bt [7] Laura Massaro & Sarah-Jane Perry (ENG) 11-6, 11-8 (21m)
2018 Commonwealth Games images courtesy of Toni Van der Kreek
Been a real pleasure to play with Laura this week. Learnt a lot about doubles and teamwork. A huge effort from the whole squad, left everything out there in every match. Excited for @birminghamcg22 already ?? pic.twitter.com/BKwJFtnM1P

— Sarah-Jane Perry (@SJPerry15) April 15, 2018