Back
15 May 18 - by England Squash
English quintet advance to Round 2 of the British Open
Round 1 of the prestigious Allam British Open saw five English players book their places in Round 2 across the men's and women's events, with Nick Matthew, Laura Massaro, Sarah-Jane Perry, Alison Waters and Victoria Lust all prevailing at the Airco Arena in Hull.
Nick Matthew, playing his 700th world tour match and final Allam British Open, kept retirement on hold in fine fashion as he ousted Tarek Momen, Egypt's fifth seed.
Unseeded Matthew, 37, beat Momen in a thrilling 80-minute contest to prevail 11-4, 10-12, 11-4, 8-11, 11-2 at the Airco Arena in Hull.
The three-time champion used guile, determination and accuracy to race through the decider as he set up a last 16 encounter with unseeded German Raphael Kandra on Thursday.
Matthew, who retires after a 20-year career in the summer said:

"It feels like I've won the tournament, that was my final."
"It was a bit emotional potentially being the last match and I didn't want to go out on a Tuesday night. I want to go all the way to the weekend now."
James Willstrop, the Commonwealth singles champion, was beaten in straight games by Marwan Elshorbagy, of Egypt, to leave Matthew as the only Englishman in the last 16 of the prestigious draw.
Meanwhile England women's No 1 Laura Massaro, the defending champion, beat Egypt's Mayar Hany 3-0 after taking the opener 21-19.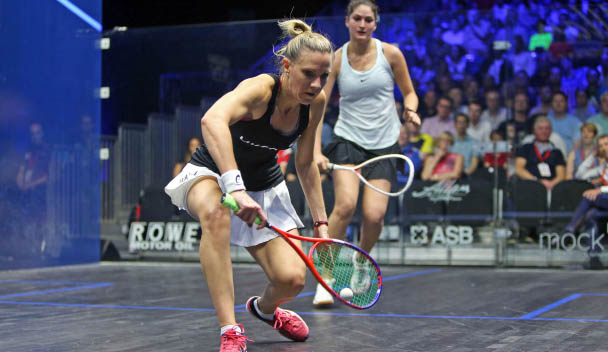 Commenting on her performance, Massaro said:
"It's a lot more bouncy than when I practiced this afternoon, so it took me a while to find my targets again. "I was a bit lucky to take the first, but felt more comfortable after that."
Commonwealth silver medallist Sarah-Jane Perry went through the gears to beat Hania El Hammamy 11-5, 6-11, 11-7, 11-8, while Alison Waters beat Joey Chan convincingly in straight games.
In a packed day one schedule, Daryl Selby put up a superb display against former world No 1 Karim Abdel Gawad and looked on course for another last 16 place at his home event.
But the Egyptian rallied in quickfire time to win through 9-11, 6-11, 11-3, 11-2, 11-4 in 49 minutes.
Earlier, Paul Coll, the Commonwealth silver medallist, beat George Parker in a tough 72-minute encounter.
Parker fought back in the third to give himself hope before the English qualifier went down 11-9, 11-6, 4-11, 11-8.
Qualifier Millie Tomlinson faced seeded opposition in Camille Serme, France's sixth seed, in 27 minutes, as did Emily Whitlock in the shape of Nour El Sherbini, Egypt's top seed.
In the evening games featuring home hopes, Victoria Lust prevailed 3-1 in an all-English affair against local favourite Fiona Moverley.
But Declan James, a wild card, was unable to contain Germany's Simon Rosner, who won 3-0 in 45 minutes, while qualifier Ben Coleman levelled his match with Egypt's Omar Mosaad before going down 3-1.
In the last match of the evening at the University of Hull Sports and Fitness Centre, Max Lee overcame Adrian Waller 11-4, 11-7, 3-11, 11-5 over 47 minutes.
At the Airco Arena, Egypt's No. 2 seed Ali Farag closed day one by beating Chris Simpson 3-0.