Back
16 May 18 - by Rod Gilmour
Massaro and Waters cruise into the British Open quarters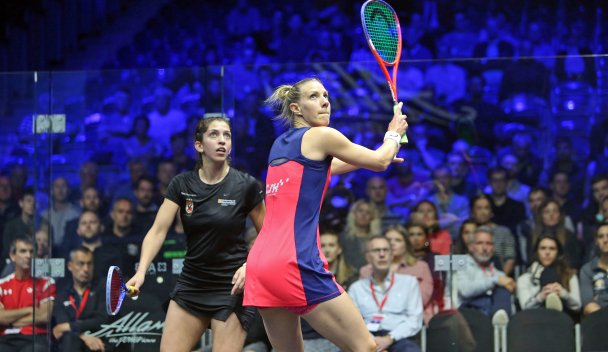 Rod Gilmour reports
England's top women continued to prosper on Wednesday when Laura Massaro and Alison Waters reached the quarter-finals of the Allam British Open.
Massaro looked in fine shape in the last 16 match at the Airco Arena as she beat Yathreb Adel, a former Roehampton University student, 11-4, 15-13, 11-3.
Adel looked nervous in the opening game, while Massaro did brilliantly to save three game balls in the second as the Egyptian looked threatening in attack and on the backhand.
But it proved a momentary danger for the England No. 1 as she raced to victory in 31 minutes.
Now, Massaro is looking to continue "happy memories" of Hull in her quest for a third British title.
She said:
"We were talking earlier that no matter what happened today, Hull would always hold happy memories in my mind and whatever happens this year at the event that won't change. To win two British Open titles is more than anyone could wish for."
Waters, meanwhile, took one minute longer to upset the seedings and beat Nouran Gohar 11-4, 9-11, 11-2, 11-3.
In a hard-hitting, frenetic duel, Waters played methodically after the match was squared by fifth-seeded Gohar.
Quick on her feet and using variety in her shots, Waters was an impressive winner in reaching the last eight.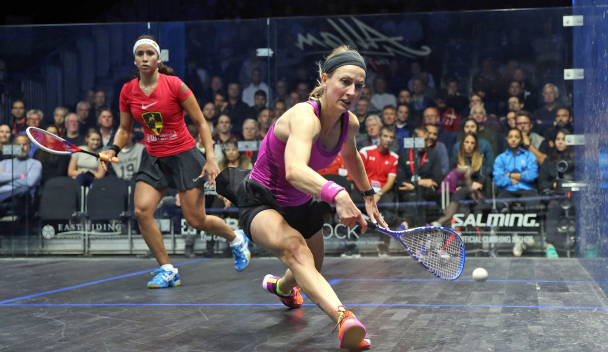 Waters, who beat Gohar at the recent El Gouna International said:
"You can't hit with her because she is the best hitter in the game and I came on and tried to mix things up and vary the pace and it seemed to work."
"I tried to be relaxed on court in my hitting and my movement and I've been playing well in the last few months."
Both players will have to be at the top of their game on Friday when Massaro meets third-seeded Nour El Tayeb while Waters faces Nour El Sherbini, Egypt's top seed. If both win through, they will meet in the semi-finals.
Waters and Massaro could be joined by Sarah-Jane Perry and Victoria Lust in the last eight.
Perry plays Annie Au of Hong Kong on Thursday while Lust has a tougher task when she takes on Raneem El Welily, Egypt's second seed.
All eyes will be on Nick Matthew, playing his final British Open, also on Friday.
The former world No 1 and three-time British Open champion takes on Raphael Kandra, the unseeded German.