Back
10 July 17 - by Admin Silverchip
National Squash 57 Championships – report and results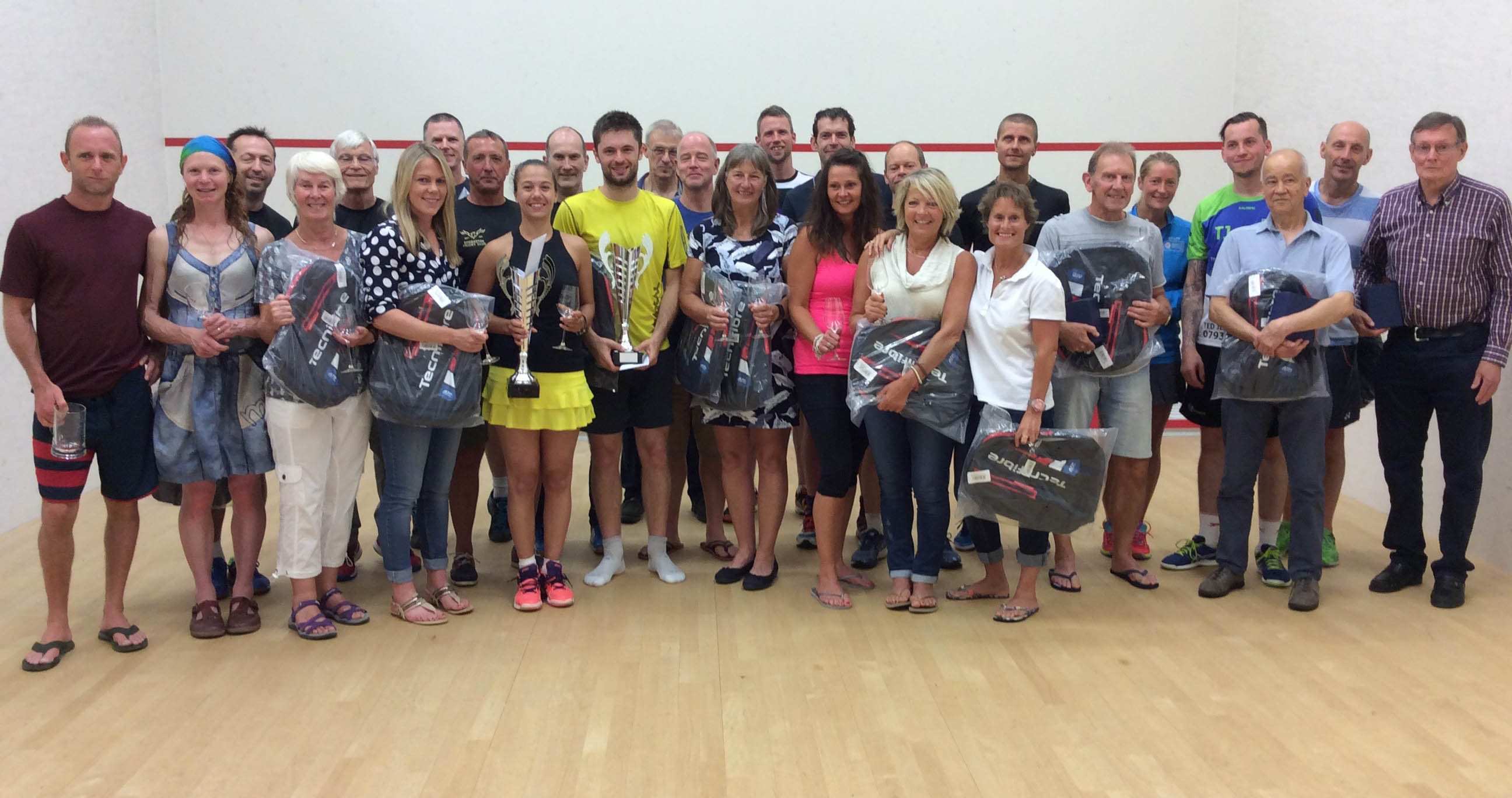 Mike Harris took home the National Squash 57 Championships trophy after a thrilling 3-2 win against Ted Jeal in Birmingham.
Deon Saffery claimed the women's title after fighting back from 1-0 down to beat Zoe Mellis at Edgbaston Priory.
More than 150 players competed across 18 categories in the prestigious event, formerly known as the National Racketball Championships, held at the Priory and the University of Birmingham.
An entertaining finals day included a nail-biting decider for the Men's Open title between top seed Jeal and second seed Harris. The favourite took the lead with an 11/7 score in the first game before Harris took the initiative to level the match, before Jeal won a tense third game 12/10 to take a 2-1 lead. Two commanding 11/2 wins in the last two games gave Harris a 7/11, 11/7, 10/12, 11/2, 11/2 victory.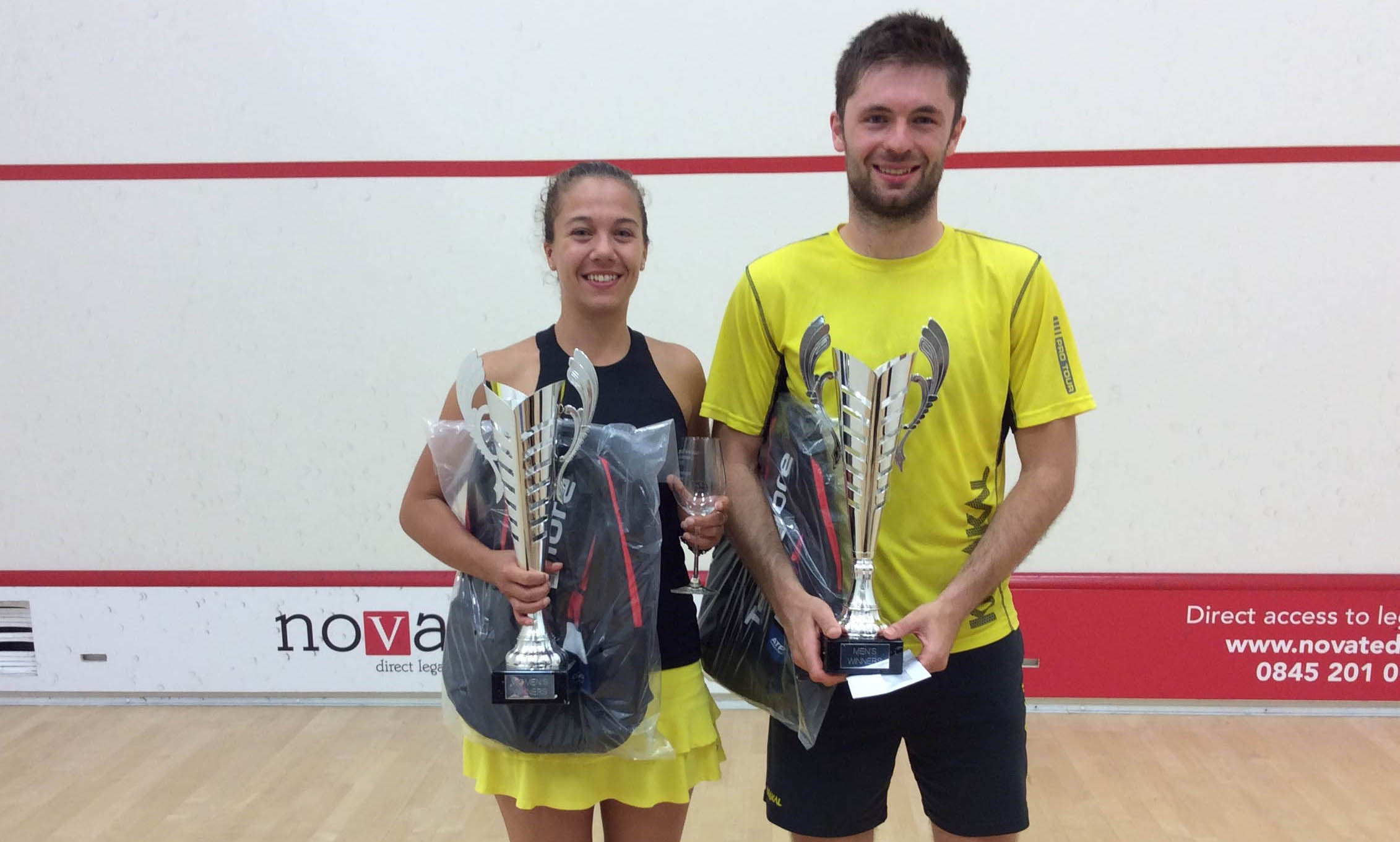 In the Women's Open, Saffery, a former World No.42 ranked squash player, came from a game down to defeat Mellis 7/11, 11/6, 11/7, 12/10. Another highlight on the last day of action came in the MO40 final, with Jonathan Gallacher winning an enthralling five-setter 5/11, 13/11, 11/5, 8/11, 11/7 against Christian Turner.
See below for the full set of results.
Results
Men's Open – Mike Harris beat Ted Jeal 7/11, 11/7, 10/12, 11/2, 11/2
Women's Open – Deon Saffery beat Zoe Mellis 7/11, 11/6, 11/7, 12/10
MO35 – Ryan Loska beat Colin Griggs 5/11, 11/2, 11/4, 11/4
MO40 – Jonathan Gallacher beat Christian Turner 5/11, 13/11, 11/5, 8/11, 11/7
MO45 – Michael Harris beat James Powley 11/5, 8/11, 11/5, 11/9
MO50 – Neil Baldwin beat Dan Fernandez 11/7, 11/2, 11/5
MO55 – Patrick Osborn beat John Cordeaux 7/11, 12/10, 11/7, 11/6
MO60 – Peter Scott beat Lyn Stockham 6/11, 11/4, 11/6, 11/6
MO65 – Ian Graham beat Graham Greensall 11/7, 11/9, 11/9
MO70 – Bob Astbury beat Jack Clay 8/11, 13/11, 11/9, 6/11, 11/7
MO75 – Anthony Thomas beat Gordon Stringer 11/6, 11/4, 11/4
WO50 – Lesley Sturgess beat Helen Cann 11/9, 11/6, 11/9
---
---
WO35 round robin – winner: Elspeth Edwards, runner-up: Debbie Hale
WO40 round robin – winner: Sarah Taylor, runner-up – Sarah Roberton
WO45 round robin – winner: Nicki Faux, runner-up – Helen Cann
WO55 round robin – winner: Lesley Sturgess, runner-up: Gail Drage
WO60 round robin – winner: Rosie Connell, runner-up: Bett Dryhurst