Back
28 October 17 - by Fiona Tomas
Nick Wall masterminds BJC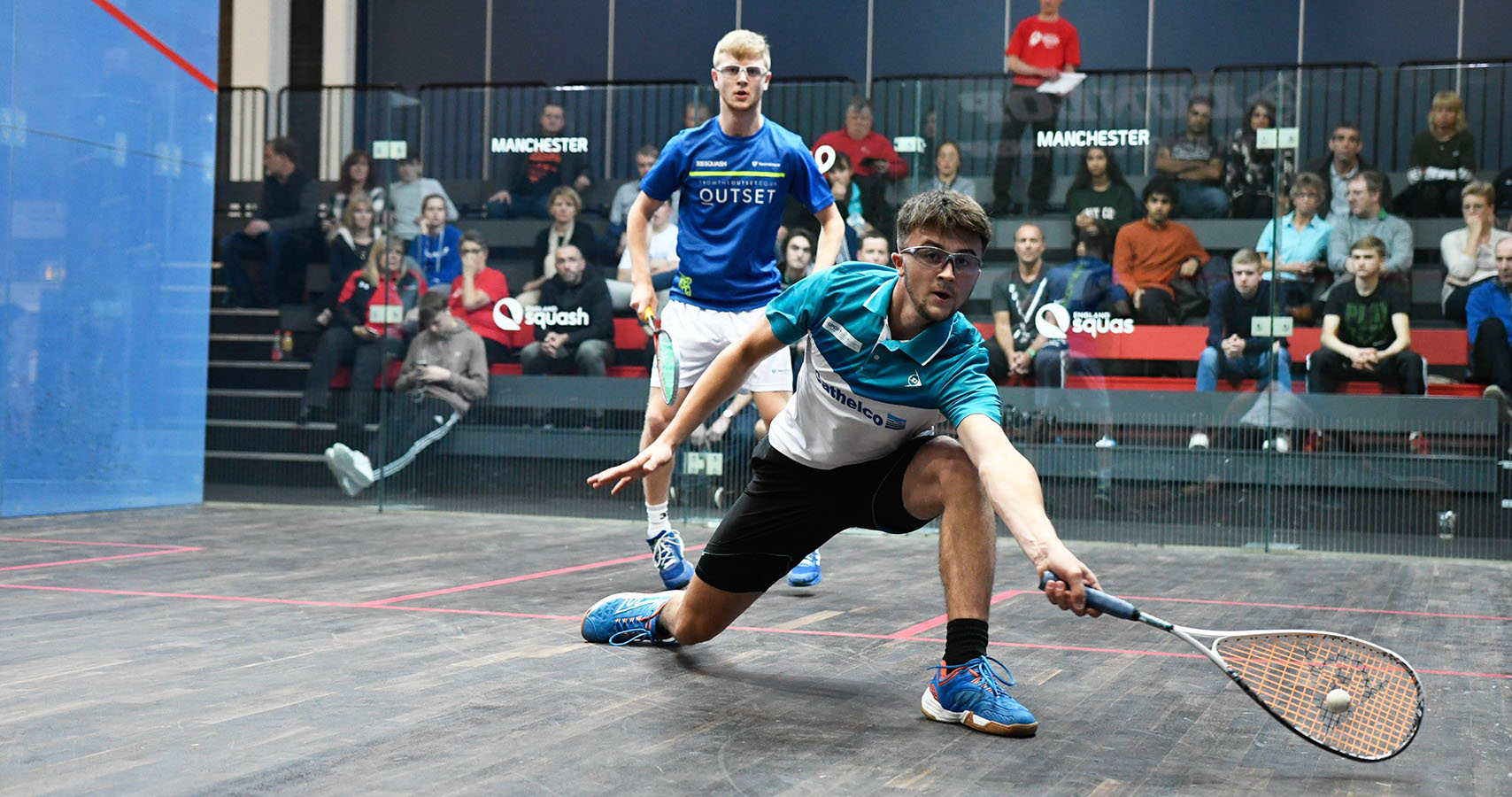 British Junior Championship finalist Nick Wall insists his current run of form is rooted in his special relationship with fellow Hallamshire maestro and England squash sensation Nick Matthew.
Wall overcame a gruelling encounter to knock out reigning BU19 champion Kyle Finch on the third day of the championships, powering through to a 11/7, 11/8, 9/11, 11/9 victory over his Hampshire opponent.
The epic four-game thriller saw Wall storm into a two-set lead as Finch struggled to deal with the left-hander.
The momentum switched when the defending champion clawed his way in the third set, in a tense game frequently interrupted by a series of lets.
But it was Wall – his first time playing in the category since his BU17 triumph last year – who maintained his composure and seal victory.
And the 17-year-old Sheffield man admitted having unique access to Matthew has catalysed his red-hot form. He said,
"I'm playing some of the best squash of my life at the moment."
"I was expecting it to be tough, I know Kyle plays at a high intensity and I'm just really happy with my win.
"It's a lot tougher in the BU19, but luckily I've been getting on court with some top players which has brought me up to the pace that I need to be playing at.
"Nick Matthew is around a lot. He's a very busy man, so I don't train with him too often but I do get a lot of advice off him which I always appreciate – it's always great when you've got someone of that stature in your corner."
"I think it definitely helps having someone who you can look up to on a daily basis and see how professional they are – it brings you up to that level a bit quicker."
Wall will face Tom Walsh in Sunday's final, after the third seed overcame a stern test from Durham and Cleveland's Mike Andrews, powering through 11/8 11/7 11/4.
Having last made a BJC final in 2015 as a BU17 competitor, Walsh will be gunning to go all the way this time round after his last-four heartache in 2016.
"I made the semis last year, so it feels great to go one better this time round and hopefully I can put up a good show in the final," said Walsh.
Meanwhile, in the BU17 category, third seed Lewis Anderson admitted it was a bittersweet moment reaching his first ever BJC final after victory over second seed Benjamin Sockett in the BU17 category.
The Warwickshire right-hander battled to a three-game triumph over his Yorkshire opponent 11/8, 11/8, 11/9 but had to muster every ounce of concentration in doing so.
"I'm so happy to get to my first ever BJC final," said the 16-year-old.
"Getting through that match in three games felt really good – if it had gone on any longer, I think I would have struggled because Ben's a strong fighter, so I'm really chuffed.
"We played the match in a great spirit – which is nice because we're best mates.
"That made it harder psychologically. We were calling double bounces together and it just puts that psychological edge on the game.
"But to be in the final representing Warwickshire feels really good."
Joining Anderson in the final is Alasdair Prott, who ended a heroic run in the competition for Lincolnshire 13th seed Ben Smith with an 11/4, 119, 11/4 triumph.
And as the only Scottish male left in the BJC, the Inverness youngster paid tribute to the healthy state of the game in his country, hailing the upsurge in the junior game driven by Alan Clyne's recent highest PSA ranking of 25. Prott, who joins GU17 national Georgia Adderley in the last round of the competition said,
"It's great flying the flag for the Scots at the BJC. I'm so glad to be in the final."
"The juniors are really coming on in Scotland. There's a lot of people getting involved and it's been really driven by the pros doing really well.
"I want it so much. Not many Scots have won this before so it would just be fantastic.

"You don't get a glass court up in Scotland and with all the seating around it's a great atmosphere to play in."
Elsewhere in the boys' competition, BU15 double US Open Junior champion Sam Todd (Yorkshire) saw off a spirited challenge from Worcestershire's Sam Osborne-Wylde.
Todd will face Warwickshire's Hassan Khalil, who was pushed all the way by Essex's Oliver Green 9/11, 11/9, 11/3 ,13/11.
The BU13 final features a showdown between the top two seeds Sussex's Jonah Bryant and Yusuf Sheikh going head to head in Sunday's final.