Back
29 September 22 - by England Squash
The Rising Star | Louise Hollamby's Story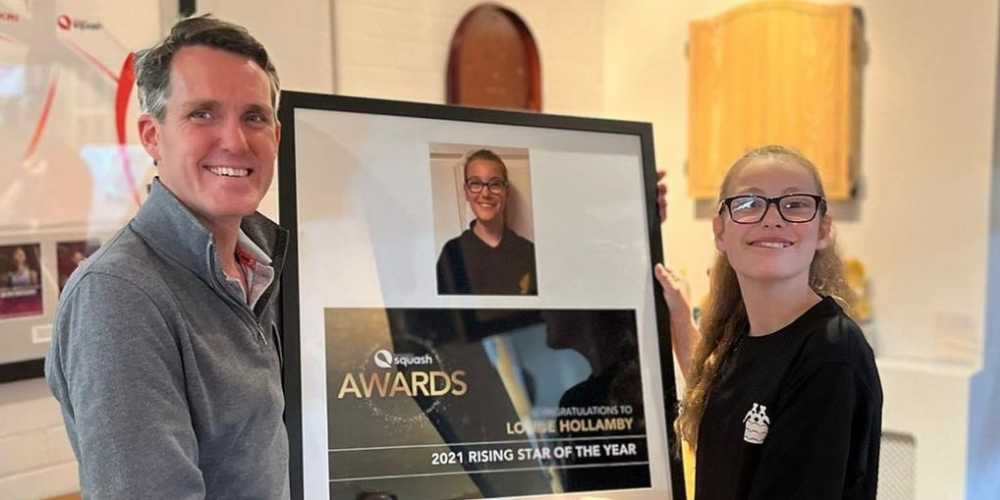 After being nominated by her coach Tom Swain, Louise Hollamby won the 2021 England Squash Rising Star Award. Despite being told she probably wouldn't be able to participate in squash due to her developmental condition, she has overcome adversity to play squash every week with a smile on her face. For National Inclusion Week, Tom has kindly shared Louise's inspirational story with us.
Louise Hollamby has been involved in coaching sessions at Biddenen Squash Club for just over three years. Her parents were told by her care workers that she would not likely be able to participate in squash because she has Pachygyria, a developmental condition with many complex needs. It affects all aspects of the body, including: muscle deterioration, severe vision impairment, epilepsy, global delay, speech impairment, Autism, ADHD, Dysphasia affecting eating and drinking, fine and gross motor skills, mental health and sleep deprivation. Louise's condition has an impact on her daily life and her behaviour. She has little spacial and danger awareness and her hand eye coordination is put to the test every day; some days she uses her hands to eat as she can't find her mouth with a fork.
When Covid struck, Louise became hyper alert of her surroundings, with noise and movement causing her anxiety to go through the roof. She tends to flit from activity to activity due to a short attention span. But squash is a whole other story! For the first year or so she struggled to hit or stop a rolling ball, wasn't always sure when it was her turn during group sessions, and sometimes didn't understand how to do an activity. But she kept coming. And she kept smiling. And she made those in her group smile too, as well as the parents watching, and any of the coaches she has been on court with. Just as Louise started to be able to hit a coach fed ball off the wall, lockdown hit. Obviously she, like us all, was unable to play squash. The rules around Covid increased her anxiety and affected her behaviour at home, where she wasn't able to sleep, lashed out, and struggled to deal with her emotions.
In her mum's words, "squash is her happy place". In the last six months Louise has returned to junior group sessions. She is now serving, returning a serve, and rallying with other juniors as well as the coach. She's able to participate in group sessions without having to be guided individually by an adult.
She doesn't care if she wins, loses, hits the ceiling, or nails a nick. Every shot, rally and game is played with the biggest smile on her face.
Her mum has told me that she feels "our happy girl is coming back to us". The barriers Louise has had to overcome to just be able to participate would've stopped many people very early on, children and adults. She's an absolute delight to coach and a reminder every time I work with her why I became a coach.
The group she is in are also awesome. The other children at times have had to be super patient. And at 7, 8, and 9 years old they sometimes have had to help her, lead her, and guide her to keep her involved. They do so without frustration, never an eye roll or a bad attitude.
Inspired by Louise's story? Take a look at our inclusion and diversity toolkit to find more advice and stories around becoming a more inclusive club.