Back
27 October 17 - by Fiona Tomas
Top seeds march through to BJC quarters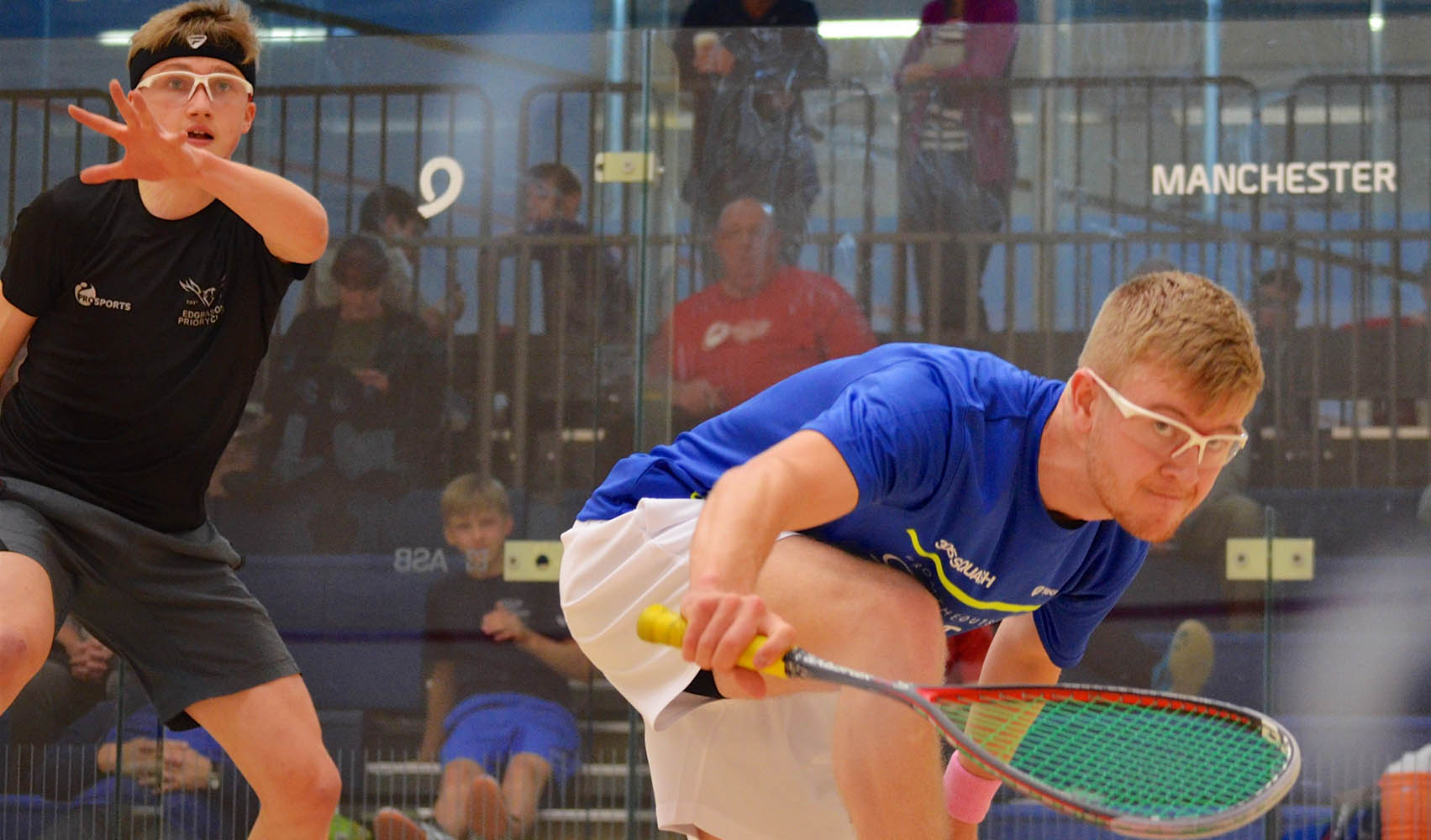 Kyle Finch and Lucy Turmel admit they are brimming with confidence as the top-seeded pair laid down early markers on the second day of the Dunlop British Junior Championships (BJC) to book quarter-finals spots in the competition.
Hampshire hitter Finch and Suffolk's Turmel remain on course to retain their respective U19 titles after the duo produced convincing round two victories at the National Squash Centre at Sport City.
Finch recorded a comprehensive 11/3 11/5 11/3 triumph over a spirited Lucas Hughes, but was quick to pay tribute to his opponent.
"I train with Lucas and I know for a fact he can play a lot better than what the score showed today," admitted Finch.
"I'm feeling confident going into the quarters – whoever I play, I know it's going to be a tough game."
Finch's quest to become the first Hampshire player since Chris Simpson in 2005 to earn back-to-back titles still burns brightly for the seasoned BJC competitor.
Having claimed four titles in his last four attempts at the tournament, the teenager admits the prospect of a fifth is tempting and one which is not burdened by his No.1 status.
"I remember after my first win in the under-15s saying to my dad how great it would be if I could get another four in a row – and now I'm just one more away for that dream to come true. I really would love that," said the teenager, who set up a quarter-final clash with No.8 James Wyatt, who overcame the challenge posed by Aaron Allpress.
Hot on the heels of Finch is Yorkshireman Nick Wall, who overcame a stern test by Hasnaat Farooqi, with the No.13 seed fighting back heroically from an opening 15-17 opening game defeat earlier in the day only to come up short against the 2016 BU17 champion.
Making his BU19 debut, Wall put in a clinical performance to dispatch Farooqi 11/5, 11/11, 2/10 and reach the last eight, where he will face fifth seed Elliott Ridge.
The biggest upset of the day came in the BU19 event when No.14 seed Oscar Beach overpowered third seed Curtis Malik 11/9, 11/5, 11/7. Malik, last year's BU19 semi-finalist, was clearly troubled against a composed and controlled Beach who gave him little chance to impose his own game.
Completing the last eight will be second-seed Tom Walsh who overcame Julian Standish 11/7, 11/9, 11/6.
Meanwhile, BU17 favourite Alasdair Prott came through unscathed and will fancy his chances against eighth seed and last year's BU15 champion Max Forster, while last year's BU17 runner-up Jared Carter also booked his place, as did Ben Smith, Lewis Anderson and Harry Anderson.
The BU17 witnessed an upset when No.22 seed Abdul Muqaddam Khan dispatched No.11 Panos Laitis in a topsy turvy five-setter 11/1, 8/11, 11/2, 5/11, 11/8.
Elsewhere, seventh seed Lewis Poole will hope to cause an upset against second seed Benjamin Sockett.
Last year's 2016 GU19 winner Turmel overcame the first test as she bids to retain her crown, enjoying an 11/3, 11/6, 11/4 triumph over No.16 Eve Driver.
"I'm looking forward to the quarters and I'm confident I can retain my title," said Turmel, who is buoyed by her quarter-final challenge against Ireland's Sophie O'Rourke.
"I'm always playing English players, so it will be good to play someone from another country. It's a challenge I'm relishing.
"I'm not thinking about winning another title too much, but obviously it's in the back of my mind."
Meanwhile, the stage is set for a close encounter between fifth seed Katie Wells, who will meet fourth seed Laura Neill after the pair sealed second-stage victories.
And they will be joined by third seed Charlotte Jagger, as the Hallamshire leftie faces sixth seed Amy Jones for a semi-final spot.
The pair will be joined by second seed and 2016 semi-finalist Jasmine Hutton and seventh seed Ciara Richards.
In the GU17, top seed Georgia Adderley secured her quarter-final place, as did second seed Alice Green, who will face Grace Clark.
Saturday's action will also see sixth seed Lucy Green and third-seed Eve Coxon lock horns, with Katie Marshall, Margot Prow and Layna Beattie completing the round, as the cream of British junior squash stars attempt to spearhead their own semi-final showdowns.
Meanwhile, Yorkshire squash sensation Sam Todd is bidding for BU15 glory following a meteoric rise on the junior circuit of late. The youngster booked his place in the quarter-finals as he overcame Jack Walmsley 11/2, 11/6, 11/4.
Yet despite a string of high-flying performances on the world junior circuit, the double US Junior Open champion insists he is focusing on his latest challenge on home soil.
"I guess I am a favourite, but you have to forget about successes like my US Open. You have to put it behind you," said the level-headed 14-year-old, who will face ninth seed Rhys Evans in Saturday's quarter-final.
"This is a completely different tournament with a completely different feel – playing in front of a home crowd is great."
"Today I was pretty comfortable – there were some good matches. I'm not thinking about the fact that I'm top seed, so I'm not feeling any pressure."
Completing the quarter-final line-up are Sam Osborne-Wylde, Franklyn Smith, Cory Harding, Thomas Greengrass, Muhammad Azhan Khan and Hassan Khalil.
Meanwhile, top seed Katie Malliff demonstrated why she is the top seed in the GU15 category, after producing a dominant performance and will be the favourite against eight seed Anje Bryant.
Fifth seed Emma Bartley set up a last-eight date with Maia Pannell, while 11th seed Olivia Phillips caused a significant upset to overpower sixth seed Lucy Murchie and will face third seed Saran Nghiem.
They will be joined by second-seed Torrie Malik, who has seventh seed Amy Pullen standing in her way of a semi-final spot.
In the BU13, top seed Jonah Bryant broke no sweat in reaching the last eight, where he will meet eighth seed Alex Mullis.
The pair will be joined by Charlie Taylor, Jack Mahon, Caleb Boy, Abd-Allah Eissa, James Kettle and Yusuf Sheikh.
The GU13 action saw victories for Aisa Harris, Florence Kersley, Francesca Hall, Alyx Kelleher, Amy Campbell-Winter, Meha Shah, Anna Halliday and Amelie Haworth.
For draws, results, photos and more visit the official BJC website.