Back
24 June 20 - by England Squash
Adrian Grant: Opening up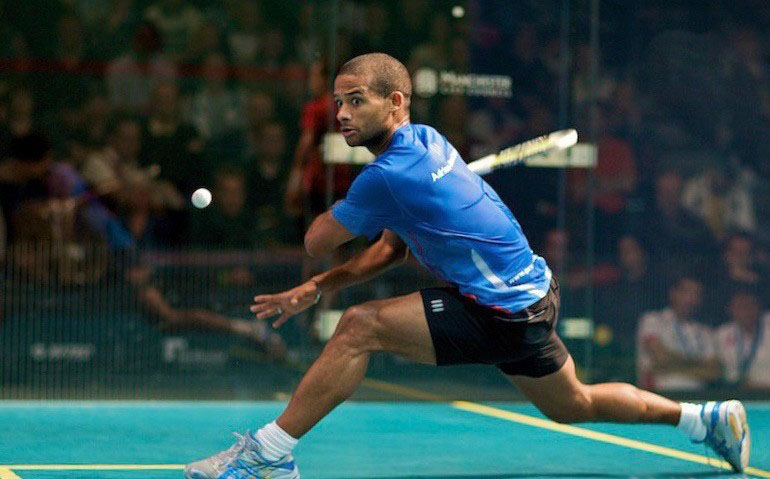 Exclusive by RJ Mitchell, PSA World Tour
As the world continues to recover from the ravages of the Covid-19 global pandemic, it is the murder of African American George Floyd by a white policeman in Minneapolis, Minnesota, on May 25, that has arguably had the biggest impact on society in 2020.
The subsequent slaying of a second African American man, Rayshard Brooks, by cops in an Atlanta restaurant car park, which was declared homicide, has once again lain bare the fact that racism continues to blight civilisation, even in a third millennium.
But in a week in which the stars of football's preeminent competition, the English Premier League, take a knee on its resumption from the Covid-19 suspension, and wear shirts emblazoned with the 'Black Lives Matter' mantra, former PSA star Adrian Grant has opened up on the racial discrimination and mal treatment he endured throughout his life.
Grant's revelations are made even more staggering by the fact that the earliest of these incidents came when he was just 11-years-old in his country of birth, the UK, while the most terrifying occurred in the USA, his new homeland, when Grant found himself "slammed on a floor in Virginia Airport with a gun in his back" by law enforcement officers with no explanation given.
The 39 year-old, born of mixed parentage in the form of a white mother from the UK and an Afro - Caribbean father from Jamaica, was born in Peckham, South London and went on to claim 21 titles from 34 finals on the PSA Tour.
A gifted leftie, Grant also struck gold and silver at the 2010 and 2014 Commonwealth Games and played a key part in helping the England's men's team to their fifth World Team Championship in 2013 while reaching a career high World No.9 ranking.
Early Experience
Despite these impressive achievements, Grant's journey, as he has revealed in an exclusive and brutally candid interview, has been besmirched by humiliating episodes revolving around his race. It is the earliest of these that occurred at a tournament in Welwyn Garden City when he was aged just 11, which is the most heart-rending and underlines the fact that racism has no age concerns.
Adrian recalled: "I am from Peckham, my mum worked endlessly and my dad had two jobs to help pay for me going to tournaments as a kid. He had a big old Sierra estate and we would arrive at the clubs the night before a tournament, sleep in the car and then get washed up in the club when it opened first thing the next morning."
"Anyway, I'd made the semi-finals of the British Juniors at under 12 level and we are about an hour before I am on. So, I headed to the changing rooms to prepare my bag. I get my trainers out and ready, and my two rackets, one of which was my dad's, in position, everything good to go."
"There were a group of older kids in the changing room and they've got some comments they are making towards me, but well I've been there before and I shake them off and head out to get a couple of energy drinks.
"When I come back it's maybe 40 minutes to game time and guess what? They've taken the laces from my trainers, filled them with urine and cut the strings in both my rackets."

"I was so shocked my jaw almost hit the floor, I was just so upset but by this time we are 20 minutes until I'm on, my dad said making something of it won't work and will just draw even more attention to us."
"So I played with four pairs of socks inside my dad's trainers and used a borrowed racket. I won the match, then the final. I receive a Prince BP racket as a prize. In fact, I've still got the picture with me and Lee Beachill who won his age group."
"Was it the right thing to do, suck it up and get on with it? Not make a fuss because we didn't want to stand out even more? Well looking back, I know it wasn't because it just allows things to keep repeating to self-perpetuate."
Terrifying Experiences
While that early instance of the negativity that the former World No.9 has experienced would pull at the heart strings of any human being, without doubt Grant's most terrifying experience of personal racism occurred in the land of the free.
"I've had a couple of bad ones in America. One in Los Angeles not long after I moved over there, involving a cop and I have to be honest and say I was glad that my wife, who is white, was with me otherwise I fear what may have happened," recalled Adrian.
He added:
"I relocated to LA not long after I retired from the PSA Tour and we were halted one block from our home while driving back from the cinema. A few cops randomly stopped us and surrounded the car, instantly they got very antagonistic and hostile towards me. In the end they told me to "Go back where you come from or I'll arrest you" and they did not mean to go home."
"My priority was to get my heavily pregnant wife home, she could sense my emotions were running high after the cop spoke to me in that tone so she jumped in to defuse the situation and later I admitted to her if she wasn't in the car with me anything could have happened.
"Looking back in some ways it gave her a snippet and understanding of what I've endured throughout my life."
But that wasn't the only time Adrian's new life threatened to turn sour and the 39-year-old continued: "The worst came on my way to play the North American Open in Virginia. I had a knee injury and the England physio had advised me to keep walking up and down the plane to keep the circulation going."
"Anyway, I was travelling to Virginia on the anniversary of the 'shoe-bomber' incident and was in a big Boeing-737. Most of the passengers were up front, but two big security/ law enforcement types were sat at the back and every time I got up to stretch my legs, well I could feel their eyes on me."
"Eventually I had no option but to head along the aisle to use the toilet and they just wouldn't let me past. So, in my desperation I ended up having to climb over the chairs to make it but when we got off the plane it all kicked off. I was standing in the queue with my passport out when I heard the word "Freeze," shouted from behind me and the next moment I had a gun in my back and was taken down onto the ground with everyone else from the plane looking on. It was both completely terrifying and humiliating in one."
"Then I felt a knee in the back, and I was being cuffed and all this time no one said a word. No explanation, nothing. Next thing I knew I was being dragged into an interview room and it was the same two guys from the plane!"
"Anyway, they grilled and grilled me and I remember I was just so terrified and shocked I had a real problem getting any words out. Eventually I managed to explain who I was and why I was there, to play in a squash tournament and also explain about the injury, so they demanded to see my knee and it just got worse."
"I bent over and started to roll up my tracksuit bottoms and the next thing it's like 'Freeze' and they have their guns out and they are pointed on me again! Eventually they peeled my tracksuit down, made me unravel the bandage on my knee and they could see the mess it was in and how swollen it was. Yet it still wasn't enough and there was no apology, nothing, no remorse!"
"Then I had to get on a computer and bring up the draw for the tournament and show my name in it and eventually when they had enough, they booted me out, still without even an apology. I was absolutely speechless, devastated."
"As it happened there was a cop at the door who'd heard the whole thing and he wanted me to make a complaint, but you know I'd had enough I just wanted to get the hell out of there. I was playing my 1st round match in 24 hours and had just been through the single biggest ordeal, the most terrifying experience of my life. So, I just got out of there."
"But to walk around with the mental weight of that incident parked inside my head was just the worst possible preparation. Yet, again, looking back, did I deal with that the right way? No, I brushed it under the carpet and tried to move on and did what I always did."
"Now, though I can see that the only way to stop these issues continuing to repeat is for people to self-educate, to talk about things discuss them and accept that they may have differences of opinion, accept and understand that is the human experience."
"We are all in this together and the way to make life work best is through understanding and acceptance of what should be the undeniable fact that we are all born equal."
Top-10
While these candid, stark recounts will shock many and may be barely believable to others, perhaps the saddest indictment of the attitudes we as a society have to race came when Grant achieved the emeritus status of a place in the top-10 of the PSA World Rankings. By then Adrian had already represented England and now he reached a career high of No.9 only to find that the crowning moment of his career was not to be lauded for the hard work and sacrifice that got him there.
"Without doubt the saddest period of my career as a professional was when I broke into the top-10 of the world and the bottom line is that was because I started getting unwanted attention as the first black man to make the PSA top-10."
He continued: "It just didn't seem to matter that it had been something I'd been working towards since I was a kid, the sacrifices I or my family had to make or the changes to my game that brought the improvements, all that seemed to matter was the colour of my skin."
"When I was asked for interviews, when I was introduced at tournaments, I had this label on me that I was the first black man in the top-10. It was the same when I became the first black player to be picked for the England men's team but making the top-10 it was even more magnified."
"It was almost like I hadn't actually achieved this position I had striven so hard to reach, that I didn't deserve it and that none of that mattered, only the colour of my skin counted. That was the story, the narrative, everything else was brushed aside and it made me so very unhappy."
"Ironically when I was in the top-16, where I stayed for the majority of my career, I didn't seem to stick out and it wasn't such a big deal. Making the top-10 however just brought that whole focus that was just so unhealthy and just completely took the gloss off what should have been the best moments of my career."
Reflections
In conversation with Adrian, who is now a coaching professional with a thriving business in New York, it is clear that while the sharing of his experiences are prescient and timely, the sad events of this spring have imbued him with a need to share events which he has clearly thought deeply on.
He reflected: "My mother and father taught me to be colour blind and colour humans by their character and morals. There is no doubt that these recent events are disgusting and hurtful, but sadly not surprising for it has been a volcano waiting to erupt."
"From my experience this isn't just a US thing it's a global pandemic. Maybe you are surprised this has happened, but the reality is you shouldn't be surprised it's been happening to millions long before me and much worse."
"If you stripped me of my career, awards and accolades and put me back in these scenarios, would you still be surprised I went through these experiences and what would your perception of me be now in that respect?"
"Yet I believe wholeheartedly that we aren't born with hatred, we aren't born as murderers, this isn't black versus white it's everyone versus racists, everyone versus equality, everyone versus injustice, everyone versus systemic wickedness, it's everyone versus cop brutality. It's about humanity."
"We educate our kids from what we've learned in our lives, from right and wrong, and so why can't it be done in this respect? Yes, it requires you to learn the history, how deep this (racism) runs into corporations, institutions, communities, where many of our last names originate from (slavery), understand who has benefited from a system designed to suppress, cleanse, traumatise, control and kill. It would be understood why these perceptions and these attitudes are seen as a privilege if people feel it's not a problem for them personally."
"But this pain and suffering runs deeper than a hashtag and existed way before social media was conceived. In my opinion it's only by understanding all of that can we really understand why we are here on this day, how this affects us all and how it can be profoundly changed, and things made good."
Don't Look Back in Anger
Despite his experiences, it is clear that Adrian Grant the human being does not look back in anger. Putting the early almost casual racism that blighted his formative years in context, Grant talks with warmth about the friends he made in the juniors in his homeland and the gratitude he has to England Squash for developing him into a world class squash player and athlete and makes the point that both he and his family have friendships from these days that remain and will continue to endure.
Adrian said:
"I look back at my time developing as a junior with England Squash and have to say it was overwhelmingly positive. I am friends with guys and my family are friends with other squash families that we were when I was 15 and we always will be friends."
"These positives have been so strong and the amount of decent people in the game in England so many and so genuine, that they have kept me in squash and kept me loving the sport that has given me and my family so much enjoyment."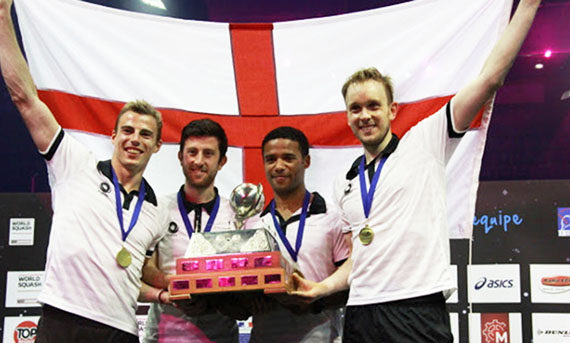 "Some of these people may read this interview and ask: 'Adrian Grant never said that, never mentioned it way back when.' But I can tell you this it did happen to Adrian Grant and now with the benefit of knowledge, experience and where I am on my life's journey, I am finally comfortable in sharing it."
That life's journey has taken Adrian to the Big Apple where he is now increasingly involved in the inclusive and all-embracing urban or street squash scene in NY City and his determination to make his experiences count for the good and help the youngsters he works with benefit from then is almost palpable.
Grant said:
"I am based in New York and I love it here, love the energy of the place. The squash community in the US is great and full of great people, yet we are having to overcome the fact that squash isn't open to everyone and that largely it has been the pursuit of a certain demographic."
"But now there is Urban Squash and that is a way of getting all the kids included in a similar vein to Stacey Ross with Urban Squash in London. I am involved with Street Squash in the city where I donate my time to them. It is amazing to see the kids and the backgrounds they are coming from who are now involved in these programmes and that is really rewarding."
"On a personal note my coaching is not high volume. I look at a player, look to see if he or she is invested, is prepared to put the work in and work out if he or she will benefit from what I have to say."
"Looking back if someone had said to me when I was on the tour I'd become a coach one day I would have just laughed, but now I know that I have so much experience from both a life perspective and as a squash player than can benefit kids. I want that to work for them, want it to help them to reach their full potential from my valuable experience and benefit from what I have to say and you know what I love it."