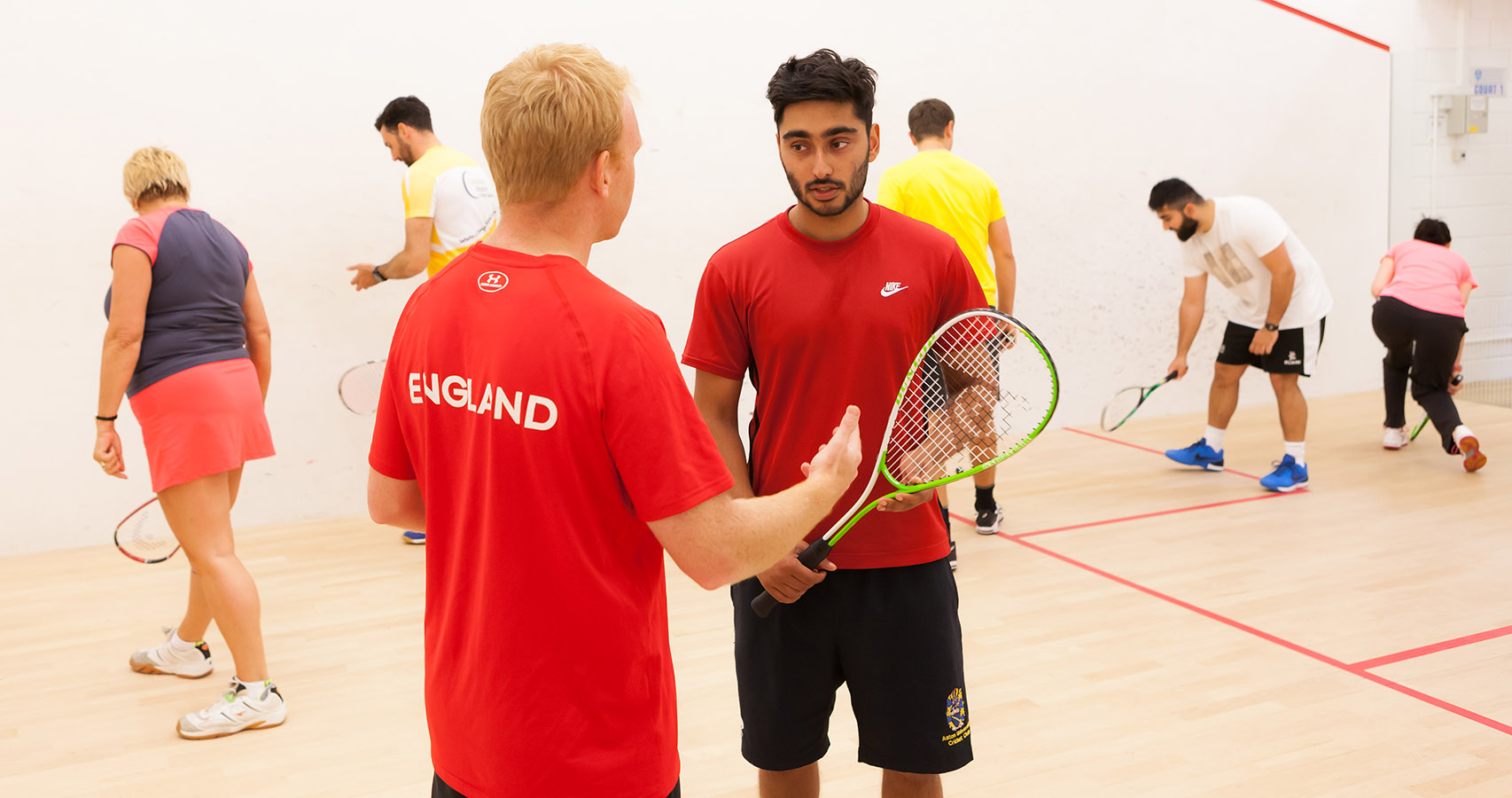 About our courses
Our coaching pathway can guide you through your coaching career, from our Level 1 - Participation Coach Award (Online) enabling you to coach beginners, to our Talent Development Coach (Level 3) Award for those with aspirations to develop players to elite standard.
We're committed to supporting the development of coaches at all levels, and in addition run a number of coaching courses, workshops and seminars throughout the year to offer professional development opportunities to hundreds of coaches.
Qualifications we deliver:
England Squash Level 1 - Participation Coach Award (Online)
This online award qualifies and insures coaches to deliver junior squash, squash and squash 57 independently to groups of beginners. Ideal if you're an aspiring coach with limited experience or a parent or leader keen to help out with coaching or increase participation at your club or facility.
England Squash Club Coach Award (Level 2)
A mixed delivery qualification which enables coaches to learn the skills to coach individual beginners as well as club to intermediate level juniors and adults.
England Squash Talent Development Award (Level 3)
A mixed delivery qualification enabling coaches to deliver individualised seasonal and weekly plans to both juniors and adults at beginner, intermediate and advanced level (County and Area Academy).
Young Leaders Award
A six-hour course for those aged 14 - 18 who wish to deliver in groups or pairs to groups of young people aged 16 or under, or those who want to assist qualified squash coaches or teachers in a university, school or club environment. Ideal for those who are too young to do the Level 1 or for those looking to boost their confidence.
Schools Squash Leaders Award
Designed for level 2 coaches (in squash or other sports) and qualified teachers, this three-hour course showcases our flagship junior programme, Junior 101. This course provides candidates with the content to deliver in schools, clubs and community setting to groups of young people as part of a schools development programme. To express your interest, get in touch with the coaching team: coaching@englandsquash.com.
Squash 101 Leaders Award (Online)

Squash 101 is a great tool for getting more people playing in your facility. This online course is aimed at those aged 16 or over who want to deliver sessions to groups of adults. This workshop is perfect for university students, public facility staff or club members wishing to deliver Squash 101, box leagues, social play, competitions and tournaments.
Conferences, workshops and seminars
Want to stay ahead of the game? We also host a number of conferences, workshops and seminars throughout the year to aid professional development, and enable coaches to discover emerging techniques and philosophies. Please keep checking back on our course finder as we're adding these all the time.
Any questions?
For more info on our course, please visit our coaching FAQs or contact our coaching team: coaching@englandsquash.com.
If you can't find a course in your area, please keep checking our Course Finder as new course dates are added regularly.