Back
25 July 22 - by England Squash
England's Todd & Malik Claim British Junior Open Titles In Nottingham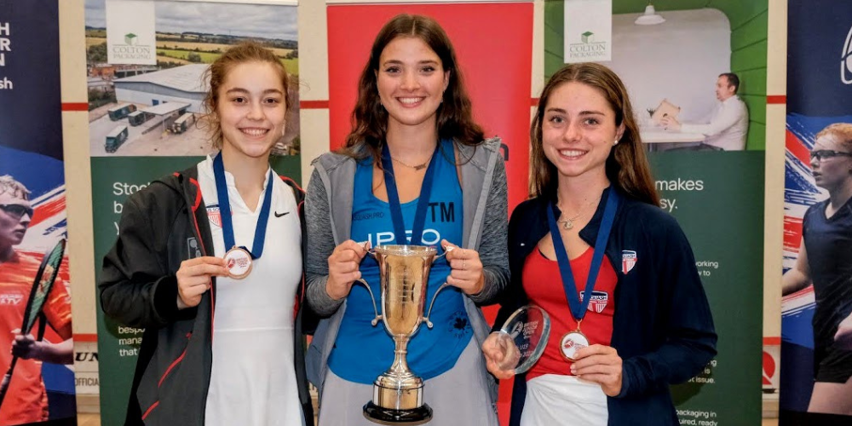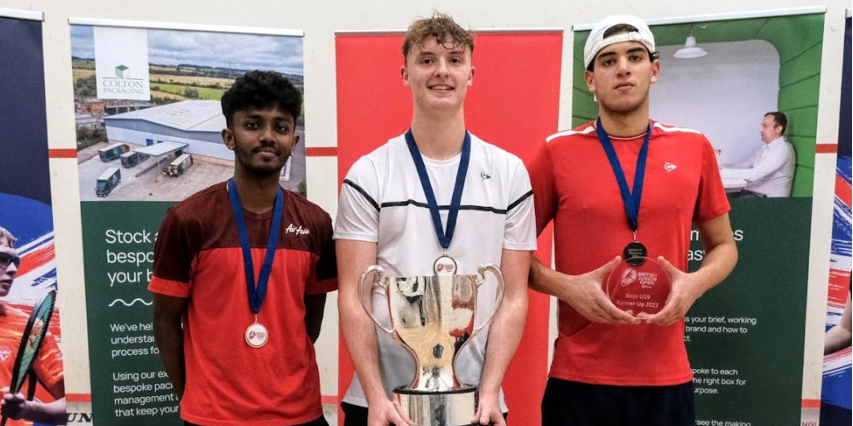 English duo Sam Todd and Torrie Malik have claimed the prestigious British Junior Open titles in Nottingham after overcoming tough opponents on finals day at The Park Club. Todd picked up his fourth title, whilst Malik got her hands on her first British Junior Open trophy.
Sussex's Torrie Malik took out the event's No.2 seed Lucie Stefanoni in the semi-finals and was again up against an American opponent in the final, No.1 seed Caroline Fouts. Malik picked up right where she left off in the final as she established a strong presence in the middle of the court and used great power and accuracy to keep Fouts behind her.
After running out to an impressive 2-0 lead, Malik seemed to have one hand on the coveted trophy. Fouts came back however and comfortably took the third and fourth games 11-5, 11-3 to send the match into a fifth. Malik regrouped strongly and came back fighting in the final game to establish a healthy lead, which she never surrendered. The Englishwoman took the deciding game 11-2 to claim her first British Junior Open title.
Malik said:
"I'm so over the moon that I'm British Junior Open Champion. It's my first ever one for the most prestigious event for juniors. I couldn't be happier."
"All credit to my opponent Caroline for a great match! Here's to another title in January for my last BJO."
England was guaranteed a winner in the men's final as both No.1 seed Sam Todd and giant killer Hassan Khalil took to the court to close out the 2022 British Junior Open in Nottingham.
Khalil got to the final in amazing fashion, winning his last three matches 3-2, including scalping the No.2 seed Rowan Damming from The Netherlands in the quarter finals. Heavy favourite, Todd was yet to drop a game in the event and looked in fine form entering the final.
The World No.76 started the match in superb fashion and raced out to a 7-0 lead with Khalil looking like a rabbit in the headlights. It all changed from this point however as Khalil started to stage a comeback. Helped by errors from Todd, Khalil took 11 of the next 13 points to take a shock lead at 1-0.
Todd didn't panic however and regained his composure in the second game, his weight of shot to the back corners was setting up numerous attacking opportunities which he was relishing. Khalil was understandably showing signs of the previous rounds, physically, which played into the hands of Todd. The Yorkshireman took full advantage and secured the following three games 11-7, 11-7, 11-5 to complete the match and achieve the full house of winning the event at under 13, 15, 17 and 19 levels.
Upon receiving the trophy from current England No.1 and 2017 World Champion Mohamed ElShorbagy, Todd had this to say:
"That was a tough match – the way Hassan got here with three tough matches, he should have been tired! It feels great to win another BJO title, and especially to receive it from Mohamed.
"Thanks to England Squash for getting the event on and to the club, organisers, refs and everyone involved. It's great to get back to something approaching a normal tournament after missing the last two years."