Back
07 January 18 - by England Squash
Sussex star races to prestigious British junior title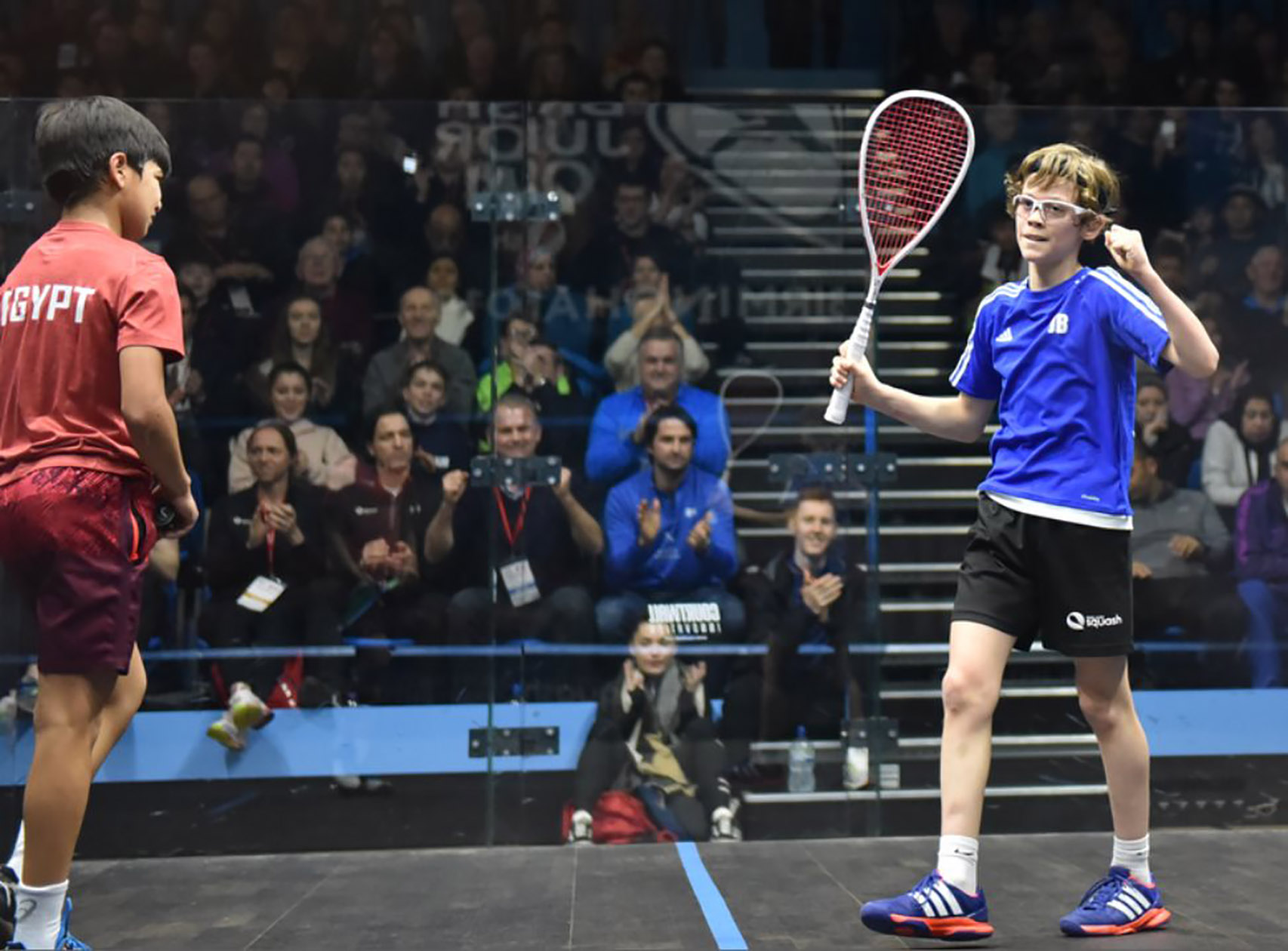 Rod Gilmour reports
Sussex squash star Jonah Bryant became Dunlop British Junior Open champion in just 22 minutes on Sunday in Birmingham as he raced to the biggest global junior title of his career.
Bryant beat Egypt's Islam Kouratam 11-2, 11-5, 11-6 to become the second Englishman to win the boys' under-13 category in three years at one of the most prestigious events in world junior squash. Bryant said:
"I've dreamed about this ever since I got to the semi-finals last year and lost."
"I've trained for 12 months for this tournament so I'm really happy.
"I tried to keep focused as much as possible and if I let the Egyptian back in he could have won. So I was so happy to keep that concentration and close it out 3-0."
---
LISTEN: Jonah chats to BBC Sussex on his momentous victory (tune in at 52:31)
---
The Shoreham-based star was one of 220 English players and 620 overall competing at the Dunlop British Junior Open, which was held at four venues across Birmingham.
The young Sussex right-hander looked remarkably composed all week as he progressed through the rounds on the all-glass showcourt at the University of Birmingham. Jonah added,
"I didn't feel too pressurised and I just went out there to enjoy my squash and then I thought I'd win."
Bryant, who plays at Corals in Brighton and attends Lancing College Prep school, was beaten at the semi-final stage in the same age category last year.
And he looked as if he was going to go the same way as a two-game lead was hauled back by Egyptian Kareem Badawi in the semi-finals.
But the 12-year-old showed brilliant resolve to come through a five-game thriller to reach his first global junior final.
One year on he was in a class of his own as he ousted the top seeded Egyptian in emphatic style.
Bryant and his older compatriot Sam Todd, who played in the under-15 final, were the first pair of Englishmen to compete in the Dunlop British Junior Open finals for 16 years when James Willstrop and Peter Barker last contested finals day.
Bryant, whose coach and father Ross is a former professional player, was aiming to add the British and English junior-13 titles to his collection after a breakthrough year in 2017. He has been competing in under-13 events since he was 10.
He is named after the great Jonah Barrington, who is regarded as one of British squash's greatest players and won the British Open six times in the 1960s and 1970s.
Jonah added: "My dad is amazing but so is Ben Hutton, my coach at Corals. I wouldn't be here without his help.
"With my dad once being coached by Jonah, he just passes on what he learnt and it's paid off."
"I'm addicted to squash. I train every day of the week basically and hopefully I can turn pro."
Ross, who is an airline pilot in China, said: "I'm really proud and it's dream come true stuff. It's great to be here and guide him.
"He doesn't listen at home but he certainly does on court!"