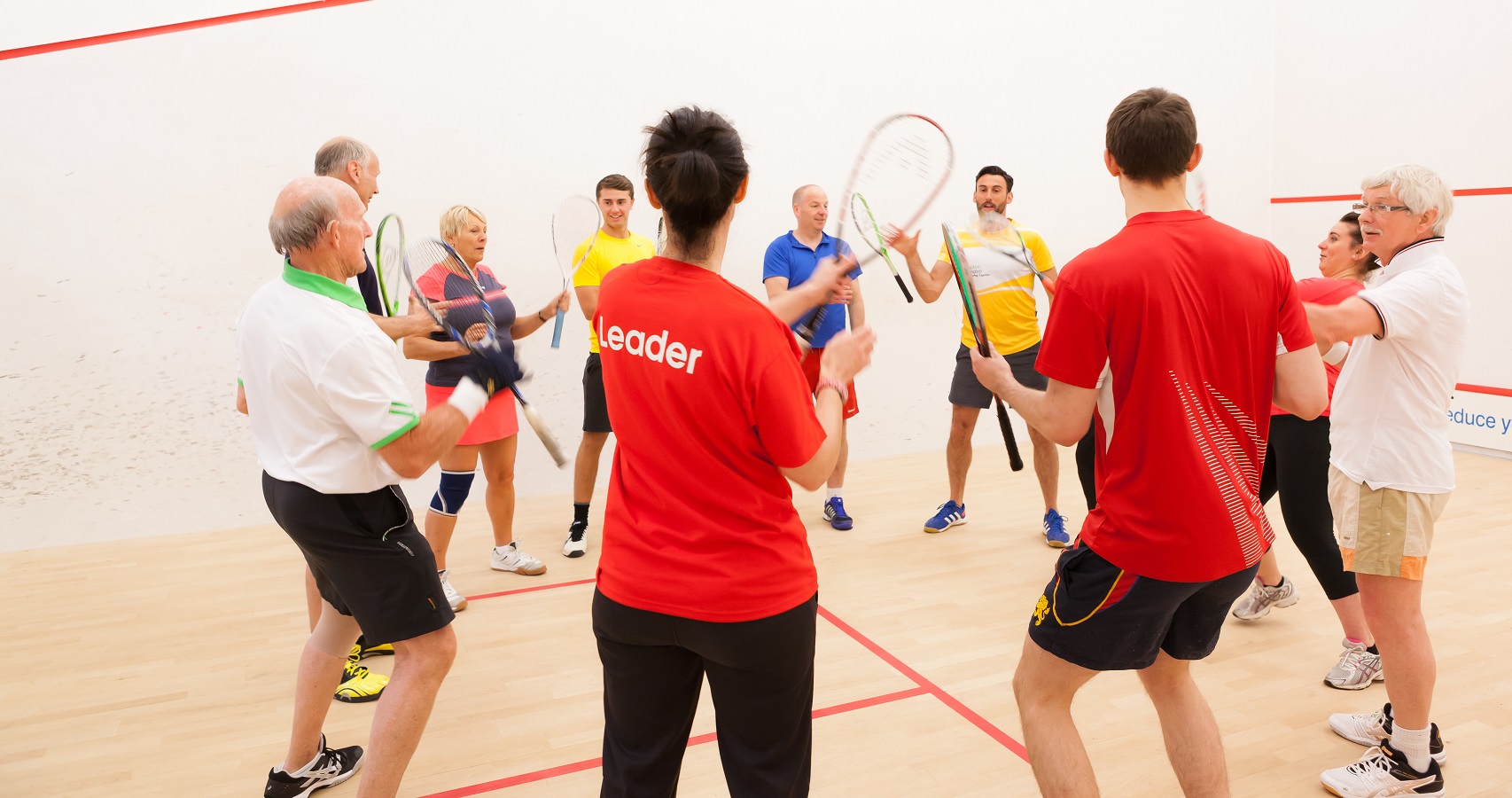 Squash 101
Squash 101 is our adult participation programme that offers an alternative way to play squash that involves groups on players on court bringing people together to play squash in a fun, social and inclusive environment.
An estimated one million adults play squash each year but not all of these people are regular, committed, club players. There are many people who may only play squash a few times a year, but who'd like to play more often. Clubs and venues can implement the Squash 101 programme to provide regular, ongoing Squash 101 sessions offering those in frequent players an opportunity to get on court more often.
Is Squash 101 right for your venue?

As a club, leisure centre, university, or college looking to grow the game at your venue, Squash 101 could be a great option for you.
Squash 101 can help you:
reach a new audience and attract new adult players who are less likely to take part in more traditional club activities.
engage more female players by offering Squash Girls Can - a female-only version of Squash 101.
increase the number of people in their 20s, 30s or 40s playing at your venue.
increase court usage and associated income at your club or venue.
upskill more volunteers as leaders to facilitate sessions.


Who is Squash 101 aimed at?
Squash 101 isn't aimed at those who already play regular squash in a club or league structure, but at those who play less frequently and are looking for a different experience on court. Squash 101 is built on insight and designed to meet the expectations of a casual squash player by providing an alternative way to play that gets them on court more often.
This type of player typically:
only has one or two people to play squash with. Squash 101 offers group activities on court enabling them to meet new squash buddies.
prefers to focus on the fun, and social side of squash knowing that they get a good workout on court and are less interested in developing their squash skills. Squash 101 is delivered by a Squash 101 leader and sessions are designed in a way that offers time to socialise within the activity.
prefers a less competitive environment and tends to be less motivated by competition, although some people may enjoy competitive banter amongst each other. Squash 101 isn't competitive, and isn't just about playing against each other and trying to win.
prefers flexible opportunities to fit in around other things their lives. Squash 101 is an opportunity that should be available to members and non-members (different costs can be applied) and shouldn't require any commitment to attend every session.
Becca James, Operations Manager at Farnham Leisure Centre said:
"Since starting Squash 101, our casual usage has gone up. We have welcomed old members as well as new players to our sessions, with many now booking courts on a regular basis. I'd definitely recommend Squash 101 to centres who don't currently offer drop-in sessions. They'll see their usage and income increase, as well as knowing they have the support from England Squash."
How to start Squash 101
Check your workforce: do you have any Squash 101 leaders or suitable coaches at your club/venue to run these sessions?
Train some Squash 101 leaders: organise a Squash 101 leaders course for coaches or volunteers from your club. Speak to your county association and other clubs and venues locally to see if there's any more interest in a course in your area. Once you've gathered some interest, contact participation@englandsquash.com to organise a course.
Schedule your Squash 101 sessions: once you have some leaders trained it's time to schedule your sessions. Think about your target audience when scheduling sessions and the day and time that'll work for them. Ask your target audience when the sessions would best work for them. We suggest a regular session so people can plan it around their lives.
Promote your sessions: make sure all the information is on your website. Make use of social media and promote within your local community and with local partners. Check out our top tips for social media.
Record your sessions: use the England Squash app to record your sessions and log players. This is essential to help England Squash monitor the programme so that we can show progress to our major funding partners and potential sponsors. Please also provide us with feedback on the programme so we can continue to make improvements. There are prizes and incentives available for using the app, along with additional resources and content to help you with your sessions.




How we'll support you
We'll provide all the materials and content you need to run Squash 101 at your venue. Everyone who attends a Squash 101 leaders course will receive the following support via the England Squash app:
six weeks' worth of session plans.
downloadable, editable posters to help to promote sessions.
a promo video to download and promote Squash 101 on social media or on your website.
images for use on social media, on your website or other promotional material.
opportunities to win prizes and enter competitions via the England Squash app.
support from Squash 101 Champions (where they cover your area).
Giveaways to support your Squash 101 sessions linked to the use of the England Squash app.

Get in touch
If you have any questions about Squash 101, please contact our participation team.