Back
14 July 16 - by Phil Wright
England Squash announces structural changes in coaching team
Over recent weeks, our performance department has been reviewing how to meet the financial and technical challenges of the next cycle. This has resulted in a number of key changes to technical positions within our coaching department.
The structural changes within the department are as follows:
Chris Robertson will move from National Coach to Head of Player Development and will have overall accountability for the development of current world-class players, as well as those with potential within the performance and talent programmes.
David Campion will move from Assistant National Coach to National Senior Coach and will be responsible for the development of senior players within our Team England and England Academy programmes.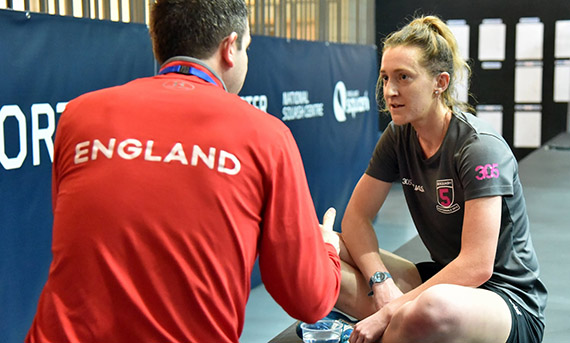 Lee Drew will take up the new position of National Junior Coach responsible for leading the England Development Programme (EDP) and Aspire programme to establish an integrated, inclusive and progressive Talent Pathway.
Tania Bailey will take up a consultancy role as High Performance Coach on a self-employed part-time basis and will be responsible for supporting the EDP and Aspire programmes.
Performance Director, Tom Duggan commented, "I believe these changes are necessary in order to meet the challenges of the next cycle and our vision to develop a new generation of world-leading players. The new structure means we're better positioned with a greater technical influence within player development, as well as having a simplified and more connected pathway.
"Any restructure is uncomfortable for all those involved, and unfortunately as part of the restructure, Amanda Partington has left the post of Talent Pathway Manager."
In addition to these changes, and not part of the restructure, Head of Coach Development, Paul Carter has decided to pursue other opportunities outside the organisation. Whilst Paul will no longer be employed by England Squash, he will remain involved with the programme as a Performance Consultant where we will be able to maximise his skills and experience as both a coach developer and coach.
Tom Duggan commented, "Carts has been a key part of the success of the sport in this country for a number of years, and there are a large number of players as well as coaches who will no doubt be grateful for having worked with him.
"Whilst he won't be directly employed by us, I'm delighted we have managed to retain his experience and expertise as a consultant and he will still very much be a face of England Squash through coach education and development."
Find out more about performance.