Back
18 February 21 - by England Squash
Championing inclusion at Northern Rebound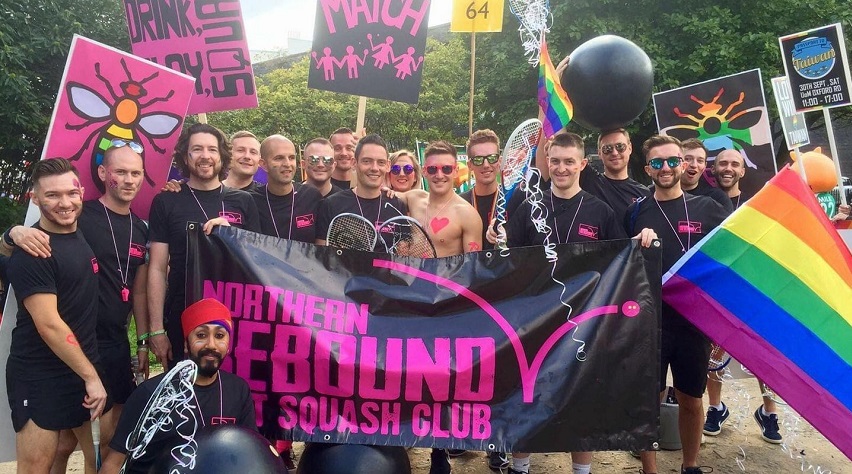 To mark LGBT+ History Month, Martin Cooper from Northern Rebound - one of Manchester's most recognisable LGBT+ sports groups - talks candidly about how the club ignited his passion for squash and makes him feel like part of a team, and not an outsider.
This month sees the annual celebration of LGBT+ history month, which to the vast majority of people won't particularly mean anything (which is fine) but what it does mean to some is incredibly important and shouldn't be underestimated.
I am a keen, amateur, not particularly good (however competitive I am) squash player from Manchester who took up the sport around 12 years ago, just casually playing with a friend. I'm proud to say that my game has improved somewhat since then, and I have since achieved certificates in Level One coaching and basic refereeing and marking, and developed a great relationship with my friends at England Squash who are luckily based at my 'home ground' - the National Squash Centre, which just happens to be a five minute walk from my apartment.
I'm also an openly gay man. Now, I don't have to consider LGBT+ history to know how lucky I am in many respects. I live in a city which is internationally celebrated as a diverse and unified society, with people of all colour, creed, gender and sexual identity sharing a small space and living together in relative harmony.
One could even argue that being a gay man in a city like Manchester is par for the course… run of the mill… almost expected. While this is brilliant in its insignificance – especially having come out at the age of 14 in a small Lancashire town where wearing the wrong colour gilet would have been met with frowns from the Parish Council – it's easy to forget that sexual identity is actually a very personal issue. No matter how many other people are in the same ocean as you, your boats are all very different.
There are aspects of life that are inevitably and unavoidably more challenging for LGBT+ people.
Hang on a minute… this is a lingo thing. I'll come back to the train of thought in a second and very quickly explain the LGBT+ thing for those who don't know.
LGB stands for lesbian, gay and bisexual. T stands for transgender. These are – very basically – the umbrella terms for the majority of people who have differing sexual and gender identities from the 'usual' heterosexual. Sexual identity (LGB) and gender identity (T) are completely different things from each other, but often one who is T finds themselves to be LGB by proxy, so we usually include the trans community in conversations around social effects on LGB people.
To confuse you even further, LGB and T are just the tippy-tops of extremely large and complex icebergs which include many different sexual orientations (pansexual, asexual, monosexual, etc) and gender identities (transsexual, transvestite, intergender, non-binary, etc) and then there are a raft of people who don't identify as anything as they don't feel their sexual or gender identities need define them or their perception by others.
As I said, it's complex and personal, and not really something you need worry about too much, unless someone close to you asks you to consider them and their situations, in which circumstance you listen with an open mind and support their decisions – it's honestly that simple.
Because there are so many different types of orientation and identities, I rather lazily use the '+' symbol as a 'get out of jail free card' to show I am considerate of them all and hope they won't be too cross that I grouped them together as a maths symbol. Right… where was I?
Ah yes, aspects of life that effect LGBT+ people. Well, the most obvious of these are health implications. Gay and bisexual men (or men who have sex with men, as not all men who have sex with men are gay or bisexual… I told you it was confusing) are statistically at a higher risk of contracting a sexually transmitted infection or HIV for example. For many though, seemingly more trivial things like deciding which hairdresser or dentist or supermarket you use is often dictated by the social acceptance of your identity. If you are a trans woman and people know in your local area, are you going to feel comfortable enough to go the supermarket without having eggs thrown at you by the kids from the end of the street?
Another one of the biggest barriers to LGBT+ people is their confidence to get involved in a community group.
Often, individuals are nervous about approaching a group of people who are already a clique regardless of their background, but add to that a constant awareness of sexual or gender identity being visible to others and the worry that you will be judged by it, then it's easy to understand why there is reluctance.
To combat this, there has been an influx of new sports/hobby clubs being set up all over the world specifically designed to encourage LGBT+ individuals to join and participate without fear of prejudice. A safe space for people of all levels and experience, which not only focuses on improving ability but making people feel like part of a team, and not an outsider.
One such club is Northern Rebound, a Manchester based LGBT+ sports group which was founded in 2009 by a couple of keen squash players who just happened to have met each other at a Pride event in the city.
Former club chairman Gavin Warnes explained to me how the club came about. "Me and a friend were meeting regularly to play squash, at least once a week, and I was also meeting a couple of other guys on other nights to play them too. I decided to do a bit of travelling and each of my opponents said they were going to miss out on the weekly squash sessions, so I connected them all to each other and a very early Northern Rebound club was born!"
Embryonic as it was, Gavin and his friends sought information from other, existing LGBT+ sports groups on how they could make the club 'official'. "There were clubs like GHAP Badminton, Northern Aces Tennis, Outdoor Lads who were an outdoor pursuit group… they gave us some direction and helped us set up our constitution, but in the early days it was hard graft, blood, sweat and tears that set up that club.
"But the aim was always the same: to create a safe space for people to not have to choose between being in the closet and taking part in sports, or being excluded from participating and being open about their sexuality, because that's how it was."
He's right. It was. As I mentioned earlier, I came out at the age of 14, a schoolboy in the Section 28 days (I've bored you enough with LGBT+ jargon to go into any detail here, but it was a law that existed between 1988 - 2003 that basically prevented educational institutions from acknowledging LGBT+ people even existed, let alone offering any support) and faced a veritable plethora of issues. The most memorable of these was being told by the P.E. teacher I was to change for class in the disabled toilets instead of the male changing rooms… that felt really good and encouraged me to take part in much more sport (it didn't - I'm being sarcastic).
Gavin didn't hesitate to underline how immensely proud he is of what the club did and continues to do for its members. It has cemented itself as one of Manchester's most recognisable LGBT+ sports groups, it holds an annual international tournament (Manchester All Nations Championships – it spells MANC, rather conveniently) for other LGBT+ players in other cities and is regularly attended by players from Dublin, Prague, Cologne, Rome, Paris and many others, and – importantly – it continues to develop relationships not only within the club, but to other clubs in the area.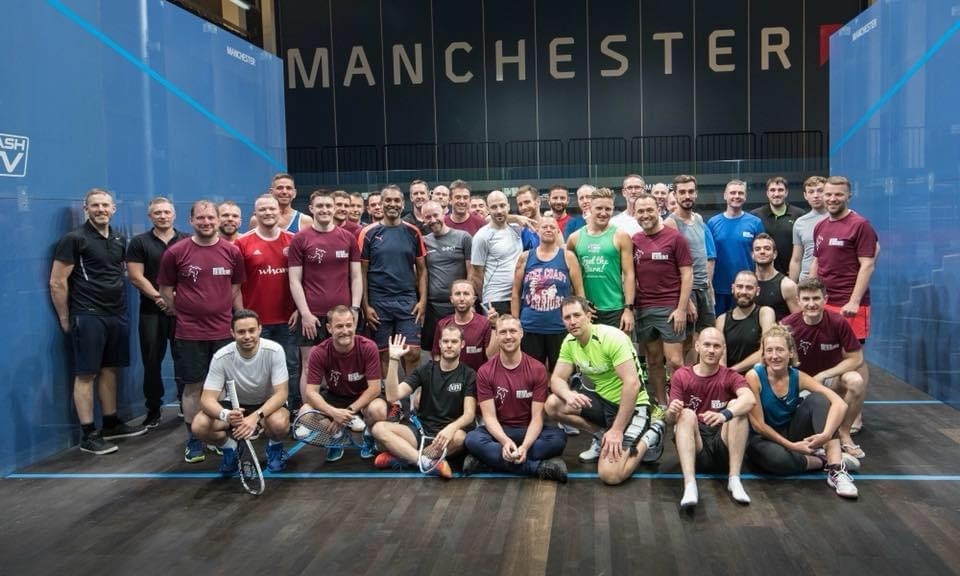 A number of players who began their squash lives in Northern Rebound have gone on to play in local leagues for City of Manchester's squad (myself included… I got battered regularly) and under the guidance of brilliant coaches like England Squash National Performance Coach Josh Taylor have been encouraged to engage and participate in inter-club tournaments and socials.
When I was 14, I never knew the value a club like Northern Rebound would have in my life. It is so much more than a squash club. It introduced me to some of my very best friends, gave me a passion for a sport which I never knew I could have, and has given me – most importantly – the upper hand in at least one aspect of life over my long-term partner who hates it when I beat him!
It's given me an additional purpose and focus that has been invaluable, even in the toughest of lockdown times. The members of Northern Rebound have met every Friday night during lockdown via Zoom for the weekly NR quiz, proving just what an important part of people's lives that little squash club is. Without it, there would be some much lonelier people as of late.
We would love to be at a stage where LGBT+ specific clubs aren't a necessity, but unfortunately we're not quite there yet. Don't get me wrong, things are much better than they were when I was a boy, but there is still work to do, especially outside of the cities were life is harder for our LGBT+ brethren.
But hopefully this article has engaged you enough to appreciate that having an LGBT+ 'anything' is not a signal that we are encouraging segmentation or being divisive, but that we are championing inclusion as a result of our existing circumstance.
And, of course, you are always welcome to play at our club… I'll play you, unless you're any good!
To find out more about Northern Rebound, visit their website.