Guidance for clubs, venues and coaches
Last update: 14 May 2021
Current status

With the UK moving to Step 3 of the COVID-19 Response – Spring '21 Roadmap on Monday 17 May, Sport England have confirmed that squash clubs and venues can reintroduce full court squash for adults and juniors from this date.
Our guidance has now been updated to interpret what it means for squash. Please note, further updates may be required once the full Government guidance has been released.

Jump to:

Back to Squash timeline
To help you plan your return, we've created a timeline to illustrate what squash's phased return to the full game could look like in line with the Government's four step roadmap out of lockdown. We're working closely with Sport England and our partners to roll out guidance at each step whether you're a club, venue, coach or player.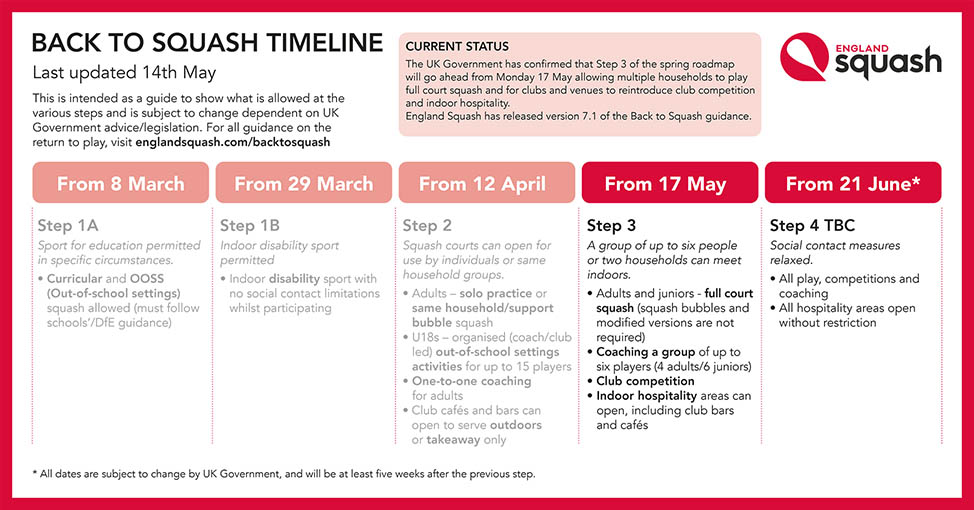 Step 3 Back to Squash guidance
The UK Government has announced that we will move to Step 3 of the COVID Spring Recovery plan on Monday 17 May and Sport England have confirmed that squash clubs and venues can reintroduce full court squash for adults and juniors.
Following the updated rules for indoor gyms and leisure facilities, squash clubs and venues are able to offer the following permitted activity:
Players can get on court with multiple households and play full court squash e.g. best of five with tie-breaks, and singles and doubles (squash bubbles and modified versions not required). The maximum number of players on court allowed are 4 adults or children.
Coach-led sessions can take place in any number (within the maximum venue capacity limit) but the maximum number of players on court allowed is 4 adults or 6 children. Coaches are allowed on court and are not included in the total number of players on court.
Coaches can provide Out-of-School Setting activities to all children (6 max per court), with no restrictions on the total number in attendance.
Spectators are allowed to return, but must observe maximum of six people or two households as well as social distancing rules and wear face coverings.
Indoor bar/restaurant/cafe areas are allowed to open, and must follow the current UK Government guidance.
We've released version 7 of the Back to Squash guidance which reflects Government and Sport England guidelines. You should treat this as a new set of guidelines, familiarising yourself with all sections as there are changes throughout.
Delivering internal club competitions
With internal club competitions now permitted, clubs should determine the maximum number of members/spectators safely allowed in the club at any one time when organising draws and schedules. To help you reintroduce club competitions and re-engage with your members, we have produced some examples of the types of competition your club/venue can host to entice players back for some competitive action. All competitions should be run in line with our latest Back to Squash guidance including current rules on social distancing.