Guidance for players
Advice for returning to the court safely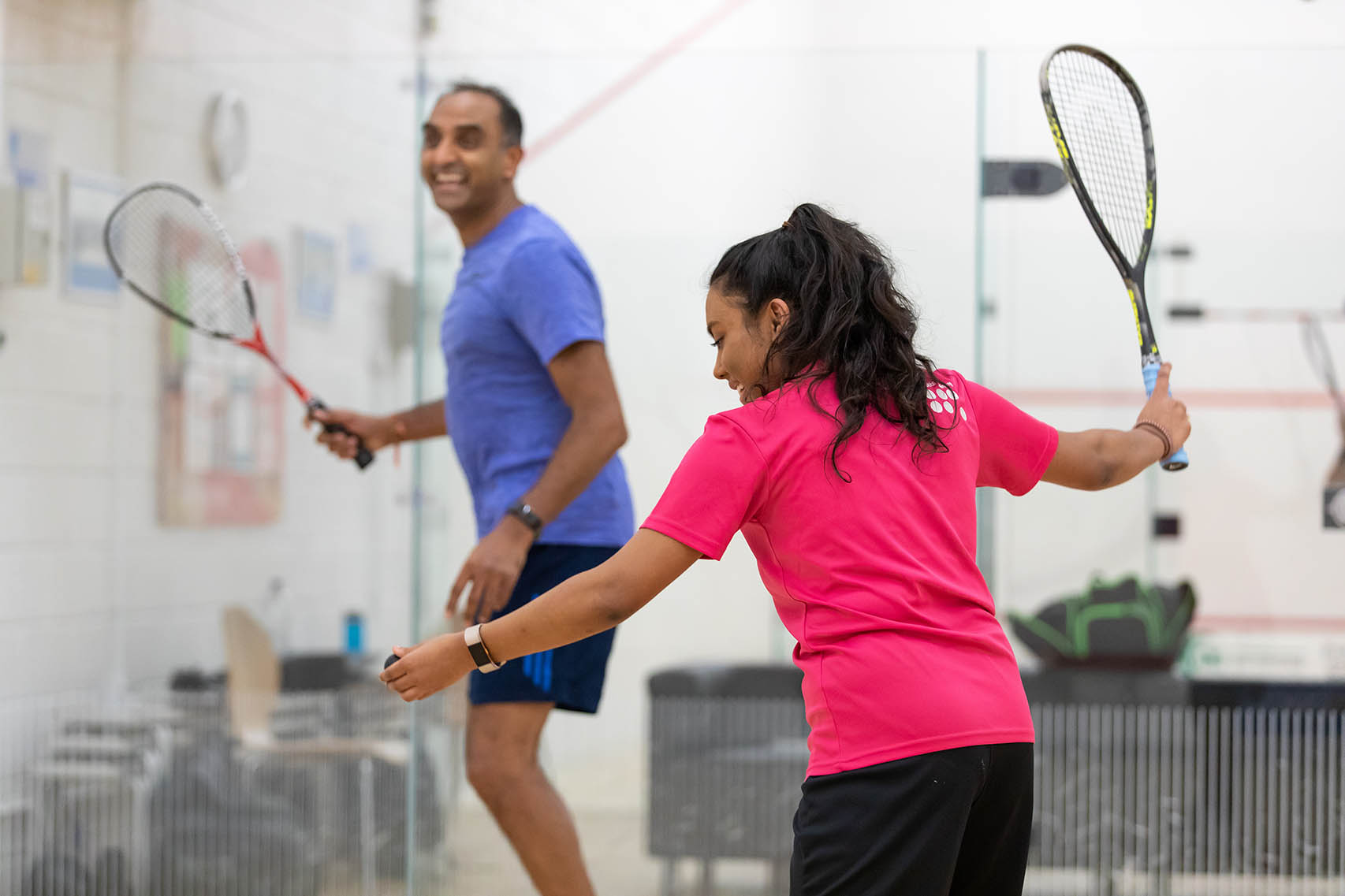 Last update: 9 October 2020
Latest updates
9.10.20. England Squash has been given the green light to reintroduce best-of-five games with immediate effect. This means that from today (9th October), whether in a squash bubble or playing sides, players can play best-of-five games. As before, players MUST continue to follow our player guidance including sudden death at ten-all and sanitising at six points. Our Back to Squash guidance will be updated w/c 12 October.

---
From Tuesday 1 September squash clubs and venues in England are able to move to Phase 2 in our return to play plan, allowing players to form 'squash bubbles' and play full-court matches, although modifications and additional hygiene measures will be required:
Your club/venue's introduction of 'squash bubbles'
Clubs and venues are working hard to understand and interpret both the Government and the England Squash return to play guidelines, to assess whether they can move safely to Phase 2 of the return to play phases, based on their own unique circumstances.
Please be patient with your club/venue as they implement safety procedures to keep you and other players safe. Get in touch with them directly to find out if and when they will move to Phase 2 of the phased return to play, or indeed reopen if they haven't yet been able to. Check what their rules are – including booking procedures – and whether they are operating reduced opening hours.
Be mindful that your club/venue may not be able to meet the measures required to keep their staff, volunteers and members safe, and should they choose to remain closed, please respect their decision.
Play safe, stay safe
Should your club/venue reopen, they will need to introduce a number of safety measures to ensure players can maintain social distancing. Below are some guidelines that you must follow in order to play to keep you and fellow players safe: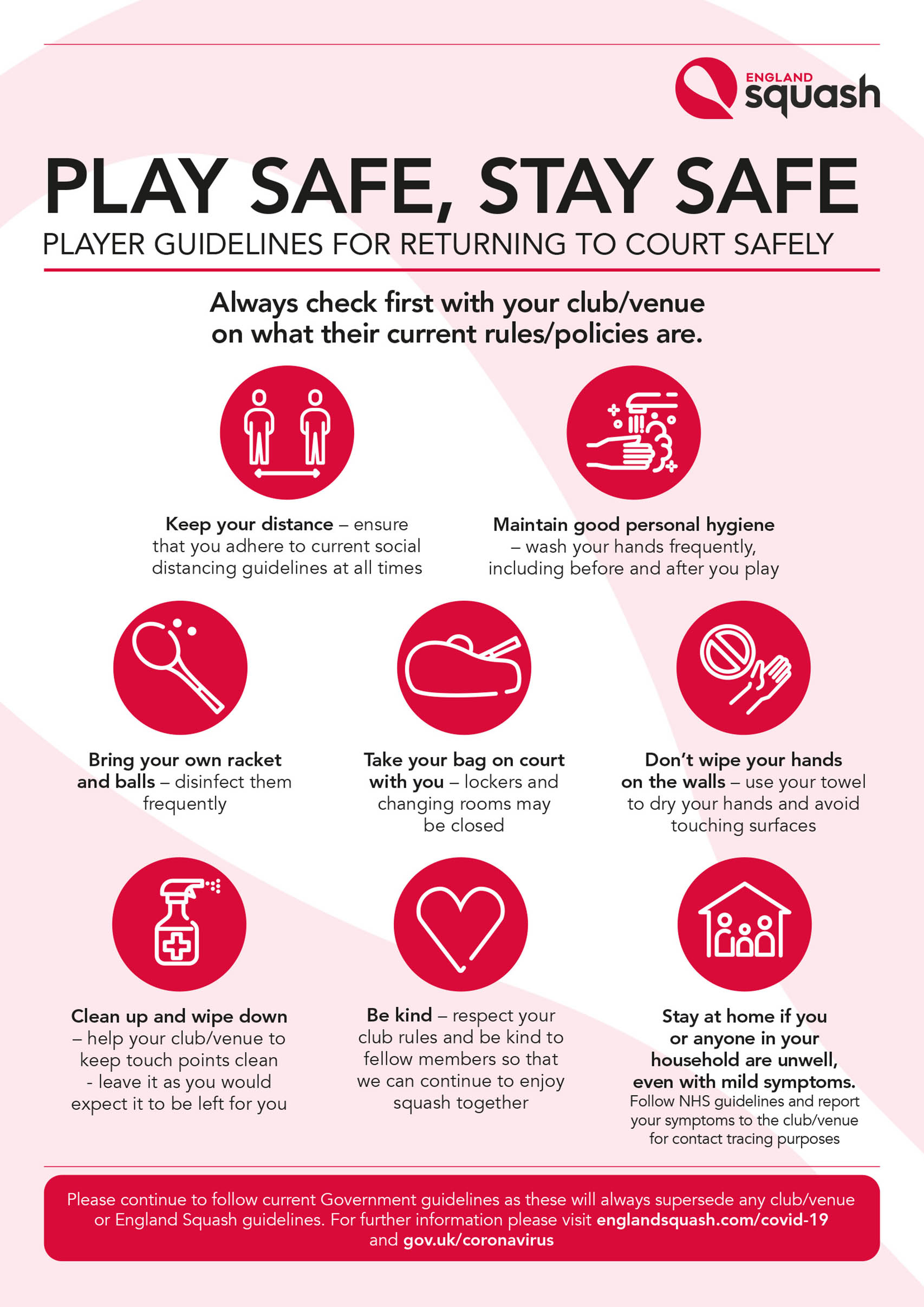 What is a 'squash bubble'?
Bubbles consist of a maximum of six players and players within a 'squash bubble' are permitted to play full-court matches with the following modifications:
Only two players on court at one time.
Play best of five games.
Play first to 11 points, sudden-death at 10-all.
Use 'Sides' to maintain social distancing throughout the warm-up.
During each game, when the first player reaches six points, both players should wipe away excessive sweat, and sanitise their hands and the ball. Repeat between games.
The same player to serve / touch the ball during each half of a game, and at the halfway point, switch servers.
Protective eyewear or visors are strongly recommended at all times.
Don't wipe your hands on the wall.
Players are not allowed to shout or raise their voice.
Please maintain social distancing when not on court, and continue follow your club's/venue's hygiene and cleaning policies.
How do I form a 'squash bubble'?
Agree who is in your bubble with up to

five

other players.

Inform your club

/venue

's COVID-19 Officer of the names of the players in your bubble.

C

onfirm to

your

club

/venue's

COVID

-19

O

fficer, in writing, that

you

have read

and

agree to

follow

the England Squash 'bubble'

guidance

within

this page

.

Check

with your club/venue's COVID-19 Officer

that you

are allowed to

play be

fore starting.

You can only belong to one bubble

at a time

but f

ollowing a seven-day break of playing full squash, y

ou

can

switch

once you've got agreement

from your COVID-19 officer.

Ensure you have express permission from the parent/guardian of any minor before they can join a squash bubble.

What if a player in a 'squash bubble' displays symptoms of COVID-19?
Follow the England Squash guidance and your club's protocol for members/players with COVID-19 symptoms.

P

layers from

t

he bubble that have been in contact with

the symptomatic

player within the

seven

days

prior

must self-

isol

ate

and undertake tests

a

s per

Government guidelines, even if they exhibit no symptoms themselves

, until it has been determined whether or not the symptomatic player has tested positive or negative.

Players within the bubble can resume play if the COVID

-19

test proves negative

.
What if I can't form a 'squash bubble'?
Remember, many clubs/venues may choose to be cautious - it's their responsibility to minimise the risk to you, their members, staff, volunteers and the wider community. If you cannot form a 'squash bubble' (or wish to play someone from outside your bubble), we recommend playing 'Sides' as it's a modified/adapted version of the game which allows players to meet social distancing measures, with each player remaining in their own half of the court at all times.

If you're an advanced player without a 'squash bubble', find out about the socially distanced practices that we recommend.

How to play 'Sides':
Let's work together
We need to work together to keep squash safe and our clubs and venues open. It's important that we all follow the latest guidance to reduce the risk of COVID-19. We encourage all players to familiarise themselves with the signs and symptoms of COVID-19.
Got a question?
Check out our Back to Squash hub for frequently asked questions.