Back
01 April 17 - by England Squash
Team England squads announced ahead of European Senior Championships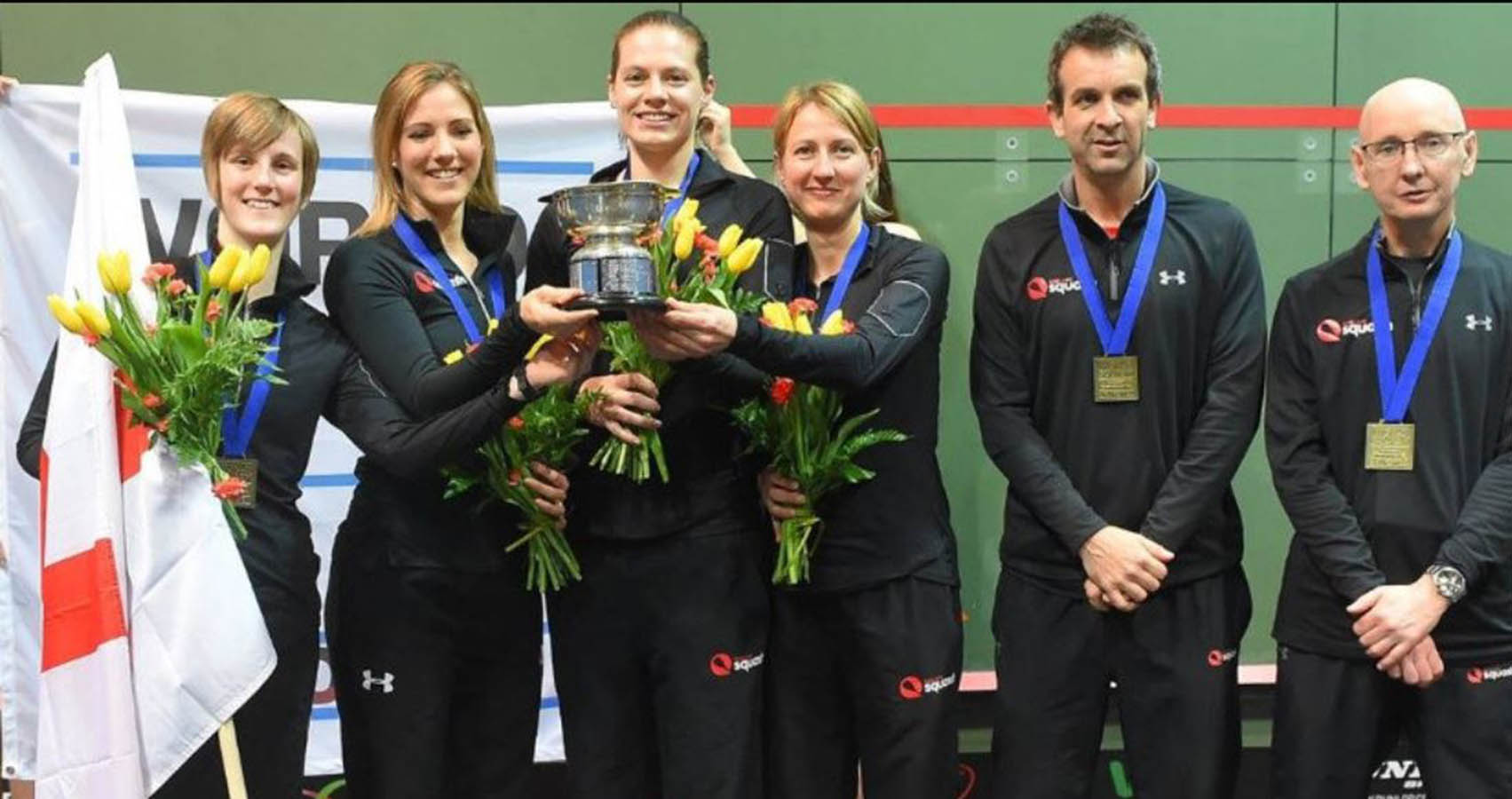 England's line-up for the men's and women's European Team Championships has been revealed with Allam British Open quarter-finalist Emily Whitlock and Declan James set to make their international debuts.
British Open finalists Nick Matthew and Sarah-Jane Perry will lead out their teams in Helsinki after their recent successes but champion Laura Massaro misses out due to a busy schedule.
Team England will comprise of:

Men's: Nick Matthew, James Willstrop, Daryl Selby, Tom Richards and Declan James.
Women's: Sarah-Jane Perry, Alison Waters, Emily Whitlock and Victoria Lust.
Spearheaded by three-time World Champion Nick Matthew, the men's team will be striving to retain the title they won in Warsaw last year. Rising star Declan James will be making his senior Team England debut following Chris Simpson's absence due to injury.
On the men's selection, David Campion, National Senior Coach at England Squash, said: "It's a strong line-up for the men for this year's championships. With all of our top players involved, the expectations are high. In Chris's absence, it's an opportunity to blood Declan, who has earned his debut in the team and with it much needed experience at senior international level."
World No.4 Nick Matthew strengthened his reputation as one of the finest British squash players in history by defeating Spaniard Borja Golan, Egypt's Tarek Momen and then World No.1 Mohamed ElShorbagy on his way to a fifth Allam British Open final at the age of 36. His tournament eventually ended in defeat to France's Gregory Gaultier, the new man at the top of the world rankings. He said:
"I haven't played for England since the 2014 Commonwealth Games due to injuries so I'm really excited to pull on an England shirt again. I guess absence makes the heart grow fonder so I can't wait to get together with the team, especially as it's a new make up to the team with a couple of debutants.
"I recently played PSL [Premier Squash League] with Declan James and he told me how excited he was to get his first cap. I told him he just needs another 120 or so to catch up with me and James. France have a really strong squad so we're going to have our work cut out to retain the title."
Currently boasting four players in the world top 16, and led by Allam British Open finalist Sarah-Jane Perry, England's women's team will be looking to clinch their seventh consecutive title. With World No.2 and Allam British Open 2017 champion Laura Massaro absent due to her heavy schedule, the squad has been bolstered with the addition of World No.13 and Allam British Open quarter-finalist Emily Whitlock.
Laura Massaro said:
"It's great to see Emily getting her first senior cap, I remember when I got mine in 2006 [her first cap at the European Team Championships came in 2007] and have always really enjoyed playing the European Team Championships and learned lots being part of the England team. I know the team will be difficult to beat this year and I'll be cheering them on every step of the way."
David Campion said: "It's a thriving time for England ladies right now following the recent successes at the British Open. In Laura's absence, we are still able to field a very strong team that has four players in the top 16 in the world. I'm delighted that Emily finally gets her moment in the senior team and for SJ it's an opportunity to lead the team out at No.1."
World No.8 Perry said: "All the girls are looking forward to getting out to Helsinki. The Europeans are always a highlight of the season and we're excited for the challenge of retaining our title. Emily is a great addition to the team, which I'm sure she'll be a pivotal member of for many years to come."
With the European Team Championships now in it's 45th year, England have conceded the men's title only three times and the women's just once.
The event is due to be staged in Helsinki from 26-29 April 2017, will eight nations competing for the coveted titles.
European Team Championships - Men's Division One
Czech Republic
ENGLAND
Finland
France
Germany
Scotland
Spain
Switzerland
European Team Championships - Women's Division One
Belgium
Czech Republic
Denmark
ENGLAND
France
Netherlands
Spain
Wales