Back
05 May 21 - by England Squash
Tributes paid to squash legend Malcolm Willstrop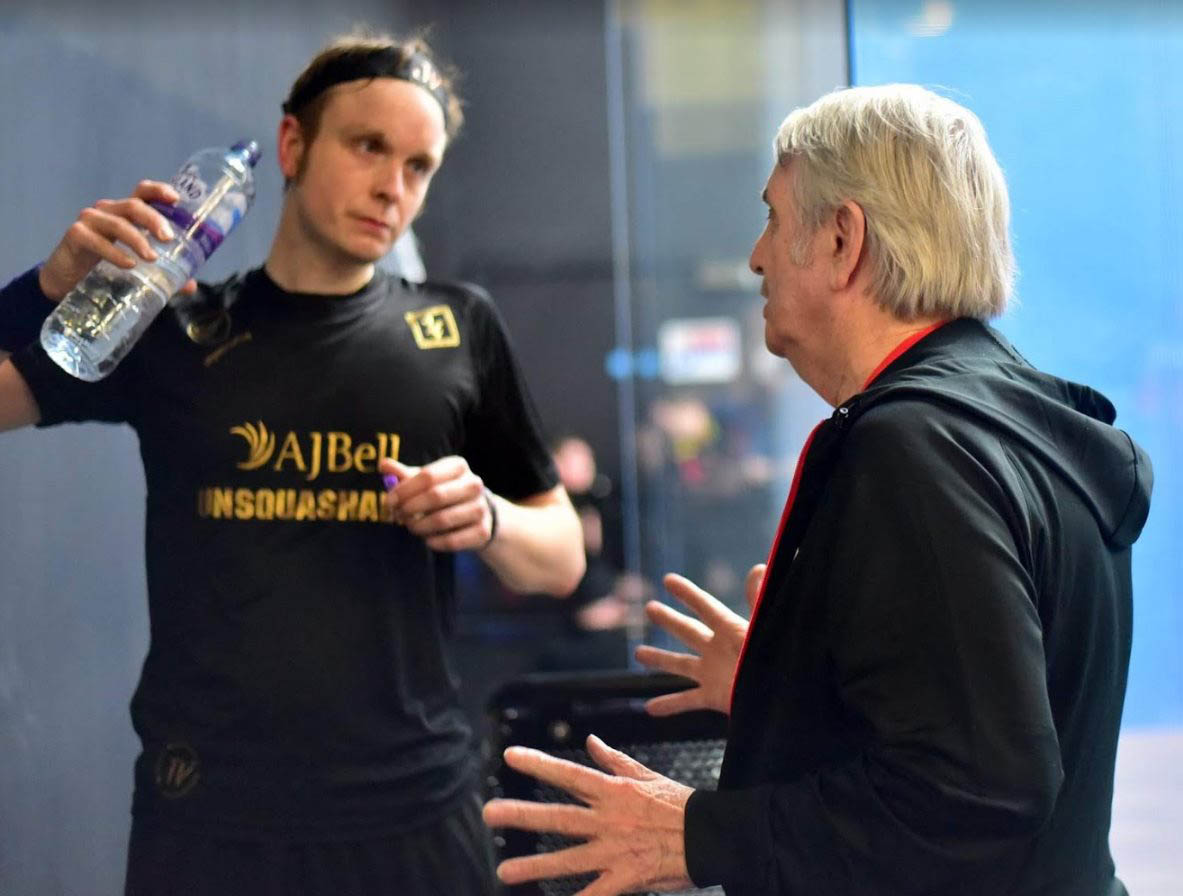 Tributes have been paid to legendary squash coach Malcolm Willstrop, who has died at the age of 83 following a battle with cancer.
Widely regarded as among the best in the world, the Yorkshire-based coach was considered a master of his craft coaching athletes to Commonwealth Gold medal success and to world number one status.
In a career spanning six decades, Malcolm's English proteges include James Willstrop – 2018 Commonwealth Games Gold Medallist; Lee Beachill – former World No.1; Cassie Jackman – former World No.1; Sam Todd – three-time British Junior Open champion; Gawain Briars - former World No.4; Ian Robinson - former World No.19 and Christy Willstrop – former World No.29.
He also guided a number of international stars including Indian No.1 Saurav Ghosal and Holland's Vanessa Atkinson – the former World No.1 as well as producing many top-class rugby players who played for England in the 1970s. It was his involvement in rugby which helped influence his legendary coaching ideals and philosophy.
In 2016, Malcolm received the Elite Coach of the Year Award at the England Squash Polar Workforce Awards. He was further commended in 2019 by England Squash and received lifetime achievement recognition for his outstanding commitment and contribution to squash.
Watch the moment Malcolm was recognised at the British National Championships 2019:
Speaking on social media, son James said:
"It has been a difficult few weeks for him… as is to be expected he was stoic, witty and opinionated all the way to the line.
"Everybody knew who was in charge. Thank you to everyone who has been in contact with us at this time, it has meant a great deal. We read and appreciate every message even if we are unable to respond to everyone straight away.
"The beautiful carers and nurses that looked after Malc over the past couple of months have shown us something very special about the human spirit and we would like to express our gratitude and love to them here."
Step-son and National Coach David Campion said:
"I'm eternally grateful for the life you have given me in squash. I hit my first ball with you as a 7 year old at Walton Hall and you have been there for me throughout....despite all the bans!"
"More importantly you also taught me how to behave when I was a little ratbag!
"Thank you for all your guidance, support and love you gave me.
"A true legend - we can all take comfort in the great things he has achieved and how he has shaped so many people's lives....you know who you are.
Former World No.1 Lee Beachill said:

"His love for squash was as strong then as it was when I first met him 35 years ago. Looking back at my career, I am proud of what we achieved together, and although Malc would never take any credit – 'it is always about the player!' – I can safely say I would never have achieved what I did without him by my side, and for that I owe him everything. The squash world has lost a truly special person."
Among those to pay tribute on social media was Malcolm's young protégé Sam Todd who he coached at their club Pontefract:
"Malc you legend. I want to thank you for everything you have taught me, not only all the hours of work into coaching me on the squash court but you have made me such a better person and I can't thank you enough! I hope to make you proud going forward in my career. RIP coach."
Malcolm is survived by James, James's partner, Vanessa, and their sons, Logan and Bram.