Back
29 October 22 - by England Squash
Top seeds advance to 2022 British Junior Championships finals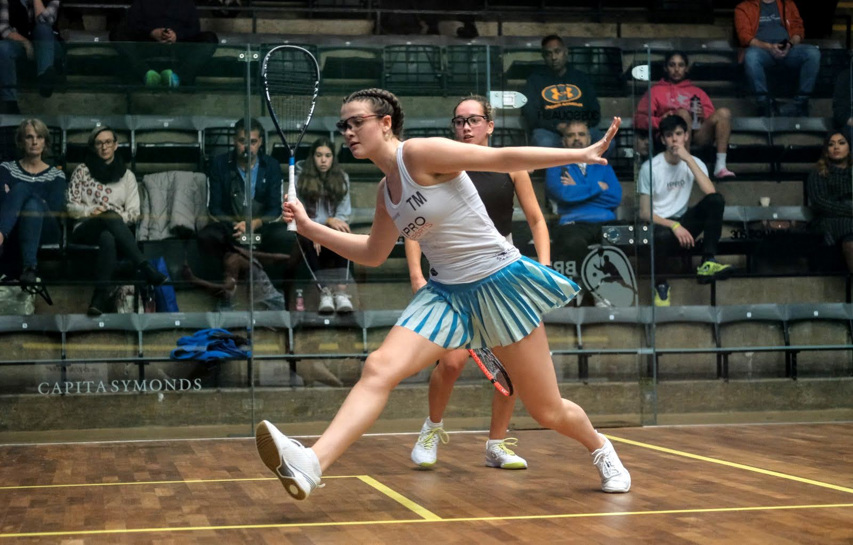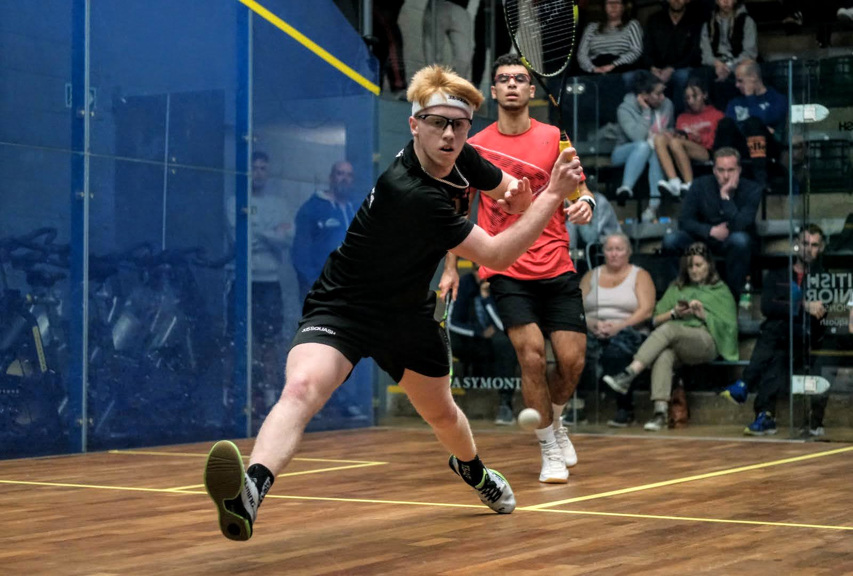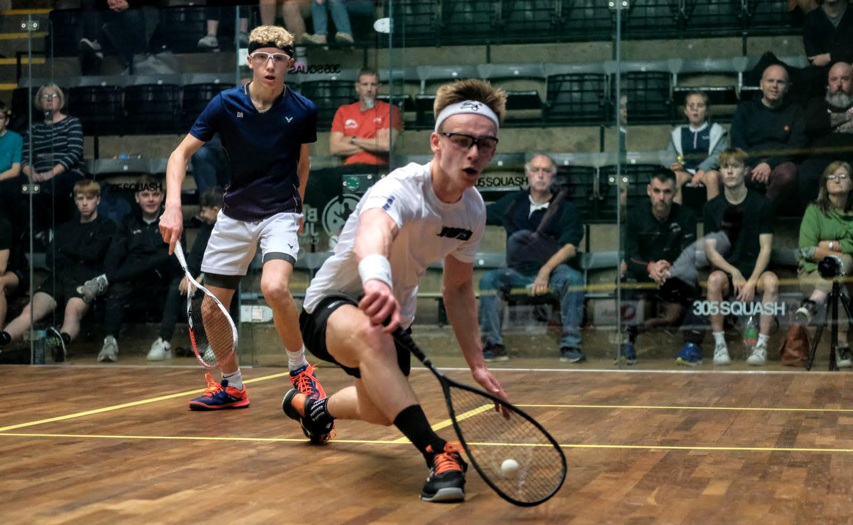 All but one of the top seeds across 11 age categories have advanced to Sunday's finals of the 2022 British Junior Championships in Sheffield.
In the Boys U19 competition, top seed Finnlay Withington (Lancs) overcame 3/4 seed Abd-Allah Eissa (Warks) to secure his spot in the final at Abbeydale Squash & Fitness Club following a straight games win. The Lancastrian took the first on a tie-break, before going on to secure the victory. He will face Jonah Bryant (Sussex) after the no.2 seed got the better of Rhys Evans (Wales) in the last four.
Likewise, the Girls U19 competition will see the top two seeds face off in the final. Defending champion Torrie Malik (Sussex) dropped just ten points to power past Layla Johnson (Yorks), while No.2 seed Asia Harris (Yorks) got the better of Isabel McCullough (Kent) in straight games.
Top seed Alex Broadbridge (Hants) safely made his way through to the final of the Boys U17 competition, thanks to a straight games victory over 5/8 seed Cory Harding (Merseyside). He will face [3/4] Archie Turnbull (Wales) who ousted second seed Dylan Roberts (Kent) in five thrilling games.
The Girls U17 final will also see an England-Wales battle. Top seed and defending champion Amelie Haworth (Hants) will face [2] Ellie Breach (Wales) after she came through her semi-final clash against 3/4 seed Meha Shah (Warks) in three games.
Top seed Ronnie Hickling had to fight hard to reach the final of the Boys U15 event. He edged past [3/4] George Griffiths (Hants) in a four-game battle, recovering after losing the third. He will take on No.2 seed Ismail Khalil (Warks) in the final who defeated [5/8] Jake Johnston (Surrey) in straight games.
Girls U15 top seed Emily Coulcher-Porter (Bucks) defeated [3/4] Harriet Broadbridge (Hants) in three games to set up a final clash with [3/4] Mariam Eissa (Warks). Eissa downed no.2 seed Reka Kemecsei (Sussex) despite losing the first 15-17. She bounced back, dropping just seven points over the next three games to seal the deal and advance to the final.
There was a big surprise in the Girls U13 competition, as 3/4 seed Phoebe Griffiths (Hants) downed top seed Fearne Copley (Yorks) to make the final. Griffiths held the lead twice in their five-game contest, but saw the top seed fight back on both occasions. She eventually got the job done in the fifth game to move through to the final, where she will take on No.2 seed Ameerah Ismail (Warks).
The Boys U13 competition will see the top two seeds Zack Greengrass (Sussex) and Ali Khalil (Warks) do battle in the final. Greengrass downed [3/4] Noah Riley (Yorks) in four games, but Khalil got the better of [3/4] Gilbert Harrington (Hants) in straight games.
It will be a battle of the Browns brothers on finals day in the Boys U11 category. Top seed Finley Brown (Leics) defeated [5/8] Noah Selby (Essex) in straight games to make the final, while his twin brother [2] Oscar Brown overcame [3/4] Henry Smith (Suffolk) in a four-game contest.
3/4 seed Charlotte Hall (Warks) downed No.2 seed Maya Goel (Surrey) in five games to book her spot in the Girls U11 final. She came from two games down to take the win, and will now face top seed, Nadiya Ismail (Warks) in the final.
The Mixed U9 final will see top seed Thomas Earwicker (Surrey) take on 13/15 seed James Bissett. Both won in four games, with Earwicker overcoming [5/7] Ada Brown (Suffolk). Meanwhile, Bissett caused another upset to beat [5/7] Fred Schur (Warks) in four to advance to the final.
Watch live streaming of the finals from 9:30am on Sunday on the all glass showcourt at Abbeydale Squash & Fitness Club - - tune in via England Squash's You Tube channel and the tournament website.
View draws and results, and streaming info on the tournament website.
2022 British Junior Championships - semi-finals results:
Boys U19 Semi-Final Results
[1] Finnlay Withington (Lancs) bt [3/4] Abd-Allah Eissa (Warks) 3-0: 12-10, 11-4, 11-8
[2] Jonah Bryant (Sussex) bt [3/4] Rhys Evans (WAL) 3-0: 14-12, 11-6, 11-3
Girls U19 Semi-Final Results
[1] Torrie Malik (Sussex) bt [3/4] Layla Johnson (Yorks) 3-0: 11-4, 11-5, 11-1
[2] Asia Harris (Yorks) bt [3/4] Isabel McCullough (Kent) 3-0: 11-7, 11-6, 11-3
Boys U17 Semi-Final Results
[1] Alex Broadbridge (Hants) bt [5/8] Cory Harding (Merseyside) 3-0: 11-7, 11-8 11-9
[3/4] Archie Turnbull (WAL) bt [2] Dylan Roberts (Kent) 3-2: 8-11, 4-11, 11-8, 11-6, 12-10
Girls U17 Semi-Final Results
[1] Amelie Haworth (Hants) bt [3/4] Meha Shah (Warks) 3-0: 11-3, 11-9, 11-8
[2] Ellie Breach (WAL) bt [5/8] Charlie McCrone (Lancs) 3-2: 8-11, 8-11, 11-4, 11-4, 11-7
Boys U15 Semi-Final Results
[1] Ronnie Hickling (Surrey) bt [3/4] George Griffiths (Hants) 3-1: 11-4, 11-9, 8-11, 11-8
[2] Ismail Khalil (Warks) bt [5/8] Jake Johnston (Surrey) 3-0: 11-6, 11-4, 11-7
Girls U15 Semi-Final Results
[1] Emily Coulcher-Porter (Bucks) bt [3/4] Harriet Broadbridge (Hants) 3-0: 11-3, 11-7, 11-3
[3/4] Mariam Eissa (Warks) bt [2] Reka Kemecsei (Sussex) 3-1: 15-17, 11-4, 11-2, 11-1
Boys U13 Semi-Final Results
[1] Zack Greengrass (Sussex) bt [3/4] Noah Riley (Yorks) 3-1: 11-5, 3-11, 11-7, 11-5
[2] Ali Khalil (Warks) bt [3/4] Gilbert Harrington (Hants) 3-0: 11-4, 12-10, 11-1
Girls U13 Semi-Final Results
[3/4] Phoebe Griffiths (Hants) bt [1] Fearne Copley (Yorks) 3-2: 11-6, 9-11, 11-8, 6-11, 11-7
[2] Ameerah Ismail (Warks) bt [3/4] Esther Chak (Surrey) 3-0: 11-4, 11-4, 11-4
Boys U11 Semi-Final Results
[1] Finley Brown (Leics) bt [5/8] Noah Selby (Essex) 3-0: 11-0, 11-9, 11-9
[2] Oscar Brown (Leics) bt [3/4] Henry Smith (Suffolk) 3-1: 9-11, 11-5, 11-6, 11-9
Girls U11 Semi-Final Results
[1] Nadiya Ismail (Warks) bt [3/4] Leeya Patel (Middlesex) 3-0: 11-1, 11-4, 11-5
[3/4] Charlotte Hall (Warks) bt [2] Maya Goel (Surrey) 3-2: 6-11, 1-11, 11-5, 11-9, 11-6
Mixed U9 Semi-Final Results
[1] Thomas Earwicker (Surrey) bt [5/7] Ada Brown (Norfolk) 3-1: 11-5, 5-11, 11-6, 11-8
[13/15] James Bissett bt [5/7] Fred Schur (Warks) 3-1: 8-11, 11-9, 11-2, 11-0