Back
25 June 22 - by England Squash
We See You project at Calder Community Squash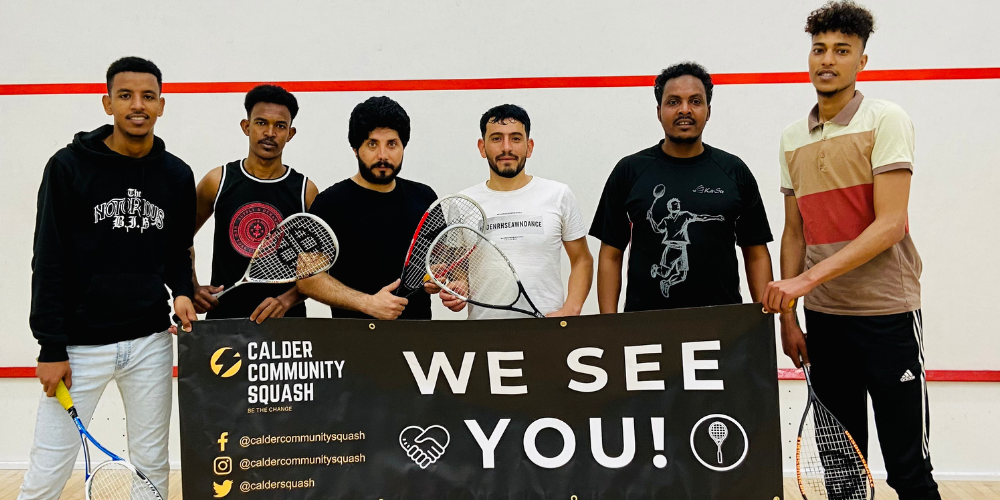 The We See You project at Calder Community Squash supports refugees and asylum seekers by offering weekly squash classes. Founder Aron Harper-Robinson guest blogs for England Squash to share why he set up the project and how it's going so far.
The 'We See You' project came to life after discussions with the parent of a child attending our junior squash sessions. He himself had been through the asylum process and had told me that one of the hardest things upon arrival here in the UK was the feeling of isolation. With no means of making money, no fixed accommodation and the difficulties around communication - he felt stuck in a spiral of uncertainty. For some these months of isolation turn to years - with nothing to do (as an asylum seeker you're not allowed to work) except wait.
That was the spark, and where the concept for We See You was born.
We began by asking ourselves some serious questions. What did we want to achieve? What would the outcomes look like? Why would someone that is barely getting their basic needs met want to play squash?! And finally…. where to begin?
We knew from the off that we didn't want this to be a flash in the pan, a "hey look at us - we're working with refugees" kind of thing. That simply wouldn't do. So it began with a conversation (using some creative translation methods) with the people themselves who were in the asylum process. We asked them how we and in turn they could take this project and make a difference to their lives and others like them.
As well as running weekly squash sessions at the Old Crossleyans Squash Club in Halifax, we decided that taking the project out on the road should be a priority. Meeting and speaking to people, playing some matches at other venues and discussing the possibilities around more clubs, coaches and sporting facilities taking on a We See You project.
The outcome for us is clear. Let's create more compassion, let's build a greater understanding of the difficulties faced by people in the asylum seeker system and let's help eradicate the misinformation and fear surrounding asylum seekers. We believe that squash can be much more than a game. It has the power to unite us - to offer a sense of community and a reason to come together around a common goal. Seeing people getting completely lost in a game for an hour whilst having a great time has been a joy to behold! There's something about the intensity of squash that can be meditative and in some ways (I hope) healing, if only for an hour every week.