Guidance on data protection
At England Squash, we take the protection of data seriously and are dedicated in ensuring that we comply with all of our legal obligations. We are also committed to supporting those who work with us to ensure that they are aware of their own obligations to how best to achieve compliance.
We've recently reviewed our data protection policies, procedures and guidance and, with the help of data protection experts, have updated all of our privacy notices, policy documents, data collection notices and data sharing agreements. This means that at various points on this site, you might be asked to update your data or agree to various terms and conditions when accessing our data.
As well as giving you full details of our own data protection policies and processes, this page includes brief guidance and resources to help our partners, including clubs and county associations understand their obligations and comply with the relevant regulations and legislation.
Our data protection and privacy notices
Below are links to our updated privacy policy and terms and conditions of use for this website.
We also now have agreements in place for any organisations (mainly clubs and county associations) and individuals who access England Squash personal data. Once these agreements are signed with the relevant parties, it means that more of our data can be shared with the organisations that need it to help England Squash to administer the sport.
Guidance for affiliated clubs and county associations
Clubs and county associations are vital to delivering Squash on a daily basis at venues around the country. Of course, in order to run your organisation and deliver events, competitions and other sessions that contribute to the sport, you need to handle some personal data about players, volunteers, parents and spectators. Our aim at England Squash is not only to help make you aware of what your obligations are, but to help you understand how you can ensure that your activities are fully compliant with all the relevant regulations.
In order to help you with this, we have developed a simple guide to provide relevant information for clubs and counties.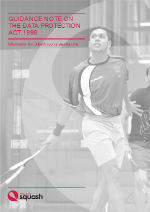 As outlined in the guide, a good starting point to ensure compliance with The Data Protection Act is to understand the eight data protection principles set out by the Act. These are to ensure that all personal information is:
Fairly and lawfully processed
Obtained only for specified and lawful purposes
Adequate, relevant and not excessive
Accurate and kept up to date
Not kept longer than necessary
Processed in line with the rights of data subjects under the Act
Secure
Not transferred to other countries without adequate protection
There are a number of areas in which data protection regulations apply. Some of the key ones for clubs and county associations are:
Collecting, storing and sharing data

This is perhaps the most obvious area, and one that affects almost all clubs and county associations. It is important to understand not only what data you collect and why you collect it, but how this data should be shared - whether amongst volunteers or employees within your organisation or with others. In addition, you will need to understand how you should securely store personal data once it has been collected, and how long it should be kept for.
You will also need to consider whether your organisation will need to register with the ICO (Information Commissioner's Office), although some non-profit organisations may be exempt from registration. There is plenty of information about this on the ICO website, including a self-assessment tool to see if you need to register, athttps://ico.org.uk/for-organisations/register.
All this might sound intimidating, but it doesn't need to be - the England Squash guidance should be a helpful starting point for your organisation to understand what it needs to do!

Sharing data with England Squash

Sharing data with England Squash should only be done under the same conditions as anyone else - you will need to ensure that you have the permission of the data subject before you share their data with any other organisation. This includes using the England Squash website to share details of your members with us. As a result of the review of our processes, we no longer ask clubs to provide full lists of members when affiliating or renewing their affiliation. However, we do still ask clubs to encourage their members to join englandsquash.com so that individual members can access the benefits of and manage their England Squash membership as easily as possible. To make it as easy as possible for clubs and their members, we have built a function for you to invite your members to join your membership list on englandsquash.com via email - but you will need to confirm that you have collected the proper permission from your members before you do!
Accessing data on englandsquash.com

In order to access data collected by England Squash on englandsquash.com via your club or county admin dashboard, you will need to opt-into a Data Processing Agreement. This is a legal requirement we have implemented to ensure that you understand your obligations when dealing with England Squash data. The key point to note is that it ensures that clubs and county associations are aware of the reason they have been given access to the data - to administer squash activities on England Squash's behalf. The aim is also to ensure that you understand the permissions that England Squash have from its data subjects - in other words the data should not be downloaded and used for marketing purposes by any clubs or county associations.
Resources
In addition to the England Squash guidance, we have provided a number of other external resources below, which you should find useful.
Resources
In this section you will find an overview of some useful resources to help your organisation with data protection
England Squash
Information Commissioner's Office (ICO)