Back
02 August 22 - by England Squash
Commonwealth Games debutant Kennedy downs Perry to reach final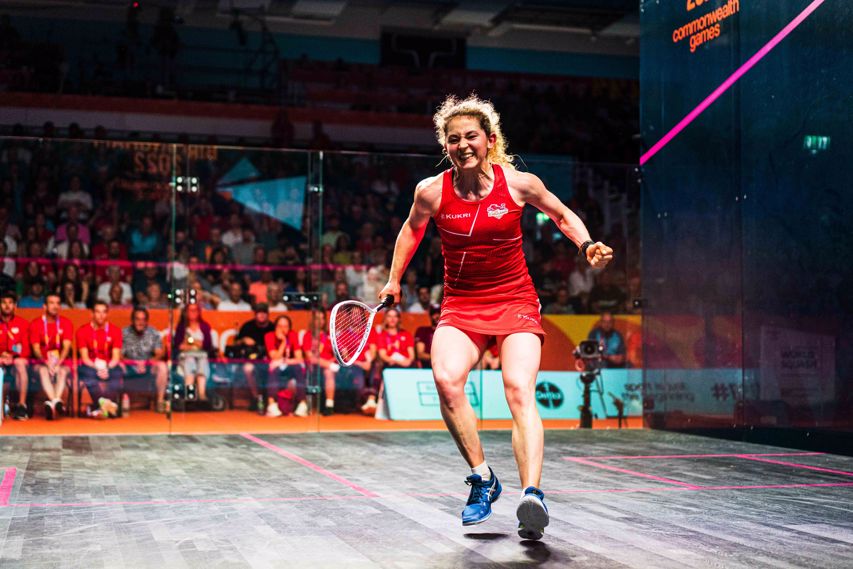 In a gripping all-English contest, 3/4 seed Georgina Kennedy overcame No.2 seed Sarah-Jane Perry to reach the final of her debut Commonwealth Games.
Just over one year ago, Kennedy was ranked World No.170 and an unknown amongst most squash fans. However, in a truly break-out year, the 25-year-old climbed 162 places to World No.8 on the back of dazzling performances and terrific energy.
Kennedy showed no fear against the English No.1 and played her natural, bustling game from the beginning as she took a 1-0 lead with an 11-6 win.
Perry began lifting the ball more in the second game as she attempted to slow Kennedy down, and was rewarded as she took a 5-0 lead. Kennedy began to claw points back from Perry, but the Birmingham native was able to hold out and level with an 11-8 win.
Kennedy, though, carried the momentum she was building in the second game into the third and she stormed back into the lead with an 11-5 win to go 2-1 up.
In a final game that had everyone inside the arena on the edge of their seats, Kennedy and Perry traded blows at they reached 5-5. From here, Kennedy pulled away and had a foot in the final when she went 10-7 up to earn three match balls.
Perry, who reached the final of the 2018 Games, is famed for her mental strength though. 'The Gladiator,' as she's known on the professional circuit, played courageous attacking squash and preyed on the nerves of Kennedy to save all three match balls to force Kennedy into a tie break.
Perry then had a game ball of her own at 12-11 but could not see it out as Kennedy pulled level before taking an emotional win with a 14-12 victory to go into a final against Canada's 5/8 seed Hollie Naughton, who earlier shocked top seed Joelle King of New Zealand 3-1.
"It's the best feeling I've had, ever," an emotional Kennedy said afterwards.
"Sport is all about role models, SJ's sportsmanship and her graciousness are amazing and everyone is inspired by her on court and off it.
"It's really nerve wracking. I'm a bit emotional, my coach Ben Ford couldn't be here today and he's helped me out so much.
"I'm so grateful to him and thanks to everyone who's come.
"I just did not want it to go to a fifth [game] because her mental strength is her biggest asset. I think that if it had gone to a fifth I really would have struggled."
Perry said: "Gina's an incredible athlete and there's absolutely zero shame in losing that match today. I wish her all of the luck in the final tomorrow. I'm gunning for that bronze medal now."
In the men's draw, England's defending champion and 5/8 seed James Willstrop's Commonwealth Games came to an end at the hands of Welsh No.2 seed Joel Makin.
Willstrop came through a tough ordeal against Scotland's Rory Stewart last night, and seemed to still be feeling the effects as he made a slow start against the Welshman, who took the opening game 11-5.
The 38-year-old former World No.1 targeted the front more in the second game and initially had some success. Makin, however, is an incredible mover and soon began to dominate again as he took a 2-0 lead with another 11-5 win.
Willstrop threw absolutely everything at Makin in the third and led at 4-3 and 5-4. Makin, however was earning a number of points from Willstrop errors and, as the World No.24 further tired, was able to push on to set up a final with top seed Paul Coll of New Zealand with an 11-9 win.
Despite the pain of defeat, Willstrop will no doubt reflect on a positive games that saw him become the first male player to reach four successive Commonwealth Games semi-finals.
Birmingham 2022 Commonwealth Games Semi-Final Women's Results:
[3/4] Georgina Kennedy (ENG) beat [2] Sarah-Jane Perry (ENG) 3-1: 11-6, 8-11, 11-5, 14-12 (55m)
Birmingham 2022 Commonwealth Games Round Three Men's Results:
[2] Joel Makin (WAL) beat [5/8] James Willstrop (ENG) 3-0: 11-5, 11-5, 11-9 (50m)
Birmingham 2022 Commonwealth Games Women's Final:
[3/4] Georgina Kennedy (ENG) v [5/8] Hollie Naughton (CAN)
Birmingham 2022 Commonwealth Games Men's Final:
[1] Paul Coll (NZL) v [2] Joel Makin (WAL)