Back
29 April 23 - by England Squash
Double England success at the European Team Championships in Helsinki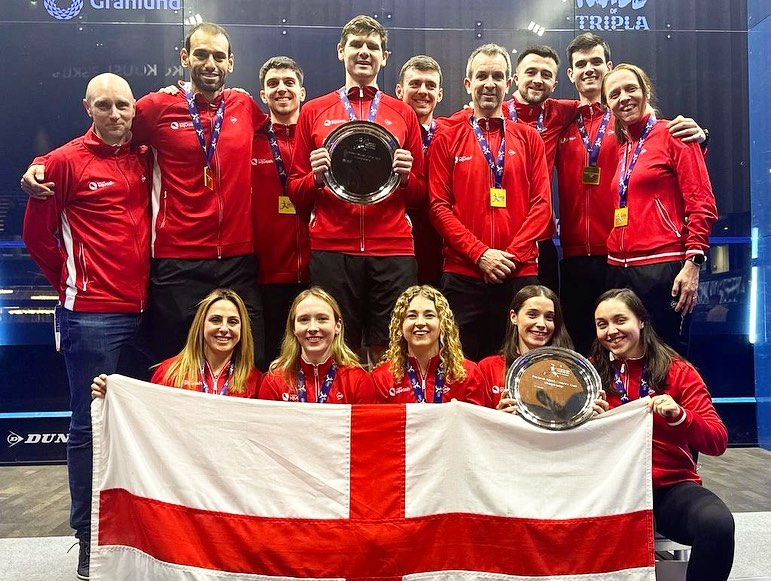 Both men's and women's England teams claimed victory in thrilling fashion at the 2023 European Team Championships, with both ties going all the way to the final matches against Belgium and France in Helsinki, Finland.
The women's final against Belgium was up first on finals day with Jasmine Hutton taking on World No.14 Tinne Gilis in the opening match on the all-glass court at the Mall of Tipla. Hutton found exquisite length early in the contest and kept Gilis pinned behind her to dominate the middle of the court. After taking a convincing first game, Hutton established a huge 2-0 lead after winning the tight second game 13-11. Despite Gilis clawing a game back, Hutton regrouped to run away with the fourth game and take it 11-5 to put England 1-0 up.
Tinne's sister and World No.11 Nele was at No.1 for Belgium as England's Georgina Kennedy looked to seal the win for England. Kennedy trailed Gilis 3-1 in the head-to-head before the match and the Belgian started in strong fashion, winning the first game 11-4. Kennedy battled back and although she captured the second game, couldn't find a way past Gilis who levelled the final at 1-1 to set up a decider.
It was all down to Lucy Turmel, who was strong favourite against 17-year-old Chloe Crabbe, for the title. Suffolk's Turmel was in clinical form, finding near perfect length to the back two corners before unleashing devastating attacks to the front. In just 20 minutes, Turmel blitzed her way through to win all three games, to etch England's name on the European Team Championships trophy yet again.
"I'm really happy, that's a big win for me," said Hutton.
"She's a top 15 player and I'm top 25 so it's a big scalp, but regardless of that it's an honour to put on the England shirt and I'm really happy with that.
"They've got two top 15 players in the world in their team so to put us one up is massive. I had to give every point 100%, she's a class act, a top player and a good friend too so I had to just put that aside today and concentrate on the job at hand."
It was then the turn of the men, who were up against France in the final for the 14th time in last 15 times that the event has been held.
Merseyside's Patrick Rooney was up first, looking to overcome France's Gregoire Marche to put England in the drivers seat in the final. He constantly had the Frenchman on the move, using his volley and ball control to always ask questions of Marche and force extreme movements. After losing the first game, serious work had been put into the legs of the French No.2 which showed later in the match as Rooney won the following three games all 11-9 to put England into the lead.
An all top 10 clash was next on court as World No.2 Mohamed ElShorbagy faced World No.8 Victor Crouin in an all important first string match, and what a match it was. The England v France fixture has thrown up several incredible matches and this one is right up there. Two incredibly close games saw the score reach 1-1 with quality squash being played throughout. Both sets of teams were well behind each player, which only spurred ElShorbagy and Crouin on more.
Crouin took game three in great style winning 11-4 and then stormed to a 7-4 lead in the fourth game and looked sure to win and equalise for France. 'The Beast' had other ideas however and in typical ElShorbagy fashion, started to come back at the young Frenchman. ElShorbagy became impenetrable and rattled off 7 points in a row to force a fifth and final game. The pair traded blows in the fifth game with ElShorbagy finding a perfect length to the back of the court at 13-12 to secure the win for England and put them in pole position for the title.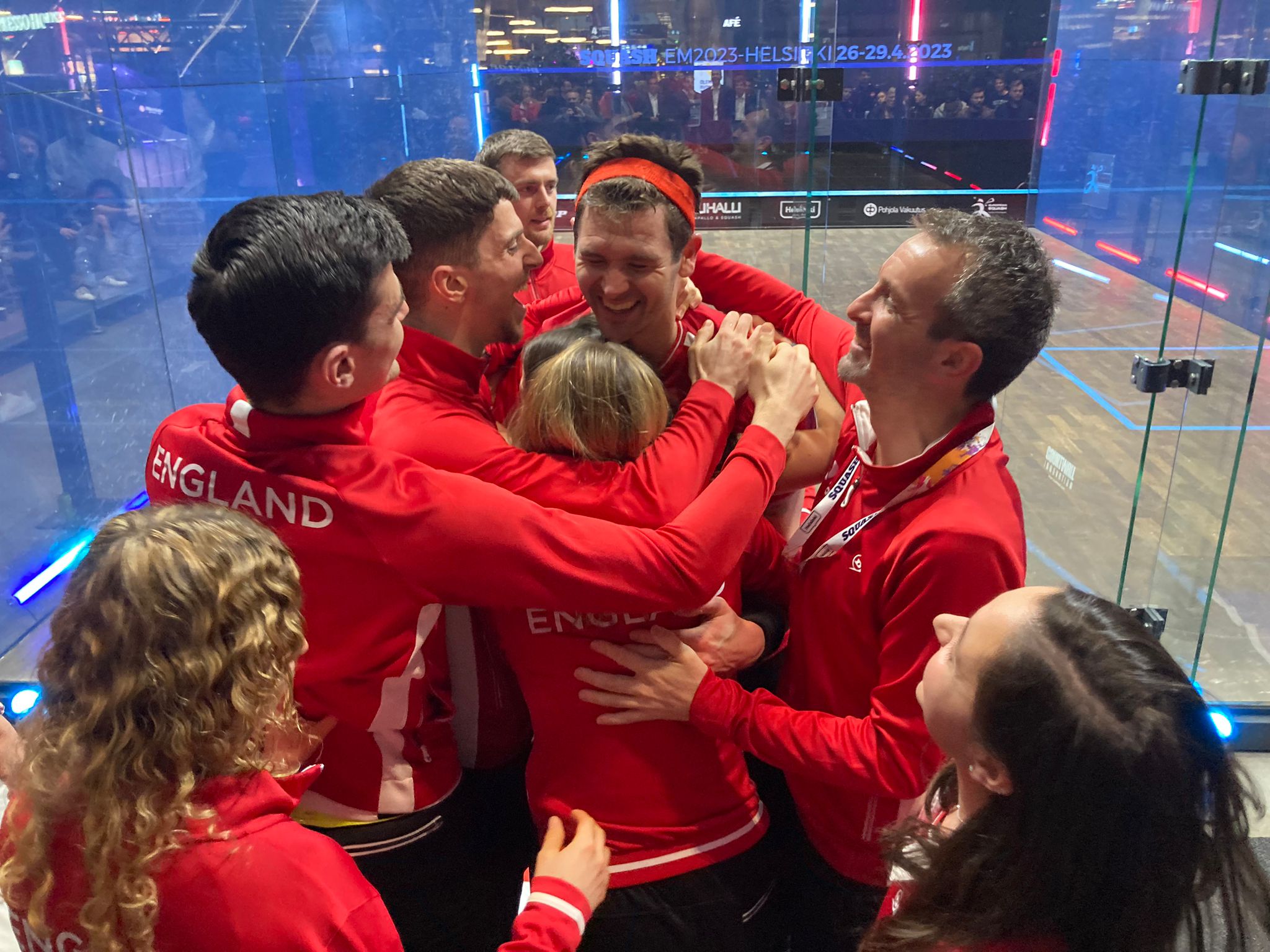 A win for Yorkshire's Nick Wall would have sealed the win for England as he faced Auguste Dussourd in the third match of the final. It wasn't to be for Wall however as he narrowly lost out 11-9 in the fifth game after a competitive and at times scrappy match. That left Adrian Waller needing to win two games against Baptiste Masotti to guarantee victory for England.
Waller is currently ranked 24 places lower than his opponent Masotti, but showed no signs of doubt as he used his superior reach and touch to work the Frenchman into all four corners from the start. Waller took game one 11-6 and looked as confident as ever heading into game two. Masotti wears his heart on his sleeve and boosted by his teammates support, moved up a gear to trouble Waller and subsequently took both the following games 11-8 to set up a crucial fourth game.
Waller, who has previously played some of his best squash in an England shirt, did so again as he stormed through the fourth game, firing off winner after winner to silence the French team and set himself up with 9 match balls to give England another title. Waller converted at the first time of asking to secure a 43rd European Teams title for England.
"Thats brilliant, can't be happier than that," said Waller.
"Winning today has been fantastic and it felt better to do it with all these guys. That was so hard and as hard as I can remember from a team perspective so I'm so proud of everyone to come through today, to battle and come through every game. I didn't know how close it was in the end but that was nerve racking."
Results: Women's Final-
England bt Belgium 2-1:
Georgina Kennedy (ENG) lost to Nele Gilis (BEL) 1-3: 4-11, 11-9, 9-11, 5-11 (52m)
Jasmine Hutton (ENG) bt Tinne Gilis (BEL) 3-1: 11-5, 13-11, 5-11, 11-5 (45m)
Lucy Turmel (ENG) bt Chloe Crabbe (BEL) 3-0: 11-5, 11-2, 11-6 (20m)
Results: Men's Final -
England bt France 3-1
Mohamed ElShorbagy (ENG) bt Victor Crouin (FRA) 3-2: 10-12, 12-10, 4-11, 11-7, 14-12 (78m)
Patrick Rooney (ENG) bt Gregoire Marche (FRA) 3-1: 7-11, 11-9, 11-9, 11-9 (60m)
Adrian Waller (ENG) v Baptiste Masotti (FRA) 2-2: 11-6, 8-11, 8-11, 11-1
Nick Wall (ENG) lost to Auguste Dussourd (FRA) 2-3: 11-8, 10-12, 2-11, 11-9, 11-9 (78m)