Back
13 December 17 - by Fiona Tomas
England denied home hope in Women's World Championships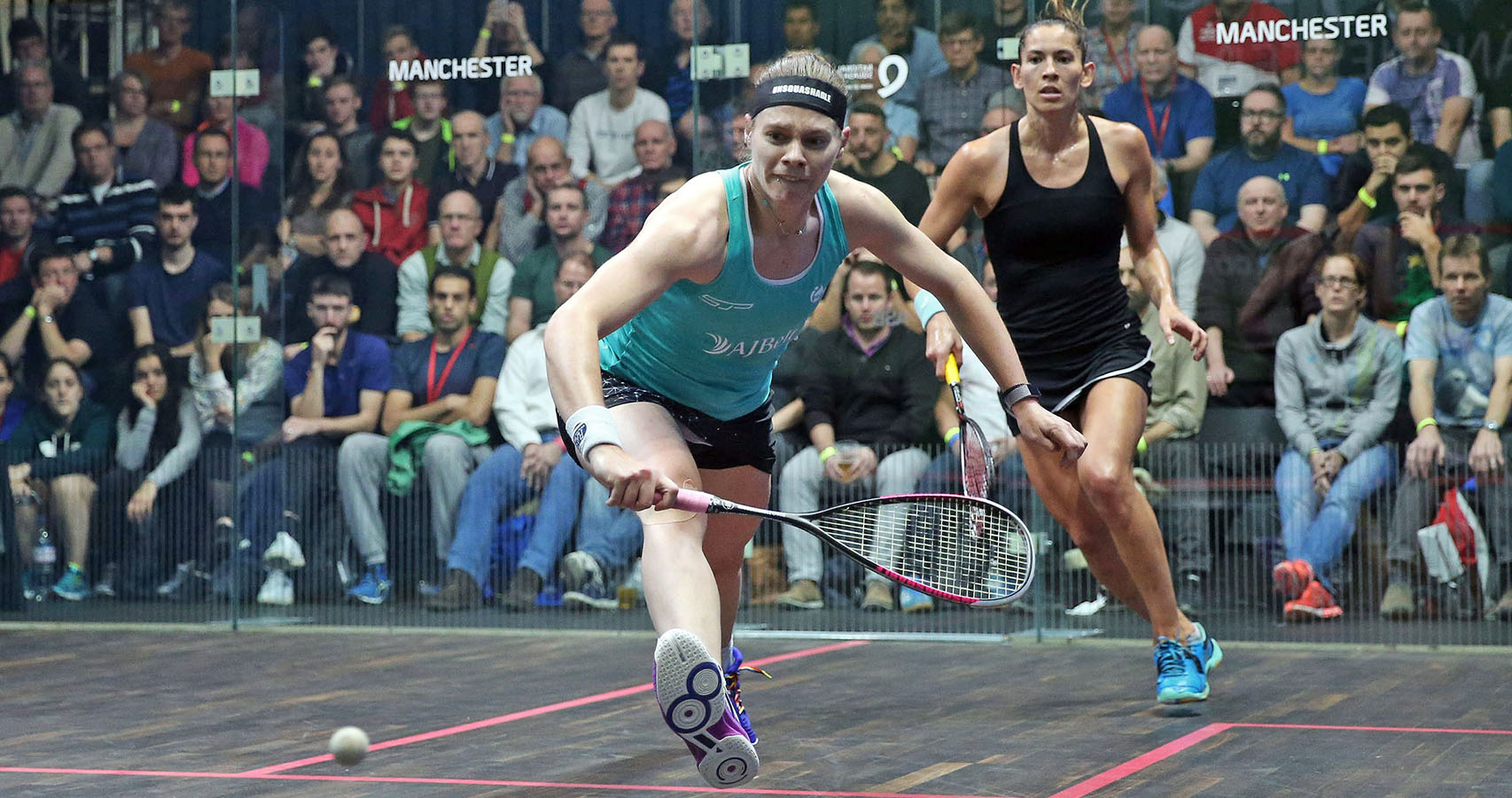 England were left without a woman in the main draw of the Women's AJ Bell PSA World Championships as Sarah-Jane Perry and Victoria Lust followed Laura Massaro in exiting the tournament.

Seventh seed Perry saw her campaign ended by New Zealander Joelle King, who kept up her perfect record against the England No.2 in a thrilling four-game encounter, coming through 11-1, 6-11, 14-12, 11-6 in 54 minutes.
And No.15 seed Victoria Lust suffered a 3-1 defeat to second seed Raneem El Welily, despite fighting at 2-0 down and pushing the match to a fourth game, as the 2016 Egyptian runner-up eased to an 11-5, 15-13, 13-11, 11-5 victory in 42 minutes, setting up a last-eight showdown with Nicol David.
After Laura Massaro's, Alison Waters' and Fiona Moverley's second round exits on Tuesday, it means England's top male seed, Nick Matthew, is left flying the flag for his country in the quarter-finals at the championships, which tomorrow move to Manchester Central.
King clinched the first game within a startling eight minutes, looking the more aggressive of the two in a story of forced errors for Perry, who gifted several easy points to the New Zealand No.1 on several occasions.
But the 27-year-old Coventry-based hitter brought the second game to King, reflected in a fizzing kill at 7-3 before executing the softest of drop shots at 10-5 en route to closing out at 11-6, matching the pair's previous eight-minute encounter in game one.
And the momentum stayed with this year's Oracle NetSuite Open winner in a highly entertaining third, racing into a 6-1 lead as she retrieved King's shots with greater agility – a telling sign of her growing confidence.
A breath-taking rally ensued as Perry pushed all the way to 12-12 – stumbling on her way to retrieve a direct rebound from a fatigued King, before the Kiwi capped off a 22-minute duel at 14-12.
Absolutely gutted to lose today. After an awful start, left everything out there and that's all I can ever do. Sport has small margins and I was the wrong side of them today. All credit to @Joelle_King for being an absolute warrior as always and playing a great match #forward

— Sarah-Jane Perry (@SJPerry15) December 13, 2017
And with the fourth perfectly poised at 6-6, King pulled away to wrap up the win, moving into the last eight where she will do battle with France's Camille Serme.
Meanwhile, it took just seven minutes for the tournament's second seed El Welily to dispatch Lust in the opening game, frustrating the Luton-born hitter with several cleverly crafted low shots which hugged the left wall.
But Lust showed greater reserve in the second and grew more acclimatised to the match, leading 5-3 midway through after an intelligent cross court boast at 8-5.
But the 28-year-old Englishwoman, bidding to reach the quarter-finals for the first time since 2011, squandered a series of game points just as it looked like it was within her reach.
And despite hitting the deck at 13-13, El Welily gathered herself to close out the game.
Lust again squandered three game points at 10-8 and 10-9 and 11-10 in the third, and when El Welily slipped in the corner, the English seed pounced to set the match alive at 2-1.
But El Welily upped the tempo when the pair returned to the court for the fourth, racing into a 5-0 lead with her several of her trademark volleys and proved too strong for Lust, whose championship came to an end when she hit down on the last point played.