Back
06 June 22 - by England Squash
Former World No.1 Mohamed ElShorbagy to Represent England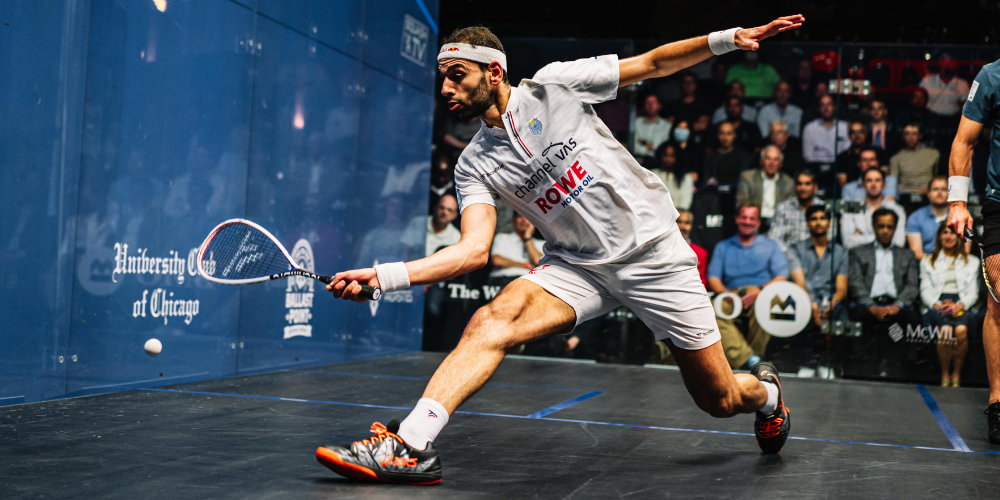 England Squash have announced that former World No.1 Mohamed ElShorbagy has switched allegiance to England with immediate effect.
The Bristol-based star will now compete at Professional Squash Association (PSA) and World Squash Federation (WSF) sanctioned tournaments under the England flag.
Born in Alexandria, Egypt, ElShorbagy is one of the most decorated squash players of all time, having spent 50 months at World No.1 between 2014-2021.
A former world champion and three-time British Open winner, ElShorbagy has 44 professional titles to his name, putting him joint sixth on the all-time men's winners list.
Currently ranked third in the world, the 31-year-old has lived in England since he was 15, attending Millfield School in Somerset where he played squash under the tutelage of legendary coach Jonah Barrington, a six-time British Open champion. ElShorbagy has since been based in Bristol, where he studied at the University of the West of England.
It was on English soil that he lifted his first World Championship trophy five years ago, beating younger brother Marwan in Manchester.
"I'm really excited to be representing England now," said ElShorbagy. "I've lived in England more than half my life and have been trained by British coaches.
"I came to study in England in 2006 and Bristol has since become my home. As a British Citizen now, I will give everything I can to a country that has supported me for so many years.
"National Coach David Campion and the wider England Squash team have offered me a lot of support over the years. When you have people like that who appreciate you for who you are, without expecting anything back it means a lot."
"The opportunity to represent England is extremely exciting and I will give it my all playing under the English flag."
England Squash CEO Mark Williams said: "We're very pleased to welcome Mohamed to England Squash and look forward to helping him continue to perform at the highest level of the game. We're delighted that he's so keen to play a role in supporting the exciting crop of young players currently coming through our talent pathway.
"We're committed to extending England's legacy as one of the most successful nations in squash and feel confident that adding a player of Mohamed's calibre will help to inspire and encourage current and future generations of English talent."
David Campion said: "Mohamed is a proven winner at the highest level of the game. He's a formidable competitor and one of the best players of his generation who I believe will add a great deal to the England system.
"Mohamed is eager to impart his knowledge to the younger England generation and play the role of cultural architect, inspiring them through his leadership on and off court. He is at the place our players all want to be one day. Having a closer insight into his experiences can guide players to extract the very best of themselves in terms of belief, confidence, self-discipline and ultimately performance."
ElShorbagy's first tournament playing under the England flag will be the Necker Mauritius Open, a PSA World Tour event, between 7-11 June. He will make his debut at the British National Squash Championships in Manchester between 14-18 June, where he will be men's top seed.
ElShorbagy will make his Team England debut at the European Team Championships in 2023.
Take a look at our exclusive interview with ElShorbagy where he talks representing England.