Back
15 February 18 - by Max Chesterton
Shropshire squash sensation named volunteer of the year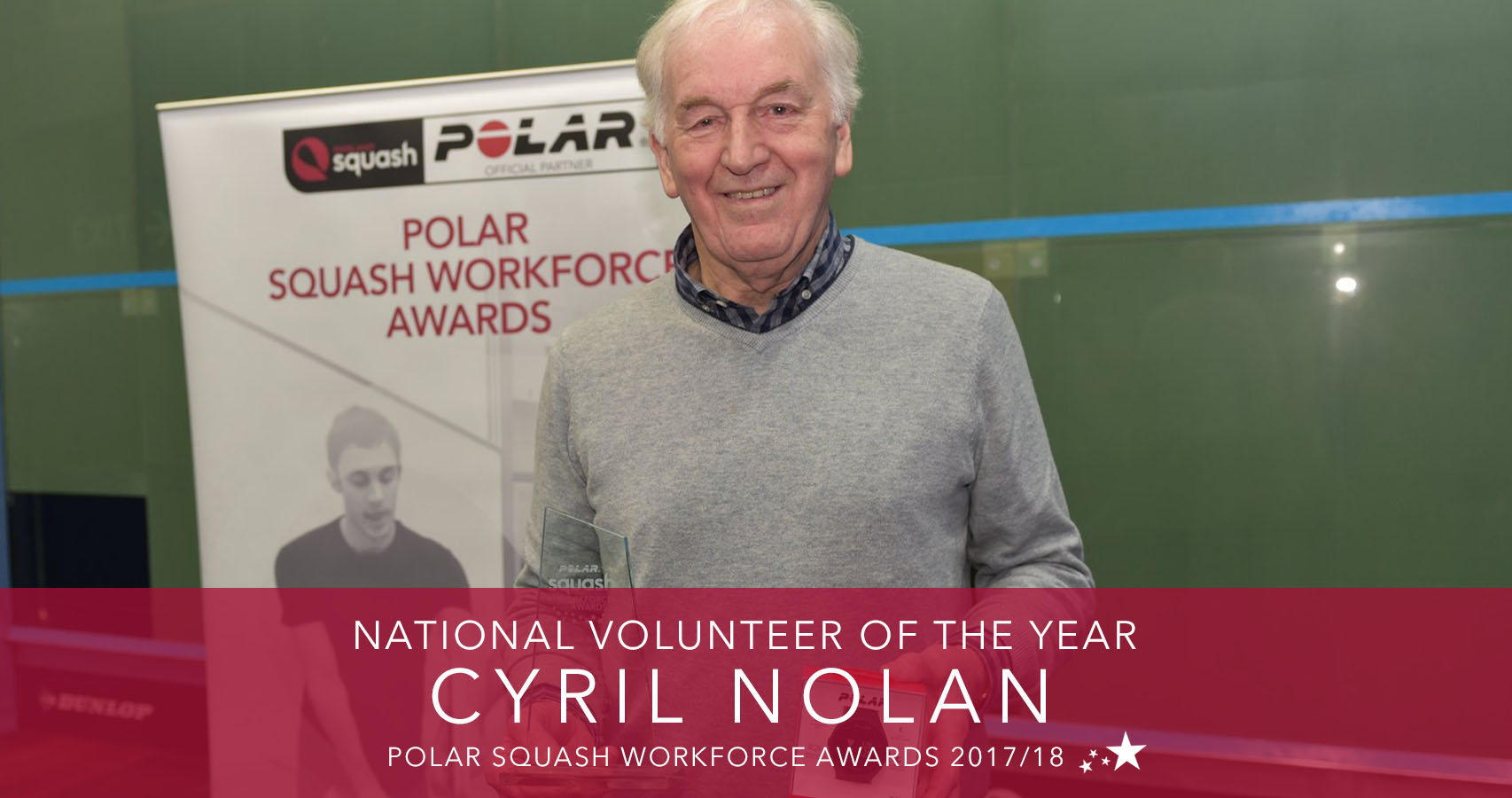 80-year-old Cyril Nolan from Shrewsbury has been named national volunteer of the year by England Squash for his continuous dedication and service to the sport.
The Polar Squash Workforce Awards, which were hosted at the 2018 Dunlop British National Championships, recognise and celebrate those who have made an outstanding commitment and contribution to the sport.
The awards panel heard how Cyril tirelessly continues to volunteer at Shrewsbury Squash and Racketball Club, raising funds for the club's expansion and boosting membership figures.
His relentless determination to improve facilities at Shrewsbury Squash and Racketball Club led to Cyril helping to raise over £120,000 for the construction of a third court and he is now assisting with an attempt to raise £40,000 towards the cost of a new fitness suite.
With the help of Cyril and other volunteers, his club now sees over 200 members participating on the courts after numbers dropped to as low as 32 back in 2012.
"I was very pleased that someone thought I was worthy of nominating," said Cyril
"I was happy to be in the top three and I was even more surprised when I found out that I had won."
"You do what you can to help the club progress. I would probably not have nominated myself."
A self-proclaimed late starter, Cyril has been playing squash for over 37 years and used to spend his lunchtime out on the court at his nearby squash club rather than eating meals.
Originally from Llandudno before moving to Shropshire 43 years ago, Cyril constantly strives towards the promotion of squash, sitting on his club's committee, organising coaching bookings as well as running an internal league.
Cyril also finds the time to organise a weekly coaching session for juniors every Saturday morning, as well as playing regularly, attending fitness classes and captaining his side in the Shropshire league.
His friend and nominator Howard Jones said: "Cyril is a real ambassador for the club and regularly helps new members and non-squash players to take up this fantastic sport."
"Cyril is an inspiration to everyone at the club.
"He has volunteered throughout his retirement, when many would have simply vanished off the scene at a far earlier age!"
For more information on the awards, visit: www.englandsquash.com/awards