Back
07 April 22 - by England Squash
Six players to make England debut at the 2022 European Team Championships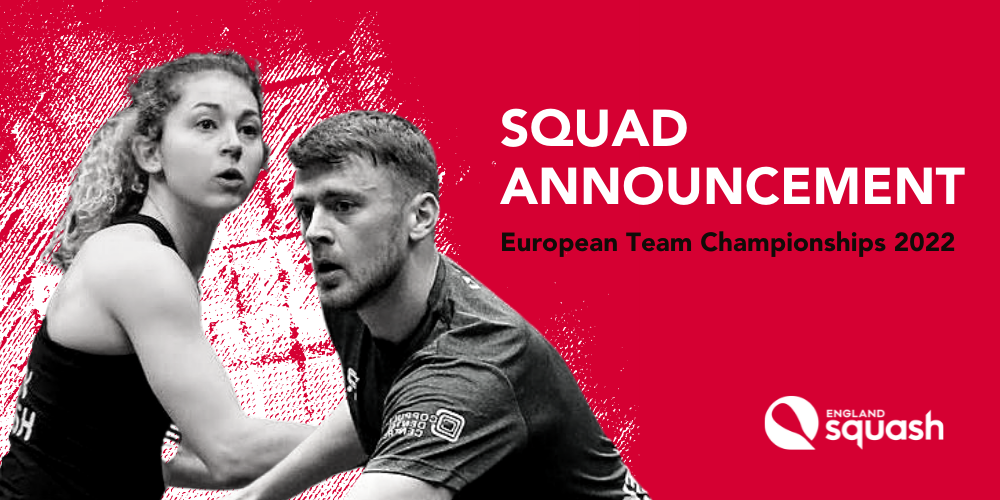 England Squash has announced the nine-strong squad that will head to Eindhoven for the 2022 European Team Squash Championships between 27-30 April.
Starring emerging talent like Gina Kennedy to the experienced former world No.1 James Willstrop, Team England looks to continue their track record at the European Team Championships.
Since the tournament's inception in 1973, England's men have won the title 41 out of 47 times, and the women 40. For Georgina Kennedy, Lucy Turmel, Jasmine Hutton, Patrick Rooney, George Parker, and Nathan Lake, this year's championship marks an important milestone in their careers as they set to make their England debut at senior level.
Having narrowly missed out on the title to France in May 2019, heading up the women's side is England no.1 Sarah-Jane Perry, who will be joined by World No.9 Georgina Kennedy, world No.20 Lucy Turmel, and Jasmine Hutton, who started the 2021/22 season by making it into the last 16 of the CIB Egyptian Open.
Meanwhile, England's men - the current defending champions - will feature England No.1 Patrick Rooney, James Willstrop, Adrian Waller, George Parker, and Nathan Lake.
Kennedy said:
"

I'm

so delighted to get my first England cap! I have always dreamt of representing England at a major championship and I can't wait to be involved in this exciting team event. Wearing the England shirt is a huge honour and

I'll

relish every moment."
Rooney, England's No.1, said:
"It really is a dream come true to represent England at senior level.?I can't wait to make my?debut at the forthcoming European Teams and take on some of the best squash nations in the world. England has an amazing track record at team events and I'm really looking forward to pulling on the England shirt, giving it my all and doing my country proud."
Commenting on the squad, National Coach David Campion said:
"

This younger group of players have been threatening to push through for a while now and I'm delighted to announce six players to be capped at senior level to represent England at the European Team Championships. ?

Particularly over the last two months, we've

seen some outstanding performances from Gina, Lucy, Jazz, Patrick, and George, with Nathan showing some of his best form recently. I'm pleased for Nathan, he works hard and his selection is fully deserved. Gina has had a phenomenal rise over the last 12 months. She's a shining light and has led the charge which her young

teammates

have responded well to"
For draws and schedule visit the European Squash website.