Back
14 May 23 - by England Squash
Warwickshire and Kent crowned Senior Intercounty champions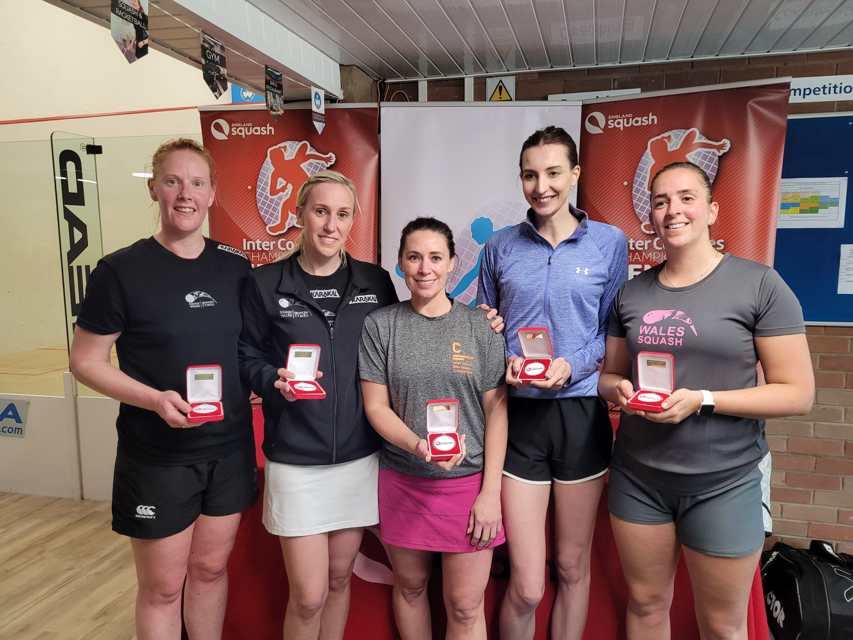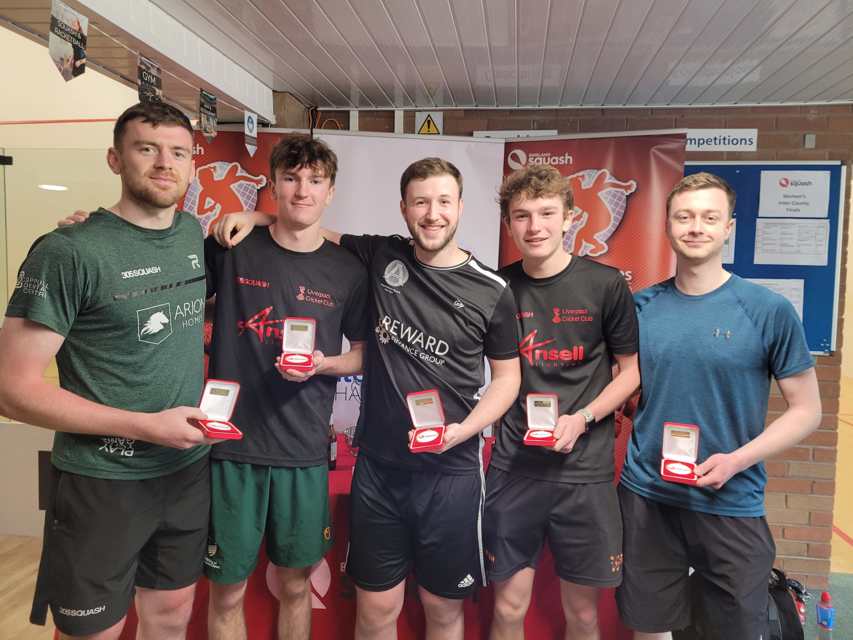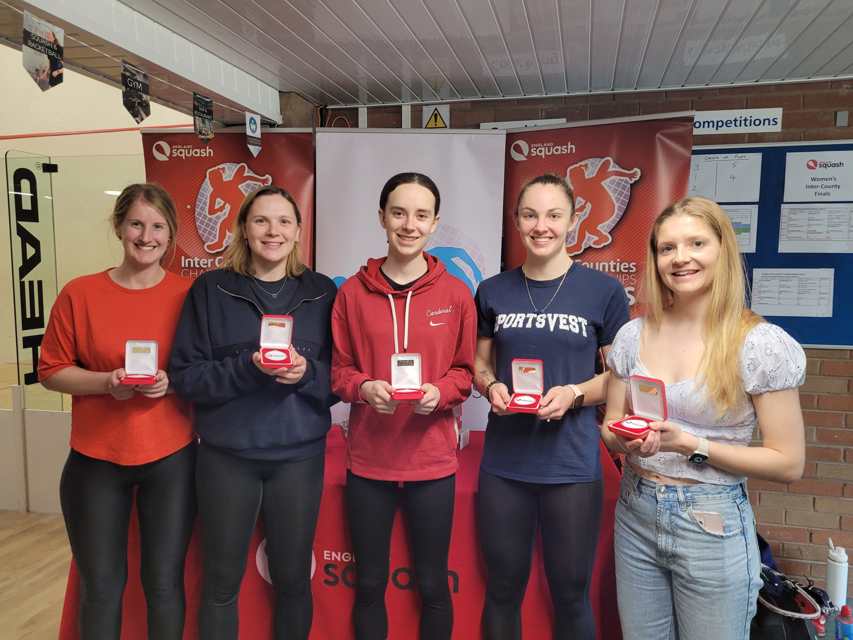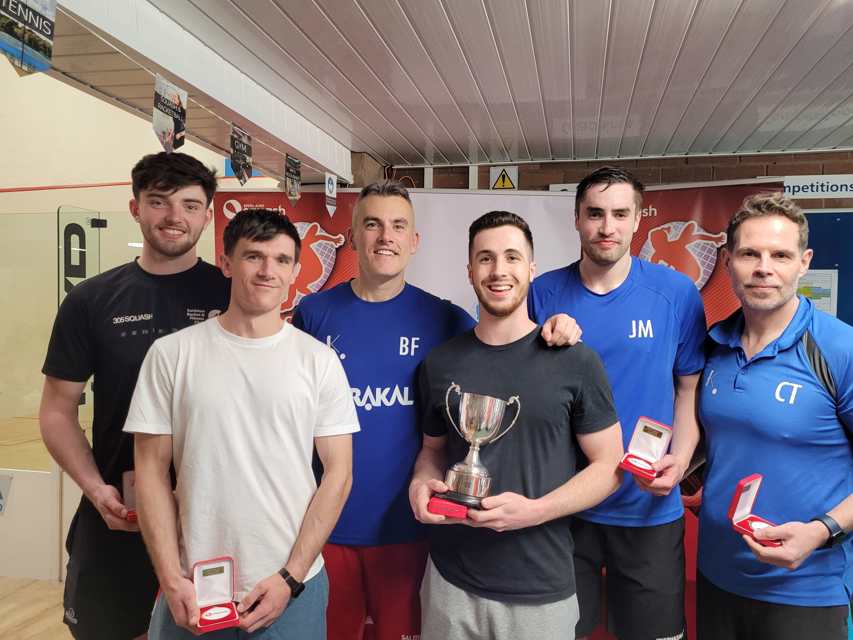 Warwickshire women and Kent (1) men have been crowned the Senior Intercounty champions after beating SE Wales (1) and Warwickshire, respectively, in Wolverhampton.
In the women's final, Warwickshire put in a dominant performance.
Kiera Marshall impressed with an 11-9, 11-6, 11-7 win over Stacey Gooding, with 18-year-old World No.97 Yasshmita Jadishkumar of Malaysia showing her skills in an 11-9, 11-2, 11-3 win over Abby Hicks.
Meha Shah also recorded a 3-0 win, an 11-6, 11-8, 11-7 victory over Sarah Clode, while Rosie Kirsch overcame Gemma Davies 3-1.
In SE Wales (1)'s sole victory, Sarah Creed prevented a whitewash with a 3-1 win against Natalie Townsend.
In the 3/4 playoff, Surrey overcame Gloucester 3-2 to finish third.
Scottish World No.90 Alison Thomson was in fine form with a 3-0 win over Amber Peacey, while Phoebe Colman came from 2-1 down to beat Beth Parker 3-2 and Emmeline Gale beat Noel Lee 3-0.
For Gloucester, Hannah Anthony recorded a 3-2 win over Emily Mennie, while Kip Quiney was awarded a walkover.
In the 5/6 playoff, Yorkshire beat Buckinghamshire 3-2.
In the men's Premier Division final, defending champions Warwickshire were denied the double by a spirited Kent (1) side, who ran out 3-2 winners.
In one of the matches of the day, Warwickshire's Guy Pearson and Kent's Ben Ford threw everything at each other in a thriller. Pearson edged a nail-biting first game 18-16, only for Ford to pull level with an 11-9 win. The third game went to a tie break once again, with Ford this time able to hold his nerve to claim a 12-10 win, before settling the affair with an 11-7 win in the fourth.
Elsewhere in the final, wins for Kent's Steve London over Lewis Anderson, and for Warwickshire's Elliot Morris Devred and Abdallah Eissa over Jack Mitterer and Chris Tomlinson, put the tie at 2-2, with Joshua Masters the hero as he beat Sam Miller 11-5, 11-2, 11-4 in the decider to the delight of his teammates.
In the 3/4 playoff, Sussex held off Yorkshire to secure third.
For Sussex, Oliver Pett recorded a 3-1 win over James Peach, Noah Meridith came through two tiebreaks to beat James Earles 3-0 and 17-year-old Jonah Bryant coasted to a 3-0 win against Adam Taylor. For Yorkshire, Tom Bamford and Declan Christie overcame Frankie Smith and George Porter, respectively.
In the 5/6 playoff, Essex battled to beat Northumbria 3-2.
Elsewhere, Hampshire and Middlesex won promotion to the Women's Premier Division after finishing top of the Promotion Division. Hampshire - whose oldest player was just 19 years old and beat Middlesex 4-1 in the Promotion final - beat SE Wales (2) in their semi final, while Middlesex beat Northumbria 4-1.
Meanwhile, Merseyside and Avon (1) have been promoted to the Men's Premier Division.
Merseyside - who beat Avon (1) 3-2 in the Promotion Division final - overcame Surrey 4-1 in the semi final, while Avon (1) beat Buckinghamshire by the same scoreline.
Tournament Organiser Judy Williams said afterwards: "Everyone, winning or losing, played with great sportsmanship and the whole weekend displayed squash at its best."
Click here for all the results from the Men's and Women's Premier and Promotion Divisions.