Back
09 June 22 - by England Squash
Withington and Malik to lead England charge at 2022 WSF World Junior Championships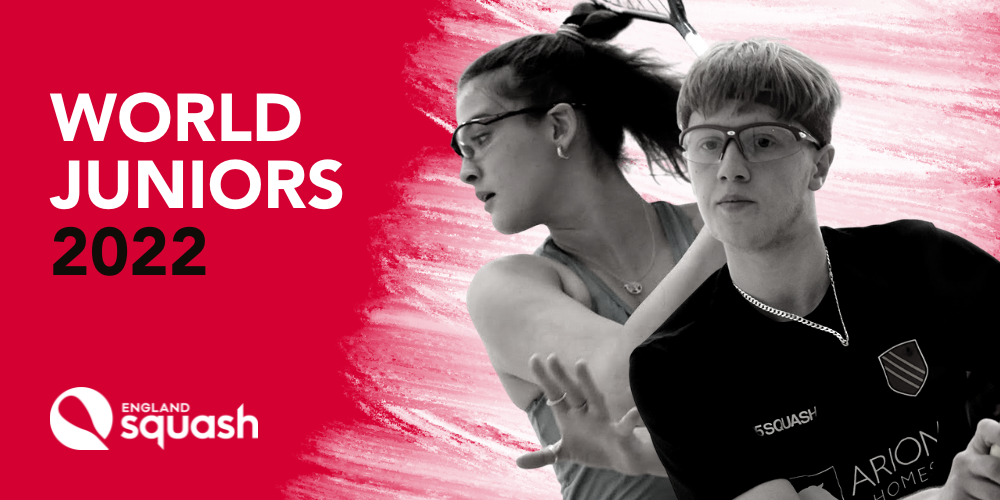 Finnlay Withington and Torrie Malik are amongst ten upcoming English stars who have been selected to represent their country at the 2022 WSF Men's & Women's World Junior Squash Championships in France from 11th-21st August.
Current European U19 champion Withington and World No.95 Malik will represent their country at the sport's most prestigious junior competition following impressive seasons that saw them lift the boy's and girl's English National U19 titles respectively in October.
Amongst the ten players selected, five represented England at April's European U19 Championships which saw England capture the girls and boy's individual and mixed team titles.
England's men, who claimed World Team silver at the last edition held in 2019, will feature Withington, British Junior Open finalist Sam Osbourne-Wylde, multiple national champion Jonah Bryant, England No.3 Franklyn Smith and former British Junior Open champion Abd-Allah Eissa.
In the women's individual event, Malik will be joined by current US Open U19 and U17 champions Saran Nghiem and Asia Harris, two-time British Junior champion Amelie Haworth and England No.4 Emma Bartley.
The men's and women's individual championships will take place from 11th-16th August followed by the biennial men's team event from 17th-21st August.
Commenting on the squad, National Coach David Campion said: "The World Junior Championships is the premier world event for any aspiring junior player and it's great to see these championships back on again after a tough couple of years.
"England currently has a number of highly talented young players who are very excited to be selected and compete against the best players in the world.
"The boys team will be led out by Finnlay with Sam, Jonah, Franklyn and 16-year-old Abd-Allah, who will play the individual event only.
"The girls will compete for individual honours only this year with a strong group that are currently making in-roads on the PSA World Tour with some impressive wins against much higher ranked players.
"They are a talented bunch who will be difficult to beat and we are very much looking forward to seeing how they progress at these highly prestigious championships."
England squad
England's Men
Finnlay Withington (Team & Individual)
Sam Osborne-Wylde (Team & Individual)
Jonah Bryant (Team & Individual)
Franklyn Smith (Team & Individual)
Abd-Allah Eissa (Individual)
England's Women (Individual event only)
Torrie Malik
Saran Nghiem
Asia Harris
Amelie Haworth
Emma Bartley
For further information on the tournament, visit https://wsfworldjuniors.com