Back
15 November 18 - by Marthe de Ferrer
Woking wins new female members with Squash 57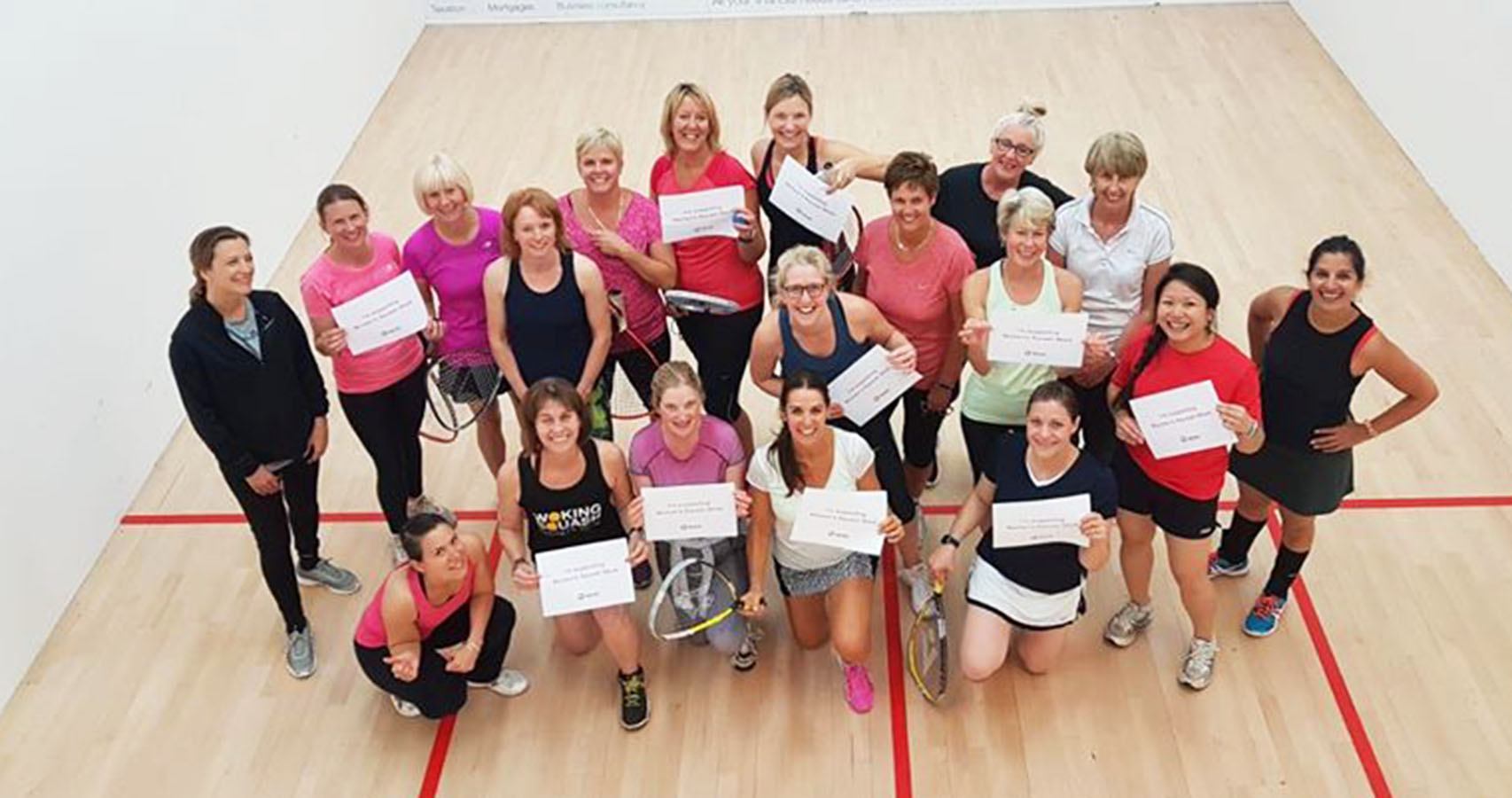 Woking Squash Club in Surrey has seen a huge uptake in female members after running a series of introductory Squash 57 sessions aimed specifically at women.
Jackie Thorogood, one of the coaches behind the initiative explains how the club introduced prospective members to Squash 57 because of its suitability to beginners and focusing on fun and sociability rather than on technique.
"Me and our other female coach, Sukhy thought we could try and teach beginners," says Jackie.
"Squash 57 has a bigger, bouncier ball, so you can have a bit more of a rally, which we thought was a great option for newer players to sustain their interest."
A year ago, the club had just six women among its membership. Now there are 35 women among their 270 members.
Starting with just a handful of women on their first beginner's course last November, Jackie and Sukhy are delighted with the uptake.
Jackie explains:
"We've been overwhelmed by the interest. It's really escalated. Now we are running a regular Friday morning Squash 57 session for ladies."
Jackie believes some of the success lies with the relaxed nature of the sessions and explains they are not about developing elite athletes.
"It's not necessarily about the skill of the game, it's more about fun, sociability, the fitness side, getting people to hit a ball around."
One of the most interesting aspects of Jackie's approach, and arguably the key to Woking's success, is being able to understand why women are attending the sessions - and adapt accordingly.
"We figure out why people are there, and make sure that we meet their needs. People come for different motivations: some come for the social side, some for fitness. All sorts of reasons."
"If they are here for fitness, we get them playing. If they are here for the social side, we give them the space to stop and chat. If they are coming to improve their technique, we'll stop and help them.
"We listen to what they want and I think that's probably why the new members keep coming back. It's how we are building our female membership."
Whilst the drive to recruit new women to the club has been done with restricted financial backing; it hasn't been an expensive project.
"We have done this on very limited budget. We emailed existing members and put up a few posters locally so it's been very low-key," explains Jackie.
"Most of our new women join initially as off-peak members. Our aim is to get to 50 adult female members next year."
The gender imbalance at Woking is certainly not unique, something Jackie thinks is perhaps to do with historical perceptions of the sport.
"I've been a member at Woking for 15 years, and in the leagues, and very rarely do I play another woman. People coming through the sport into squash now, tend to be kids of members, so I'm hoping that that gender imbalance will even itself out now."

If you're looking to set up a Squash 57 session at your club, head over to our Squash 57 toolkit where you can download guidance, posters and images.