Women's Squash Week 2021
Find event ideas, promotional video and graphics and more to stage a successful event to attract more women at your club/venue.
Jump to:
---
---
About
Women's Squash Week (19-26 September) is an international campaign that aims to celebrate and raise the profile of female squash. This year's campaign, supported by Dunlop, is all about re-engaging female players in squash activities following the challenges of lockdowns and restrictions. Our latest Return to Play survey found that women are less likely to have returned to play squash than men so we're going all out to encourage them back on court.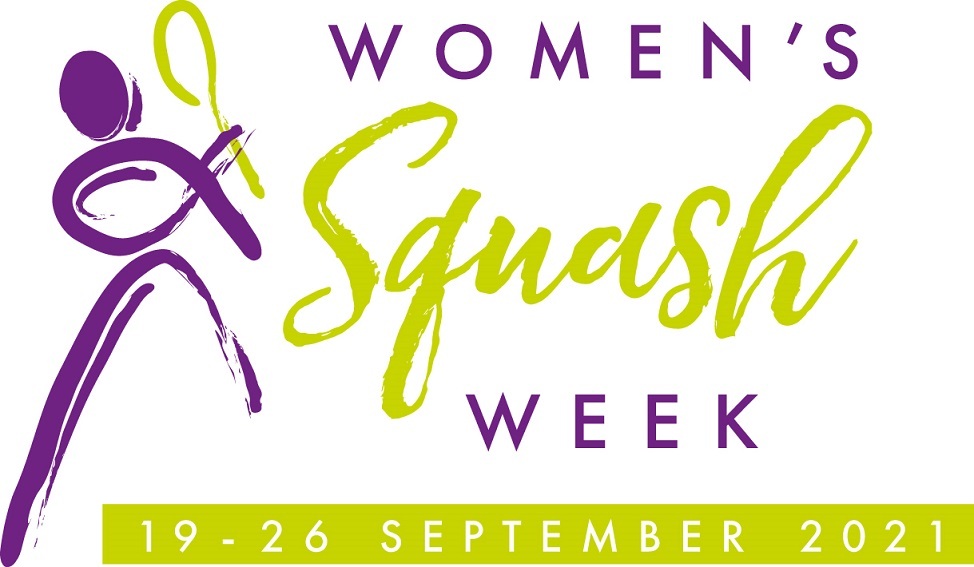 Stage an event
Simply host a female-only, group, social event(s) at your club during Women's Squash Week (19-26 September 2021). Remember to think about different audiences and what female players might want from these events. Some events might be designed to gently ease women back into squash or Squash 57, some could be fun social competitions, family events and you could even stage beginner-friendly events.
Increase visibility of your sessions and add them to the Squash Finder on englandsquash.com now
---
Event tips
Clubs share their top tips for staging a successful female-only event:
---
Win Dunlop goodies!
We've teamed up with Dunlop, our official Women's Squash Week partner, to offer one lucky club/venue the chance to win this incredible kit bundle during Women's Squash Week:
6x Dunlop Adult Composite Squash Rackets
6x Dunlop Jnr PLAY (23.5") Squash Rackets
12x Dunlop Comp Squash Balls
12x Dunlop Jnr PLAY Squash Balls
6x Dunlop Armour Eyewear
1x Racket Bag
---
Webinars
To help you get the most out of the campaign, we're running a series of webinars exclusively for affiliated clubs and venues, and Coaches Club members:
WEBINAR: What next? (30th September) Following Women's Squash Week, we'd like to gain feedback from you and discuss ideas on retaining the female players you've engaged during your Women's Squash Week events. Join us on 30th September at 7pm: Register now
WEBINAR: Marketing your Women's Squash Week activities (16 August): Hosted by Women In Sport, this one-hour webinar will help you to define your audience so you can motivate female players to join the action. The session explores how to market your activities and where to promote them effectively. Watch now
WEBINAR: Intro to Women's Squash Week (15 July). Discover how your club/venue can get started with Women's Squash Week. View slides
---
Know your target audience
The key to successful events and engaging female players is to understand what they are looking for and offer the right type of activity for them.
Midlife and menopause
A Women In Sport report show's that women overwhelmingly want to be more active during this life stage, but often face barrier in doing so.
Follow their five principles to inspire women to be active in midlife:
Endless Possibilities – Expand perceptions and opportunities for being active.
Judgement-Free Zone – Welcoming and supportive environment.
Support Network – Offer built-in social support.
Expand the Image of What Sporty Means – Inspiring, relatable role models.
Make It Relevant – Reference specific, relevant benefits.
Teenage girls
There's a drop of activity levels as girls reach teenage years and a change in their attitudes towards sport and physical activity. Only 10% of girls (age 13 – 16) meet the recommended 60 mins of activity a day. Women In Sport have a range of resources to support you to engage teenage girls in sport and physical activity.
Following the '8 principles for successes' from Women in Sport can help you plan your activities.1
No judgement
Invoke excitement
Clear emotional reward
Open eyes to what's there
Build into existing habits
Give girls a voice & choice
Champion what's in it for them
Expand image if what 'sporty' looks like
Promote your Women's Squash Week events


Squash Girls Can new promo video
Download in widescreen or square:
---
Social media graphics
Download social media graphics to promote your activities: