Squash Girls Can: Club Success Stories
Tracy Waldron-Pegge, founder of Shropshire Squash Club's hugely successful Ladies Pizza & Prosecco Night, shares her experience and tips for staging a female-only event.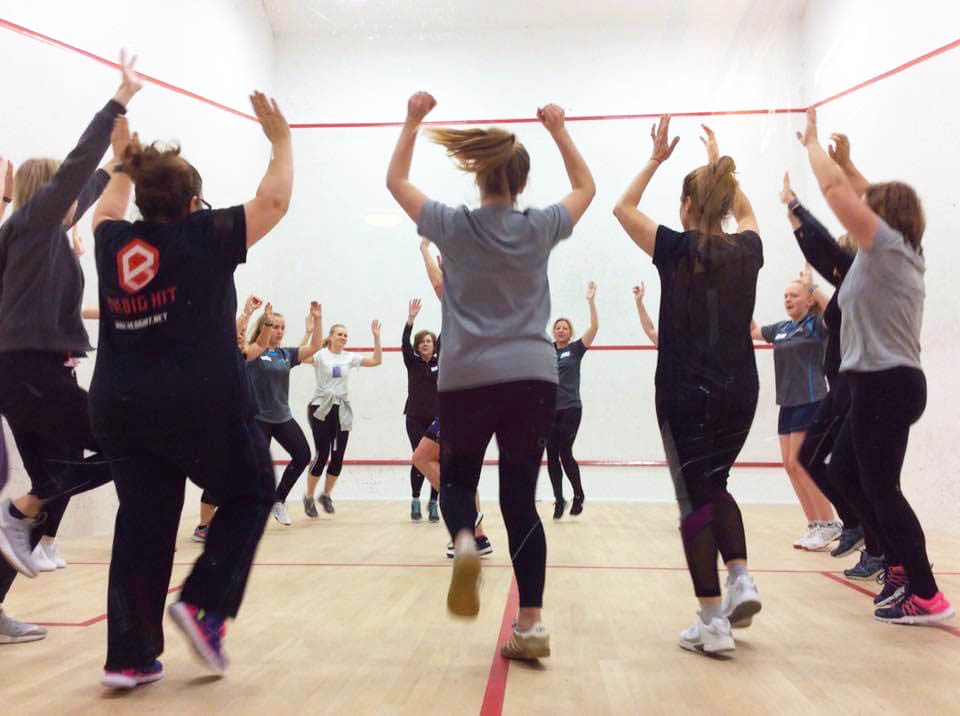 By Tracy Waldron-Pegge

I started playing squash casually with friends some 30 years ago and then played very intermittently. So when I joined Shropshire Squash Club some five years ago I was a bit of a hack who had never been taught how to play properly. Even now, I still hit a forehand like I'm playing tennis.

Guy, our club captain at the time encouraged me to join the club's internal leagues and my love of squash grew. Guy was always trying to get me involved in various events at the club but I never really thought they were meant for me. Whilst our club members are an incredibly friendly bunch, the elephant in the room was that there were hardly any female players and those we had were great players and coaches, and there was me a humble lower league hack. Guy persisted and I agreed to attend a Shropshire Ladies versus Military's Ladies event at our club.
I enjoyed it so much I decide to start a Shropshire Squash Club's Ladies Pizza & Prosecco Night.
I had no idea how to do it. I was and still am naïve when it comes to the world of squash but I'm passionate about getting more women involved, but I was brave and asked other coaches for some advice. They explained warm-up drills and what activities to coach but really I had no idea what they were talking about so I asked them to come and help and coach, and they were more then happy to.
It took a bit of trial and error to work out a format for the night but we got to one that worked well which is:
6pm - order pizzas online, go to club to set balloons and bunting to create an exciting and welcoming atmosphere.
6:45pm - players start to arrive and sign in, note their squash experience/level and get a name sticker. Players get split into groups.
7pm - fun, group warm-up on court. Then into group activity for absolute beginners on court until 8pm, with more experienced players rotating through different squash coaching activities across the other court.
8pm - following a quick drinks break we move into some games with everyone playing at least two games up to 21 in their group. One person in charge of each group. Winners play winners, losers play losers to encourage close games.
Then, the important stuff, pizza and prosecco and lots of chatter!
Silly prizes - winning group is the one with the highest player average (= group with closest games). Always prizes for bringing a friend. Everyone gets chocolate.
Tracy's top tips for a successful event
1. Word of mouth is the best form of advertising, but use various ways to both advertise and remind people about your event, whether it's text, email, WhatsApp, Facebook, Twitter, club website, posters. Be excited about your event and tell everyone!
2. Be inclusive, spell out who your event is for. Make people aware that it's for players of all levels, from absolute beginners who have never held a squash racket before, those who've played a little or used to play a long time ago, to intermediate players and league players.
3. Ask for help. People will help if you ask them. Coaches, mums, juniors, players. In your reminder text/email ask for a couple of helpers to set up or clear up.
4. Prizes can be fun but don't need to be expensive. Pick a theme, I've tried Squash Girls Can, Easter, Party, Summer, Club Night. Whatever Home Bargains has in their seasonal area will work.
5. You can do it. You don't have to be a great squash player or know much about squash to organise an event. But a thirst for the sport and passion for getting other women involved helps.
Since starting these women's events, I have gained my Level 1 coaching qualification which I'm pleased to say didn't involve an assessment of my squash playing skills but did give me the confidence to organise some warm up drills and skills on court.
I have been so inspired by all those who've come to our club's women's events and their determination and progress. I am delighted when I see them become addicted to squash. We're on 5th generation players now as women share their new found love and bring their friends, who then bring their friends and so on.
Looking to promote your female-only sessions? For social media graphics, a promo video and venue poster, visit the Squash Girls Can Toolkit and Women's Squash Week toolkit.