Back
04 August 17 - by Chris Peddy
England's Alison Waters to compete for two golds at World Doubles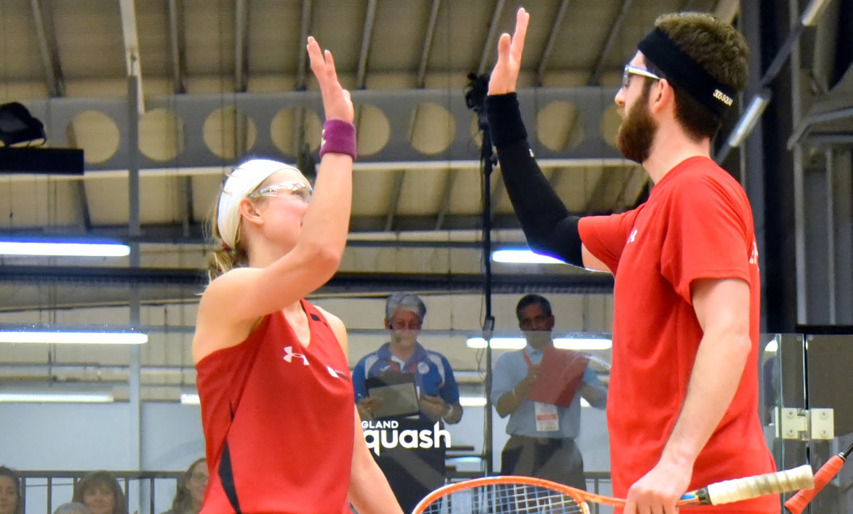 Alison Waters will represent England in both the women's and mixed draw finals in the WSF World Doubles Squash Championships after two enthralling 2-1 wins in the semis in Manchester.
The host nation faces New Zealand in both contests with Waters and Joelle King set to go head-to-head for two gold medals.
England are guaranteed three medals as Declan James and James Willstrop will not contest a third-place play-off despite defeat in the semis.
Waters and Jenny Duncalf fought back from 1-0 down against India's Joshna Chinappa and Dipika Pallikal before Waters and Daryl Selby survived a late scare from Peter Creed and Tesni Evans.
Duncalf and Waters trailed the second seeds and 2014 Commonwealth gold medallists Chinappa and Pallikal 1-0 after a slow start. The English pair were stronger in the second, dominating the rallies with more winners, and won the game 11/6.
A perfectly-weighted backhand drop shot from Duncalf brought up 10/6 match ball in the third. The Indians pulled two points back before Duncalf and Waters won on a "No let" decision, 6/11, 11/6, 11/8. They face New Zealand's Paul Coll and Joelle King in Saturday's final.
Waters was then straight back on to court with Selby to take on Creed and Evans, of Wales. England edged a tight first game 11/10 before racing into an 8/4 lead. Wales pushed back to make the score 8/8 and then 10/10 for a second tie break, which they won 11/10.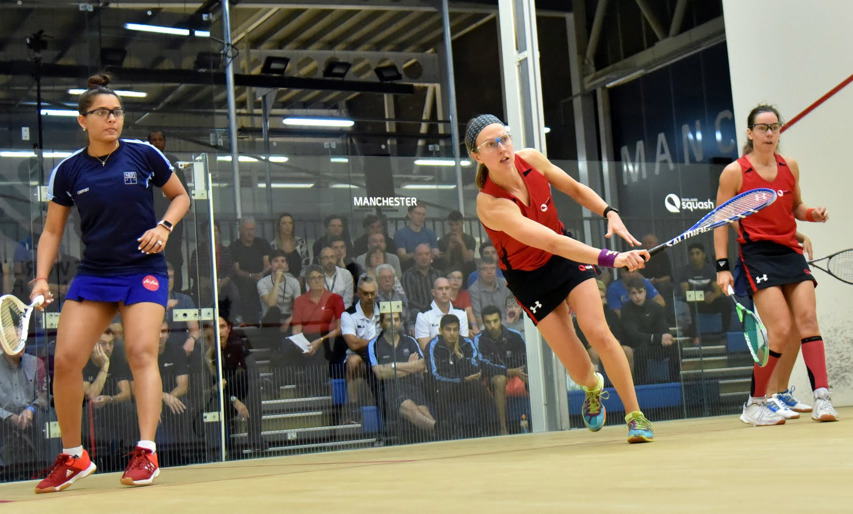 In the third, it was again England that started the game well – cruising to a 10/4 lead before Wales won four points on the bounce to make it 10/8. But England held on to claim an 11/10, 10/11, 11/8 victory and put Waters into two finals.
The 34-year-old said: "Both matches were really tough. The Indians were the better team in the first game in the women's but we changed our tactics a bit because it wasn't going to plan, so we tried to get me into the game a bit more. Jen was really solid and the match could have gone either way so we were really pleased. The Welsh played really well as well so to win both is great."
Duncalf 34, said: "We're really happy, it's a great result for us to beat the Commonwealth gold medallists. They're great doubles players – very skillful and powerful.
"It's great to get to the final. Joelle is one of the most experienced doubles players out there but we can't wait for it and we're relishing playing together."
They will meet top seeded New Zealanders King and Amanda Landers-Murphy in the final. The last time England entered the competition in 1997, they won one gold and two silver medals.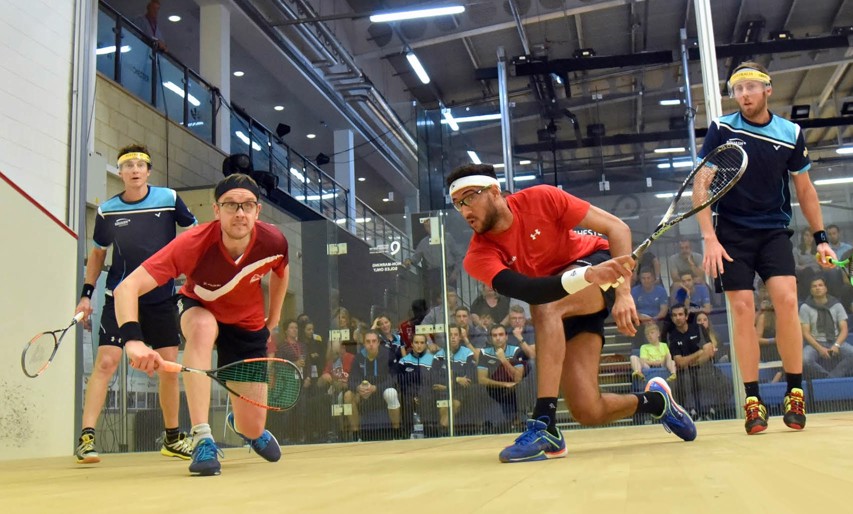 But they were denied a hat-trick of finalists this year as Australia's Cameron Pilley and Ryan Cuskelly defeated Declan James and James Willstrop 11/3, 11/7.
Laura Massaro and Sarah-Jane Perry finished seventh in the women's draw after they lost to Tesni Evans and Deon Saffery, of Wales, 11/4, 11/10.
Tom Richards and Daryl Selby will face Dylan Bennett and Piedro Schweertman, of Netherlands, in a play-off for seventh place. The pair were beaten 11/5, 5/11, 11/8 by Welshmen Peter Creed and Joel Makin on Friday.
Adrian Waller and Victoria Lust won 11/5, 9/11, 11/6 against Canada's David Baillargeon and Nikole Todd and will face Australia's Zac Miller and Amanda Landers-Murphy to decide who finishes ninth and tenth in the mixed draw.
England Squash National Senior Coach David Campion said: "We're very pleased to have two finalists and delighted for Al, who performed brilliantly in both semis. It was a shame Dec and Jimbo couldn't join them but they had a tough match last night and the Aussies were just too good today. They have earned a deserved bronze medal for England and hopefully we can add a couple of golds tomorrow."
Come and support Alison Waters, Jenny Duncalf and Daryl Selby in their finals at the National Squash Centre tomorrow. Finals begin with the women at 2pm.