Squash Girls Can Coach
Inspiring and empowering women to realise their coaching ambitions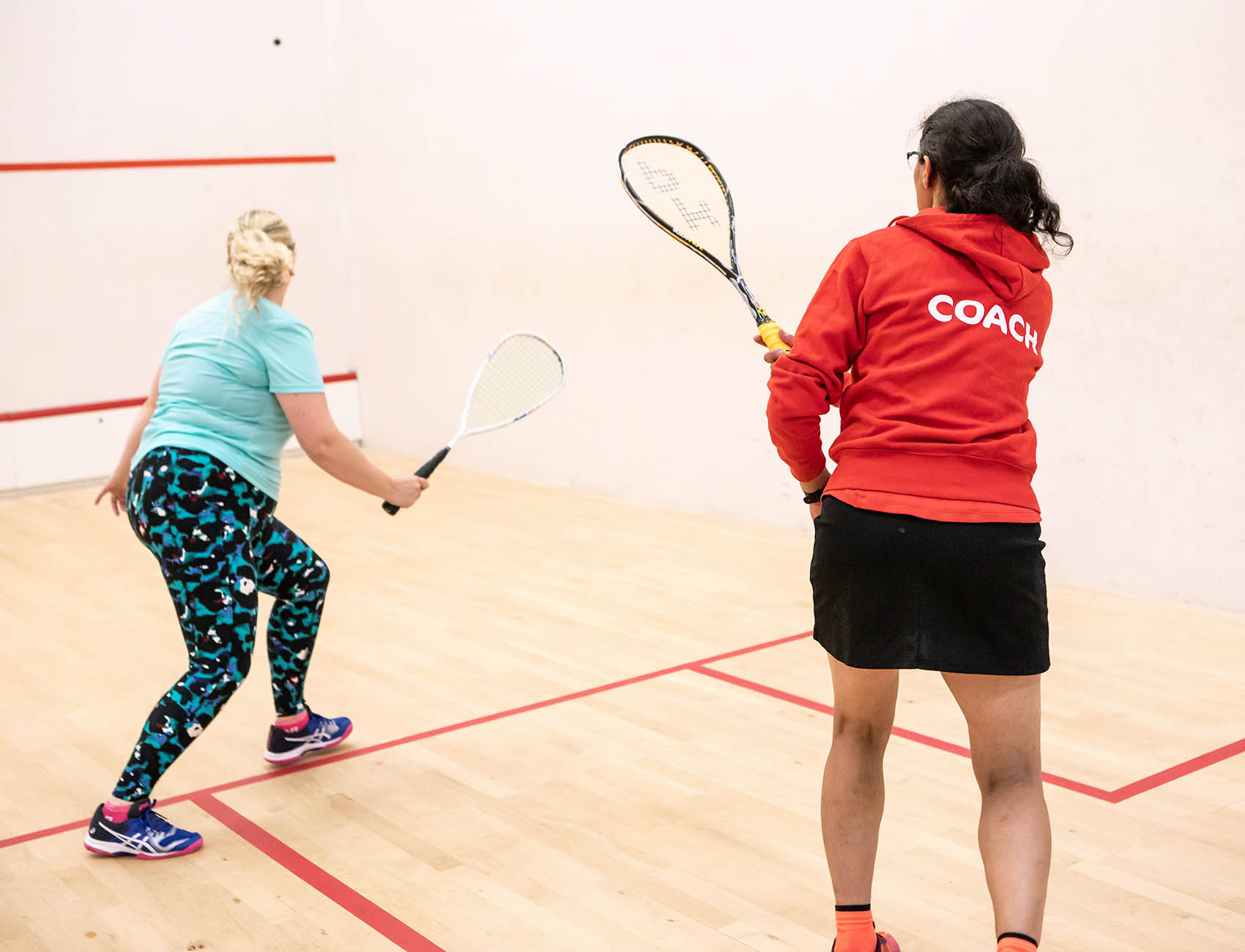 Are you passionate about engaging more squash players? Do you want to develop your skills? Whether you're looking to help out at your local club or kickstart a career in coaching, Squash Girls Can Coach can help you gain all the skills, confidence and support to fulfill your coaching ambitions.
About Squash Girls Can Coach
Squash Girls Can Coach is a part-funded female coach development initiative by England Squash to engage and support more women to kickstart or re-start their coaching through a 6-month structured programme of training and workshops. Applications have closed for our 2022 intake.
What's involved?
Squash Girls Can Coach candidates will:
have a chance to attend a discounted England Squash Level 1 Coaching Online Award
be supported to begin your coaching within six weeks of the course
attend online workshops designed to support your coaching experience
be part of a community and receive peer to peer support.
Cost

Candidates will initially pay £130, and upon successful completion of the programme, will be reimbursed 50% (£65) subject to the criteria below being met.
Candidate criteria
We're seeking aspiring female coaches who meet the following criteria:
are aged 16 or over
can commit to the 6-month programme
have the support of a club or venue from where they will undertake coaching
are committed to developing their coaching skills and confidence
are able to attend a minimum of three of the four online workshops
are passionate and enthusiastic about engaging more squash players at all levels, and are positive ambassadors for the sport
can aim to record a minimum of 15 unique participants on the England Squash app before 31 August 2022. Sessions delivered can be from any of the England Squash participation programmes (Squash Girls Can, Squash 101, Squash 57 and Junior 101).
Please note, you will need to obtain a DBS check and attend a face-to-face safeguarding course at your own cost to receive your Level 1 coaching qualification.
Timescales
Frequently asked questions
What will be expected of me as a candidate?
We're looking for candidates who are keen to start coaching in any capacity, whether to help out at the club once a week as a volunteer or to develop a career in coaching. We're looking for candidates who will be able to deliver coaching sessions in their club/venue, who will be able to attend 3 out of 4 online workshops and who will be prepared to engage with and support other Squash Girls Can Coach coaches.
Who will I be able to coach?
The Level 1 award qualifies and insures coaches to deliver junior squash, Squash Girls Can, Squash 101 and squash 57 independently to groups of beginners of any age, ability or gender.
How long is the programme?
The programme runs for six months where you will be supported by four online workshops organised by England Squash and be part of and contribute to a female coaching community of support.
Do I need to be a good squash player to be a coach?
No! You can be a coach as long as you're passionate and enthusiastic about engaging more squash players. A basic background in squash is useful, but not mandatory.
Can I apply if I will be 16 years old by the time the course starts?
Yes as long as you are 16 years of age by the time the course commences.
What is Squash Girls Can Coach?
Squash Girls Can Coach is a 6-month coaching initiative for women who want to make a difference in the sport. Whether you'd like to spend an hour a week running a session at your local venue to inspire new players or you're considering embarking on career in coaching, Squash Girls Can Coach will help you build your coaching experience and your coaching support network.
Coaching stories
Hear what current Level 1 coaches have to say about the programme and coaching:
I was a little tentative about committing enough time to the programme, life always seemed pretty busy! It has been time well spent, thinking about things from different perspectives, engaging with new people without any expectation and openly sharing experiences and ideas.
- Sarah Parkin - Squash Girls Can Coach 2020 programme cohort
Tina's story
Tina started playing squash two years ago and never thought she was good enough to coach, but realised "you don't have to be an elite squash player to coach".
She is now a level 1 coach at Wycombe Squash and Racketball Club. She loves going on court and watching the smile on her players' faces when they learn to hit the ball.