England reach quarter-finals in mixed and women's doubles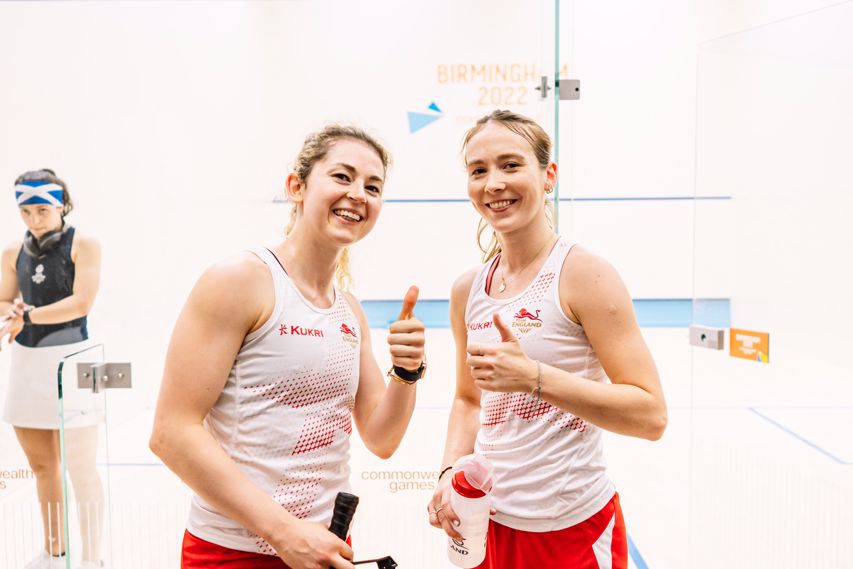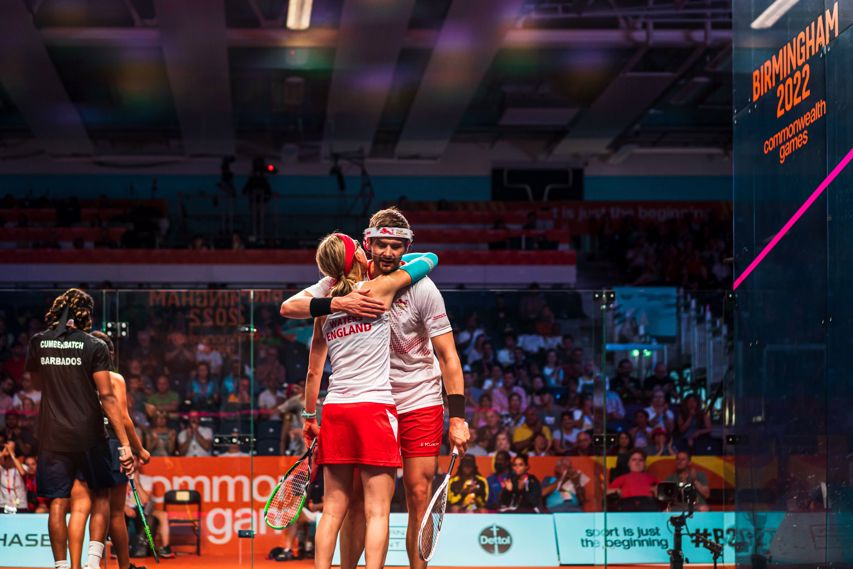 Team England enjoyed a largely positive day as the Birmingham 2022 Commonwealth Games mixed doubles competition resumed, while the women's and men's doubles events got underway.
Of the four pairs involved today, three recorded victories. Alison Waters and Adrian Waller reached the mixed doubles quarter-final, while Waters and Sarah-Jane Perry reached the women's quarter-final alongside Georgina Kennedy and Lucy Turmel.
In England's sole defeat of the day, Kennedy and Patrick Rooney exited the mixed doubles competition after falling to Australia's Rachael Grinham and Zac Alexander.
Both men's teams, comprising of top seeds James Willstrop and Declan James, and 3/4 seeds Daryl Selby and Waller, received a bye into round two and will face Maltese and Malaysian opponents, respectively.
No.2 seeds Waters and Waller began the run of victories, with the experienced pair easing past Meagan Best and Khamal Cumberbatch from Barbados in total comfort. The 2022 World Doubles Championship finalists had a good understanding on court as they overwhelmed Best and Cumberbatch 11-1,11-4 in 17 minutes.
"I don't think you look at seedings really," Waters said. "It's just so open and I know it's a cliche but we just take one match at time. I think we played really well in our first match.
"It's been a brilliant week so far for England and we're really happy to get out there and I'm looking forward to next round."
Waters and Wallers will face Wales' Tesni Evans & Joel Makin in the quarter-final.
The next win of the day went to Kennedy and Turmel, both of whom have found their reputations greatly enhanced by their singles exports in Birmingham, after Kennedy became the first Englishwoman to win a singles gold and Turmel put on a creditable run that included pushing top seed Joelle King to her very limits.
Kennedy, 25, and Turmel, 22, settled into a good rhythm early against Australia's Alex Haydon and Jess Turnbull as the pair took the first game 11-4. The Australians fought back hard in the second game, but could not find a way past the English pair, who ended the match with an 11-7 win to set up a quarter-final with New Zealand's defending champions Joelle King and Amanda Landers-Murphy.
"We did not underestimate them at all. We know how dangerous they are and Lucy really helped me bring the energy that I needed to bring. I think it's going to be a big mental battle tomorrow," Kennedy said.
In the final match of the day, Waters returned to court alongside Perry to record a comfortable victory over Marlene West and Jade Pitcairn of the Cayman Islands, with the 2022 World Doubles Championship runners up winning the match 11-3, 11-2.
"I've let bronze sink in a bit, but now it's down to business in the doubles. I had hopes in singles and have hopes in doubles. The Games are about both and I came here early to support the team and get my head into it," Perry said afterwards.
In England's only defeat, Kennedy and Rooney, a relatively new partnership, were beaten by the experienced duo of Grinham and Alexander. The English pairing made a strong start to the match, having earlier in the day beaten Liana and Kijan Sultana of Malta in the first round, but were reeled in by the in-form Australians, who took the match 11-8, 11-6.
Birmingham 2022 Mixed Doubles Round Two Results:
[2] Alison Waters & Adrian Waller (ENG) bt Meagan Best & Khamal Cumberbatch (BAR) 2-0: 11-1, 11-4 (17m)
[9/16] Rachael Grinham & Zac Alexander (AUS) bt [5/8] Georgina Kennedy & Patrick Rooney (ENG) 2-0: 11-8, 11-6 (32m)
Birmingham 2022 Women's Doubles Round Two Results:
[2] Sarah-Jane Perry & Alison Waters (ENG) bt Jade Pitcairn & Marlene West (CAY) 2-0: 11-3, 11-2 (12m)
[5/8] Georgina Kennedy & Lucy Turmel (ENG) bt Alex Haydon & Jess Turnbull (AUS) 2-0: 11-4, 11-7 (22m)
Birmingham 2022 Mixed Doubles Quarter-Final Draw:
[2] Alison Waters & Adrian Waller (ENG) v [5/8] Tesni Evans & Joel Makin (WAL)
Birmingham 2022 Women's Doubles Quarter-Final Draw:
[5/8] Georgina Kennedy & Lucy Turmel (ENG) v [3/4] Joelle King & Amanda Landers-Murphy (NZL)
Birmingham 2022 Men's Doubles Round Two Draw:
[1] James Willstrop & Declan James (ENG) v Kijan Sultana & Niall Engerer (MLT)
[3/4] Adrian Waller & Daryl Selby (ENG) v Mohammad Syafiq Kamal & Ong Sai Hung (MAS)