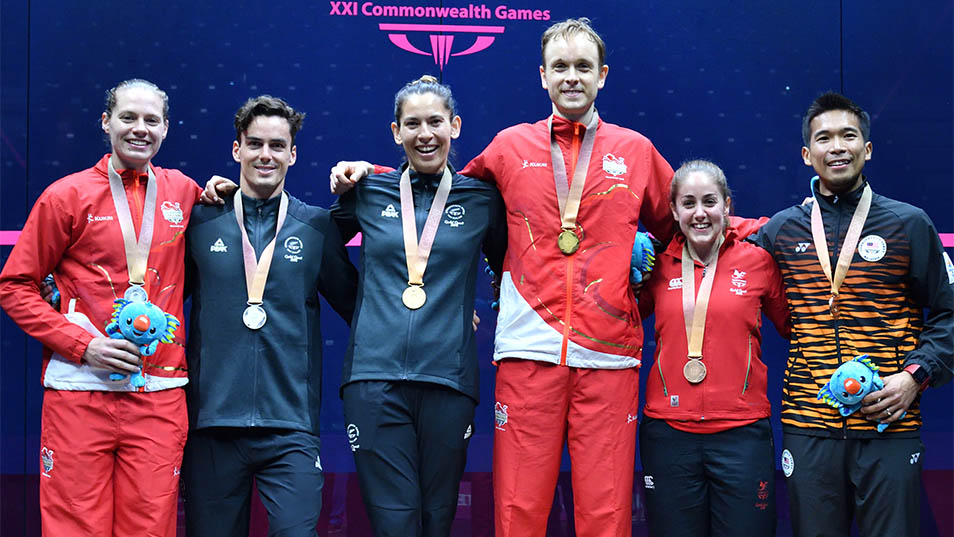 Squash made its debut at the 1998 Games in Kuala Lumpur, and as a core sport, has appeared at every edition since.
Some of the world's finest players have starred at the Games including Nick Matthew, Nicol David and Jonathon Power.
Squash medal stats:
Team England and Australia have battled for top honours since its inclusion - winning 71 of the 100 medals on offer.
Australia narrowly top the all-time medal table with 33 medals, including 11 golds, with Team England just behind with 9 golds and 38 medals in total.
New Zealand topped the medal table at the Gold Coast 2018 claiming four.
The most successful squash athlete of all time is Australia's David Palmer who's clocked up an impressive nine Commonwealth Games medals.
All-time medal table:
| | | | | | |
| --- | --- | --- | --- | --- | --- |
| Rank | Nation | Gold | Silver | Bronze | Total |
| 1 | Australia | 11 | 8 | 14 | 33 |
| 2 | England | 9 | 14 | 15 | 38 |
| 3 | New Zealand | 5 | 4 | 4 | 13 |
| 4 | Malaysia | 2 | 1 | 2 | 5 |
| 5 | India | 1 | 2 | 0 | 3 |
| 6 | Canada | 1 | 1 | 0 | 2 |
| 7 | Scotland | 1 | 0 | 1 | 2 |
| 8 | South Africa | 0 | 0 | 2 | 2 |
| | Wales | 0 | 0 | 2 | 2 |
| Total (9 nations) | | 30 | 30 | 40 | 100 |

Further information