England win Birmingham 2022 mixed doubles silver with three more medals guaranteed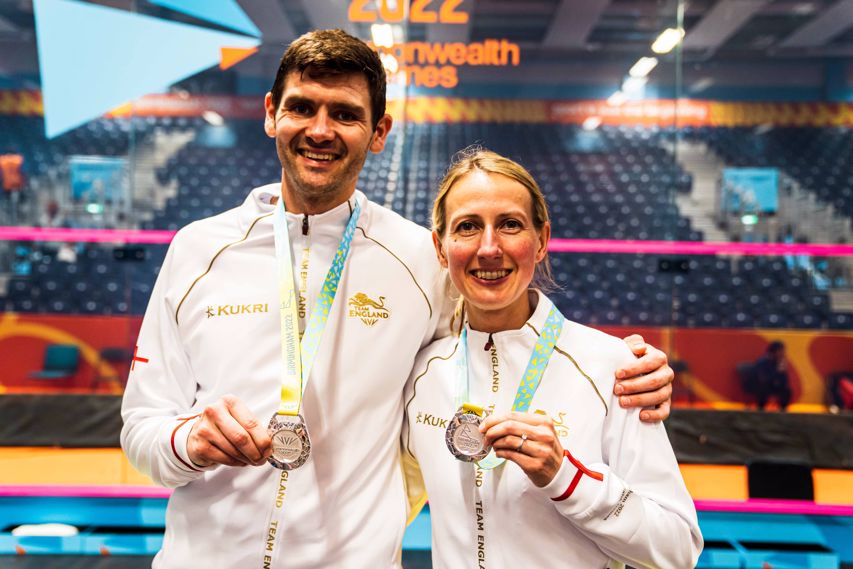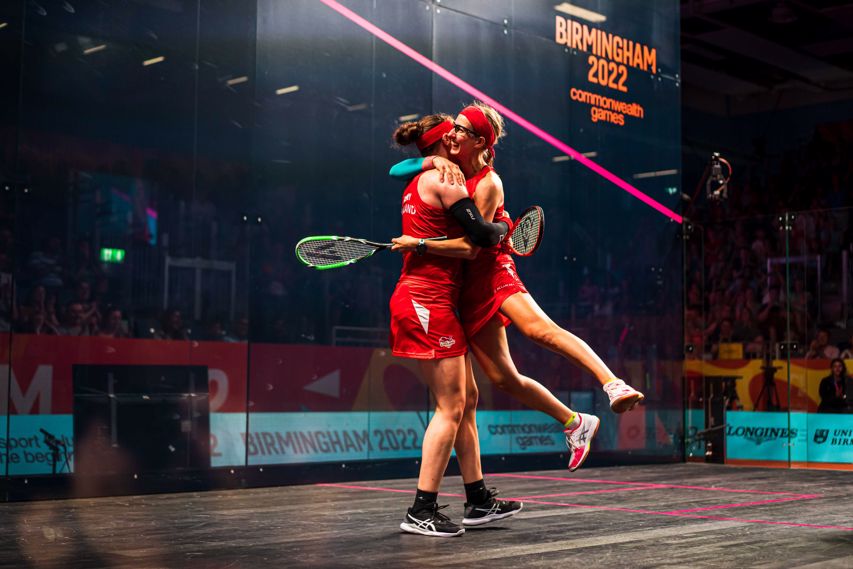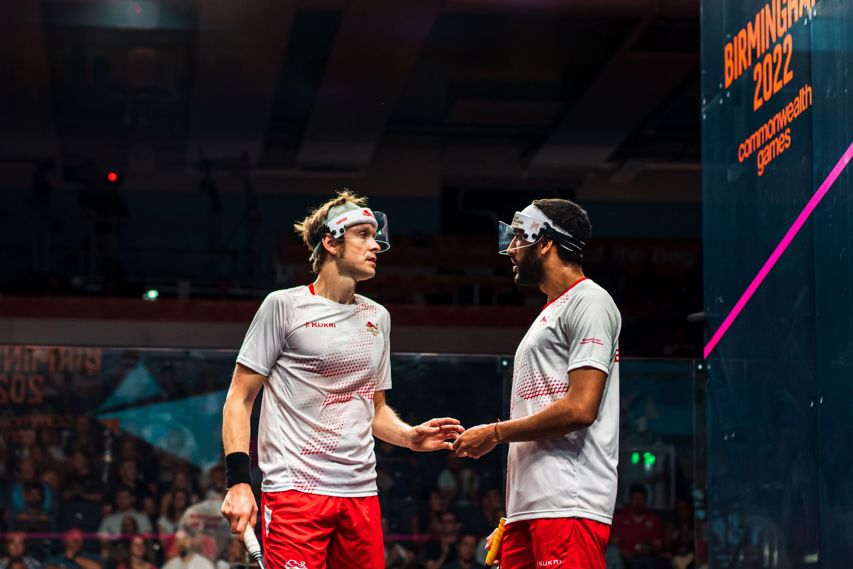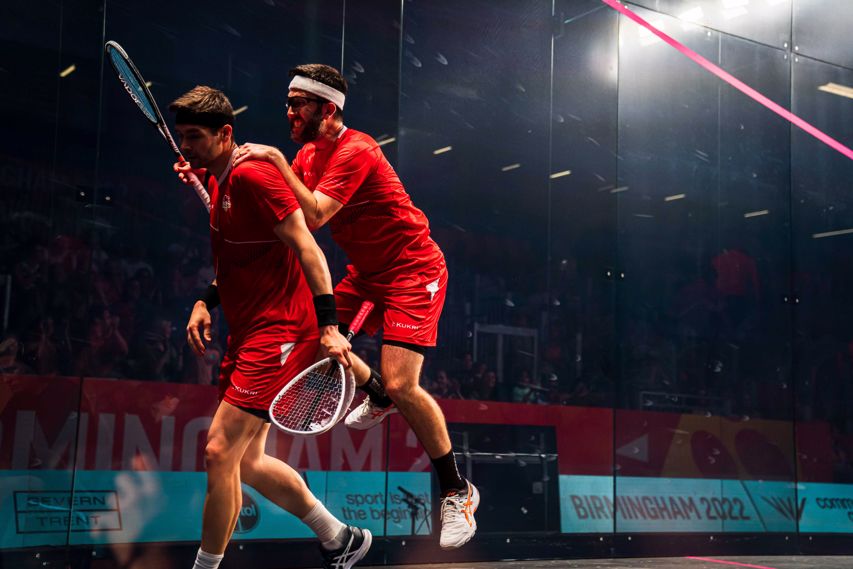 England have won a silver medal in the Birmingham 2022 Commonwealth Games mixed doubles after Alison Waters and Adrian Waller lost 2-0 in the final to New Zealand, while more medals are guaranteed after the two men's teams set up an all-English final and the women's team reached their final.
Mixed doubles No.2 seeds Waters and Waller have made for a potent partnership in Birmingham, with the 2022 World Doubles Championship runners up overcoming talented Welsh pairing Tesni Evans and Joel Makin in the quarter-final and defending champions Donna Lobban and Cameron Pilley in yesterday's semi-finals.
Today, though, their run came to an end as they went down to a brilliant performance from New Zealand's 3/4 seeds Joelle King and Paul Coll.
The first game was initially even, before the Kiwi duo pulled away from 2-1 down to 11-3 winners in the blink of an eye with Coll's athleticism and King's consistency a lethal combination.
England made a spirited effort in the second and after falling 7-3 down appeared to be building momentum when they reduced the lead to 8-6. The Kiwis, however, had too much quality and soon began scoring again as they took the gold with an 11-6 win.
Despite the disappointment of losing a Commonwealth Games final, Waters and Waller will have the opportunity to end the Games on a positive after playing their part in a perfect, if nervous, afternoon session for England in the men's and women's doubles semi-finals.
In the men's semi-finals, top seeds Declan James and James Willstrop fought back from a game down to beat Malaysia and Daryl Selby and Waller saw off a spirited Scottish comeback, while Sarah-Jane Perry and Waters also came from behind to beat Malaysian opposition in the women's draw.
Reigning World Champions James and Willstrop had hitherto enjoyed a relatively trouble-free route through the competition. Today's match, against 5/8 seeds Eain Yow Ng and Ivan Yuen, was anything but.
The Malaysians made a brilliant start to the match, racing into an 8-1 lead on the way to an 11-5 win, with their aggressive court positioning too much for England to handle.
England found a perfect response in game two as they pushed further up the court, levelling the match with an 11-5 win.
The top seeds were in a desperate situation in game three when Eain Yow's brilliant reactions helped Malaysia to a 7-3 lead, before a fantastic fightback from the 2018 semi-finalists saw them win seven consecutive points on the way to an 11-8 win.
"The first two rounds went perfectly according to plan, but said we knew there would be a time when our backs were against the wall and this was that moment, the moment you fight and dig," James said.
James and Willstrop will meet Selby and Waller in an all-English final and a repeat of the 2018 semi-finals after the 3/4 seeds held off Scottish No.2 seeds Rory Stewart and Greg Lobban.
England seemed to be progressing comfortably at 5-0 up in the second game after taking the first 11-8, only for Scotland to fight back and force a third game with an 11-8 of their own.
The 2018 silver medallists, though, proved to have the cooler heads in the third, taking advantage of a number of Scottish errors to win the match 2-1 with an 11-6 victory.

Waller, who was arguably the player of the match, said: "I thought we were brilliant. We've stepped up in every single round. We've had a tough run through with three games in every match, so not having it all our way but we're working and getting better and better."
In the women's draw, Waters will face King again tomorrow after she and Perry came from behind to beat Malaysian 5/8 seeds Aifa Azman and Rachel Arnold.
Azman and Arnold took a surprise 1-0 lead with their tactic of switching sides causing England, and Perry in particular, problems.
England regrouped well in the second, though, pulling away from 6-5 down to 11-6 winners with the previously dangerous-looking Azman making a number of errors.
England heaped pressure upon Azman in the third game and looked as good as through when they went 8-3 up.
While the Malaysians eventually rallied and began to claw their way back, England, led by Perry, held out to seal the match with an 11-9 win to set up a final against the defending champions.
"Their tactics were very brave and [them switching sides] takes getting used to. I wanted to keep Alison on her magic forehand, they really brought it to us and I had a slow start and had to work my way in!" Perry said.
Birmingham 2022 Mixed Doubles Final Result:
[3/4] Joelle King & Paul Coll (NZL) bt [2] Alison Waters & Adrian Waller (ENG) 2-0: 11-3, 11-6 (27m)
Birmingham 2022 Women's Doubles Semi-Final Results:
[2] Sarah-Jane Perry & Alison Waters (ENG) bt [5/8] Rachel Arnold & Aifa Azman (MAS) 2-1: 8-11, 11-6, 11-9 (41m)
Birmingham 2022 Men's Doubles Semi-Final Results:
[1] Declan James & James Willstrop (ENG) bt [5/8] Eain Yow Ng & Ivan Yuen (MAS) 2-1: 5-11, 11-5, 11-8 (59m)
[3/4] Daryl Selby & Adrian Waller (ENG) bt [2] Greg Lobban & Rory Stewart (SCO) 2-1: 11-8, 8-11, 11-6 (72m)
Birmingham 2022 Women's Doubles Final Draw:
[2] Sarah-Jane Perry & Alison Waters (ENG) v [3/4] Joelle King & Amanda Landers-Murphy (NZL)
Birmingham 2022 Men's Doubles Final Draw:
[1] Declan James & James Willstrop (ENG) v [3/4] Daryl Selby & Adrian Waller (ENG)
Watch live streaming of the men's and women's doubles final from 12pm on BBC iPlayer and BBC Sport.
12pm: Women's doubles final: [2] Sarah-Jane Perry & Alison Waters (ENG) v [3/4] Joelle King & Amanda Landers-Murphy (NZL)
1pm: Men's doubles final: [1] James Willstrop & Declan James (ENG) v [3/4] Adrian Waller & Daryl Selby (ENG)