England win gold and two silvers to cap successful Birmingham 2022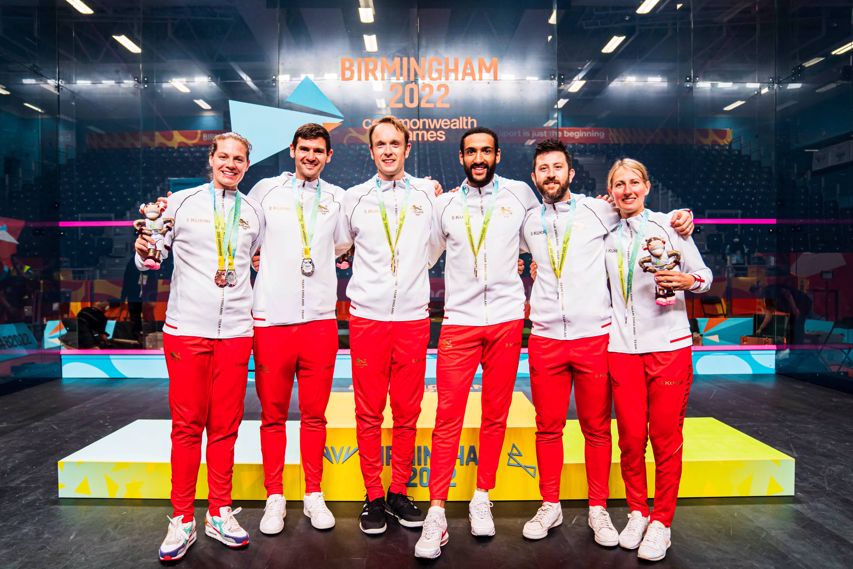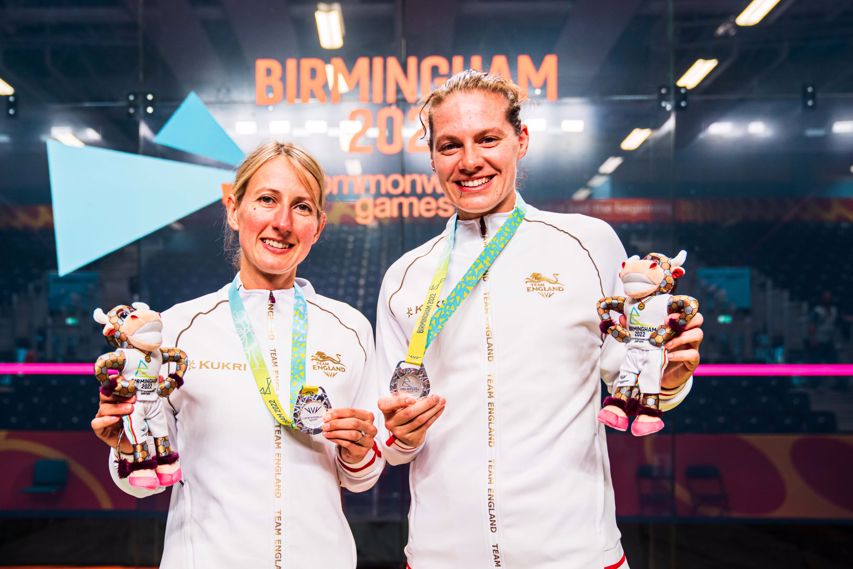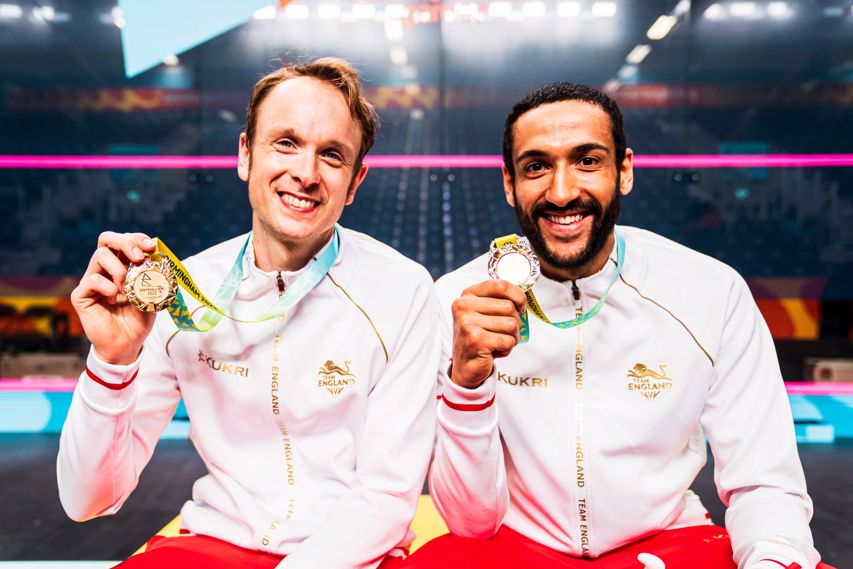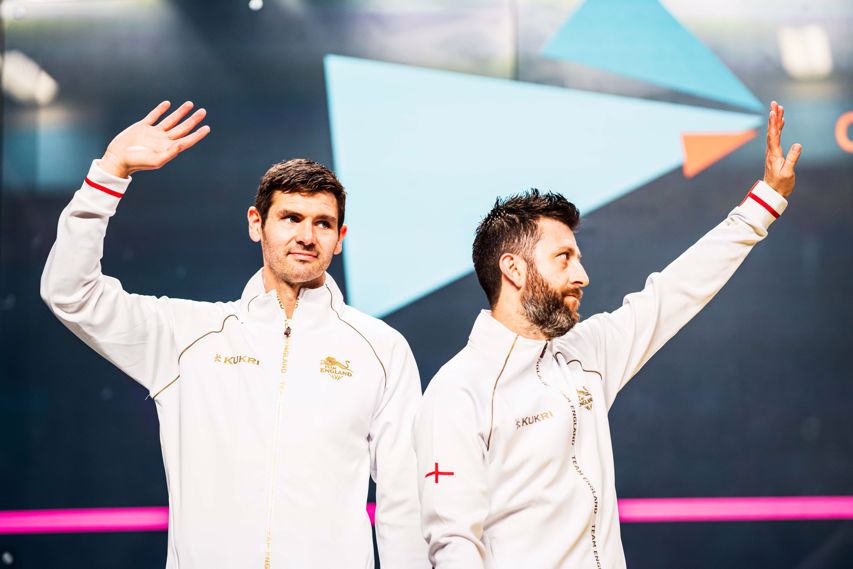 England won a gold and two silver medals on the final day of squash at the Birmingham 2022 Commonwealth Games as Declan James and James Willstrop beat Daryl Selby and Adrian Waller in a thrilling all-English men's doubles final, while Sarah-Jane Perry and Alison Waters were beaten 2-0 by New Zealand in the final of the women's event.
That both men's doubles teams had made the final represented a phenomenal achievement for England. Prior to today, no country had ever put two doubles teams into the same final in Commonwealth Games squash history, with the matchup guaranteeing a gold and silver medal for England.
In the historic final it was James and Willstrop, wearing red, who made the quicker start to the match, with the reigning World Champions storming into a one game lead with an 11-3 win.
Selby and Waller, who knocked today's opponents out in the semi-finals at the Gold Coast 2018 Games, were far from beaten though.
After a number of long opening exchanges in game two, James and Willstrop edged into a 5-2 lead. Selby and Waller then came back hard, with Waller in particular looking sharp as the 2018 silver medallists scored seven unanswered points as they levelled with an 11-7 win.
James and Willstrop once again came out faster in the third game to open up an 8-4 lead, before the 3/4 seeds loosened up, with both Waller and Selby playing courageous shots to perfection as they reduced the top seeds' advantage to 9-8.
James and Willstrop then made a decisive breakthrough to move to three match balls at 10-8. Selby and Waller were able to save one, before James brought a thrilling rally and match to an end with a terrific winner from his backhand, and the 29-year-old collapsed to the floor in tears as the emotion set in.
"That's one of only two or three moments in my squash career that I've cried. I wasn't sure if I'd be here two months ago when I tore my quad. So many people have helped me," he said.
"To have one last dance with Jimbo, after five years of an amazing partnership, well if we don't get to do it again, what a way to finish. I'm so grateful."
Selby, who last week announced his retirement from the PSA World Tour, said: "I'm sure it will hit me soon. This is my last match as a professional, so losing in the final is going to be tough to take. I'm sure it will sink in after a while."
In the women's final, England came unstuck against defending champions Joelle King and Amanda Landers-Murphy.
The Kiwis punished No.2 seeded England for a slow start as they took a 5-2 lead, before more aggressive court positioning from Perry and Waters allowed England to move ahead at 8-6.
Unfortunately, England were unable to hold onto this position, with the impressive left-hander Landers-Murphy helping the Kiwis score five successive points to win the first game 11-8.
The 2022 World Doubles silver medallists pushed hard in the second game and took the first two points, only to be pegged back to 9-4.
Cheered on by the crowd, Perry and Waters regained their composure and went within two points at 9-7. New Zealand though, then moved to 10-7 and, despite saving one match ball, England could not perform a memorable escape as King and Landers-Murphy took the match with an 11-8 win.
"I'm really proud of the way we fought. They were a privilege to share the court with," Waters said.
Perry, who was born in Birmingham, added: "My partner Becky has been amazing taking up the slack with our five-month-old son Elijah so that I can train properly.
"It has been extra special him being here and being able to watch me throughout the games."
The three medals won today cap a successful Commonwealth Games for Team England, who will depart Birmingham with six medals.
Besides the medals won today, Georgina Kennedy became the first ever Englishwoman to win a singles gold, Alison Waters and Adrian Waller won a mixed doubles silver, and Sarah-Jane Perry launched a terrific comeback to win a singles bronze.
On inspiring people to give squash a go, National Coach David Campion said: "We came here to showcase our wonderful sport to the wider masses. Given this platform, it was our opportunity, our duty to do that, not just in the performances, but also in how we conduct ourselves as a team. We certainly achieved that, it's not always just about the medals, and for that I'm very proud of everyone. I hope we managed to entertain and inspire those who perhaps haven't seen squash at this level, to have a go."
Birmingham 2022 Commonwealth Games Women's Doubles Final
[3/4] Joelle King & Amanda Landers-Murphy (NZL) bt [2] Sarah-Jane Perry & Alison Waters (ENG) 2-0: 11-8, 11-8 (30m)
Birmingham 2022 Commonwealth Games Men's Doubles Final
[1] Declan James & James Willstrop (ENG) bt [3/4] Daryl Selby & Adrian Waller (ENG) 2-1: 11-3, 7-11, 11-9 (61m)
Birmingham 2022 Commonwealth Games Medal Winners
Men's Singles
Gold: Paul Coll (NZL)
Silver: Joel Makin (WAL)
Bronze: Saurav Ghosal (IND)
Women's Singles
Gold: Georgina Kennedy (ENG)
Silver: Hollie Naughton (CAN)
Bronze: Sarah-Jane Perry (ENG)
Mixed Doubles
Gold: Joelle King and Paul Coll (NZL)
Silver: Alison Waters and Adrian Waller (ENG)
Bronze: Dipika Pallikal Karthik and Saurav Ghosal (IND)
Men's Doubles
Gold: Declan James and James Willstrop (ENG)
Silver: Daryl Selby and Adrian Waller (ENG)
Bronze: Greg Lobban and Rory Stewart (SCO)
Women's Doubles
Gold: Joelle King and Amanda Landers-Murphy (NZL)
Silver: Sarah-Jane Perry and Alison Waters (ENG)
Bronze: Rachel Arnold and Aifa Azman (MAS)